Jared Padalecki Felt Like He Was Living In A Nightmare Filming One Gilmore Girls Scene
Neil Jacobs/Netflix
"Gilmore Girls" fans have spent countless minutes or even hours comparing Rory Gilmore's (Alexis Bledel) relationships and which love interest was best for her. While her relationship with Jess Mariano (Milo Ventimiglia) was intense and heavy, even Ventimiglia looked back on the pairing and felt Jess and Rory's breakup was for the best. "Jess and Rory were what they needed at the moment from each other," he told Scott Patterson on his "I Am All In" podcast. "And at the same time, it didn't work out, and they went in different directions."
In comparison, Matt Czuchry, who played Logan, Rory's romantic partner from Season 5 through Season 7, and showed up again in the series revival, thinks Rory should've ended up with Logan. "If I were writing it ['Gilmore Girls'] from my perspective, with Logan I've always seen him as 'Rory is the one,'" he told Us Weekly. "That's his love and he would do anything for her."
And then there was Dean (Jared Padalecki), Rory's first love. Falling for each other in Season 1 and then getting back together briefly after she dated Jess, many fans consider their relationship the most pivotal of the three. Padalecki has always considered himself Team Rory and maintains his favorite episode is the first time Rory tells Dean she loves him (via EW). The show significantly impacted Padalecki, and he cites a specific "Gilmore Girls" nightmare that completely changed how he approached his craft.
Padalecki was once two hours late arriving to work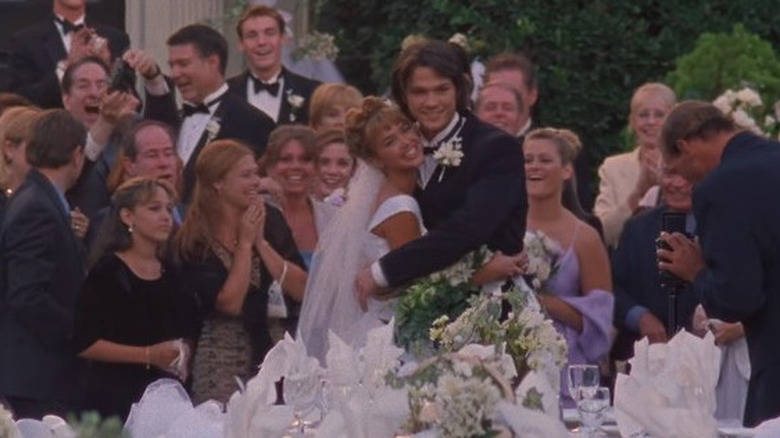 The CW
For "Gilmore Girls" star Jared Padalecki, an embarrassing incident changed the way he prepared for his roles and scenes going forward. As he told the Chicago Tribune, it was a Monday, and he hadn't been due to be back on the set until Friday. So, 20-year-old Padalecki stayed up very late, hanging out with his friends and playing video games. When the show, his agent, and his manager began calling him at 7 a.m. to come in to film the scene in which he and Lindsay (Arielle Kebbel) have just been married, Padalecki was sound asleep. "I was probably two hours later than they were hoping and I didn't have the scene prepared, but I knew the basics of what was going on," he said.
The event embarrassed Padalecki so much that now he's "known for my over-preparation. If there's any scene in the episode we're shooting, I know it backward and forward, because I don't want to have that feeling again," he said. "But that memory is one of those mortifying moments that motivates me to get up at 5 a.m. and know all my lines."
His story is definitely one that many can relate to, and in Padalecki's case, he quickly learned from it. "On that day, I didn't give myself the chance to do the best storytelling that I could have otherwise done," he surmised. "So you're really just kind of stealing from yourself when you're not prepared."