The Ending Of The Original Night Court Finally Explained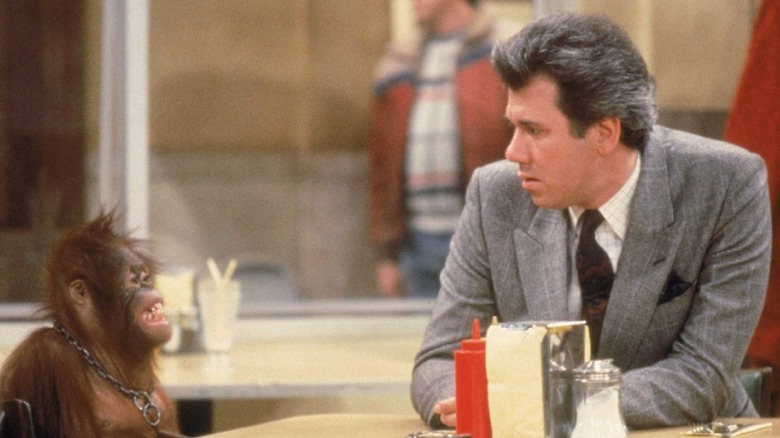 NBC
For much of the 1980s, Thursday nights on NBC were ruled by four classic comedies — "The Cosby Show," "Family Ties," "Cheers," and "Night Court," the delightfully wacky workplace sitcom based on New York's real-life after-hours arraignment court. For nine seasons, Judge Harry T. Stone (Harry Anderson) presided over the most bizarre cases Manhattan had to offer while also juggling the crazies he worked with, from straight-laced public defender Christine Sullivan (Markie Post) and ladies-man prosecutor Dan Fielding (John Larroquette) to his bailiffs, the wisecracking Roz (Marsha Warfield) and goofball Bull (Richard Moll). Of course, all things must come to an end, and "Night Court" adjourned at the end of the 1991 to 1992 network season.
Rather, all things used to come to an end. In 2023, more than three decades after the final episode aired, NBC revived "Night Court," now helmed by "Unbreakable Kimmy Schmidt" producer Dan Rubin, as original creator Reinhold Weege died in 2012. Starring Melissa Rauch of "The Big Bang Theory" as Harry's daughter Abby Stone, the revival sees Abby taking over her late father's old Lower Manhattan bench, with Larroquette returning as Dan but working as a defender this time around. 
The old-fashioned multi-cam sitcom has become a surprise hit for NBC, and a second season of the "Night Court" revival was announced in February 2023. However, many of the show's new fans were not even alive when the original series ended, while even those of us who were fans at the time may need a refresher on what exactly happened. Let's take a look at the ending of the original "Night Court," a finale that turned out to be not a finale at all.
The finale that wasn't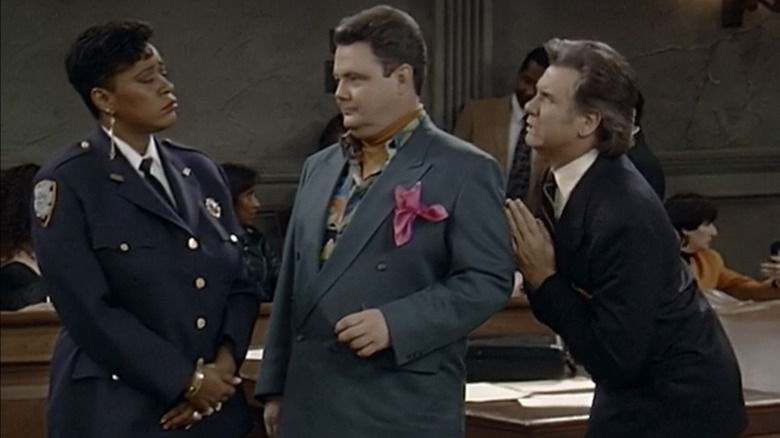 NBC
"Night Court" didn't have to wait three decades for the events of its final episodes to be undone, though, as it only took a couple of weeks, a stray unaired episode, and a hole in the NBC programming schedule. The series finale was a two-parter titled "Opportunity Knock Knocks," which was aired in a one-hour block on Wednesday, May 13, 1992. The episodes were promoted on NBC as the end of an era, and the episodes could not be mistaken for anything but a show's final bow in both form and content.
Yet, on a Sunday night more than two weeks later, what does NBC put on the air? A brand new episode of "Night Court." Sunday evening programming on NBC in those years was a hodge-podge of special events, movies-of-the-week, and sitcom reruns. This particular episode, "The 1992 Boat Show," was produced earlier in the season, with a production number falling between the February episodes "Party Girl (Part 2)" and "To Sir with... Ah, What the Heck... Love," but for whatever reason was knocked from its planned premiere date. 
Directed by series regular Charles "Mac" Robinson (the third of three episodes he directed for the series), the episode sees another one of Dan's social climbing schemes blow up in his face when he gets a fancy columnist (Glenn Shadix) out of jury duty in exchange for a write-up in the society pages — only for the reporter to become entranced with Roz instead.
Tying up loose ends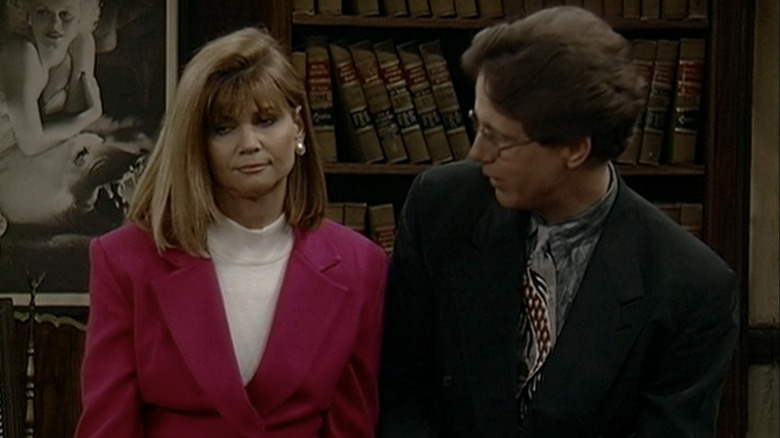 NBC
For anyone paying attention in 1992, that extra episode of "Night Court" must have been doubly confusing. Not only had the previous two episodes been explicitly billed as the end of the show, but they sent several of the series' main characters off into the sunset — or into outer space — only for them to pop up in court once again in "Boat Show" as if nothing had happened. Networks deciding to air episodes out of sequence was, of course, nothing new at the time and remains a questionable practice even today when shows are far more serialized in general than they used to be.
Plot-wise, the finale marks the conclusion of two ongoing storylines that were begun a few episodes earlier. These include Christine's surprisingly difficult congressional race against a deeply unserious opponent (who is also apparently the lazy brother-in-law of courtroom handyman Art) and Harry's decision to step down from the bench and become a law professor. 
More importantly, though, the episodes resolve emotional journeys that have been going on since nearly the first episode, from Harry and Christine's see-sawing romantic relationship to Dan's inveterate womanizing. However, all of this works together to examine something even more important — the general feeling that the night court, like the workplaces in classic sitcoms "Taxi" and "Barney Miller," is a somewhat melancholy place, full of people who got there by happenstance and then never left.
The Velvet Fog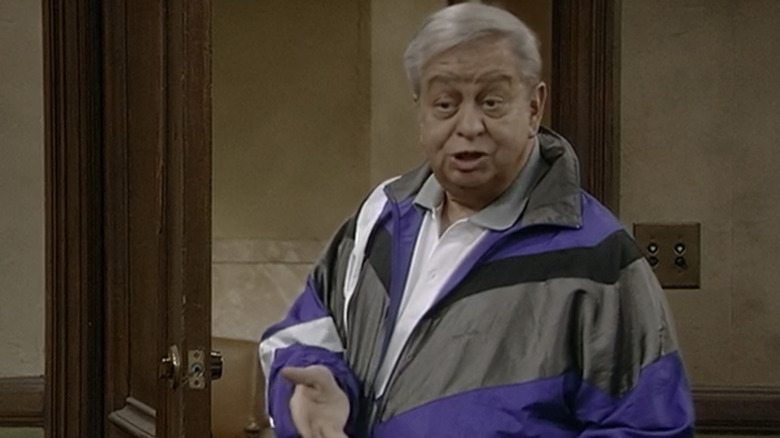 NBC
As Harry weighs his options about whether to leave the bench, job offers start pouring in. First, it is a professorship at Columbia Law. Then, a partnership with a prestigious white shoe firm. Then, a possible judgeship in the superior court. Then, somehow, a sponsorship deal with Nike. Just when things start to feel a little ridiculous, jazz singer Mel Tormé (nicknamed The Velvet Fog) bursts into Harry's office with an offer to go on tour and work on his next album together.
As goofball and non-sequitur as the show's humor could be, Tormé (as himself) didn't pop out of thin air for the finale. Instead, his appearance is the capper for dozens of jokes and cameos going all the way back to Season 1, when Tormé superfan Harry staged a one-person concert in his chambers. The 1980s saw a wave of nostalgia for the Big Band era that made stars out of young bandleaders like Wynton Marsalis and Harry Connick, Jr. while shining a fresh spotlight on survivors like Tormé and Tony Bennett. 
Tormé eventually guested on the show nine times, usually as himself or as Harry's guardian angel. Though the aging crooner's role was always tongue-in-cheek, the show's appreciation of him was absolutely genuine. Anderson had been a lifelong fan even before the series and spoke at Tormé's funeral in 1999.
The magic board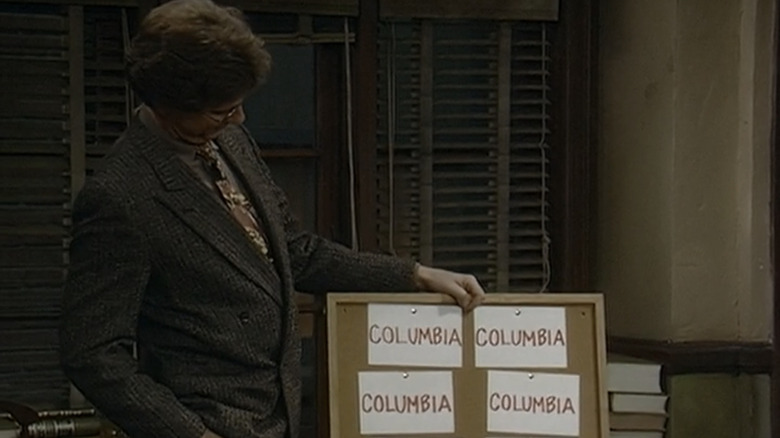 NBC
As Harry weighs his options for which of his many ludicrous job offers to take — Columbia Law, Superior Court, Talk Show, etc. — he has written each of them down on an index card tacked to a small corkboard. He looks at the board, pauses, then turns it away from the camera and the audience. He plays eeny-meeny-miny-moe, landing on the decision to teach at Columbia, and when he turns the board back around, all of the cards now read the same thing — Columbia.
It's a fun little moment, one of many throughout the run of the series that indulged Anderson's skill at sleight-of-hand. As a stand-up comic, card tricks and a general old-timey vibe were hallmarks of his act and stage persona both before and after "Night Court." His most notable role prior to the series was as small-time Boston con man Harry the Hat on "Cheers." Decked out in a fedora and a wide 1940s-style necktie — essentially the same costume he wore under his robes as Harry Stone — Harry the Hat was a welcome nuisance, running small games at the bar and often getting the best of gullible characters like Coach (Nicholas Colasanto) and Woody (Woody Harrelson).
Dan's old bad habits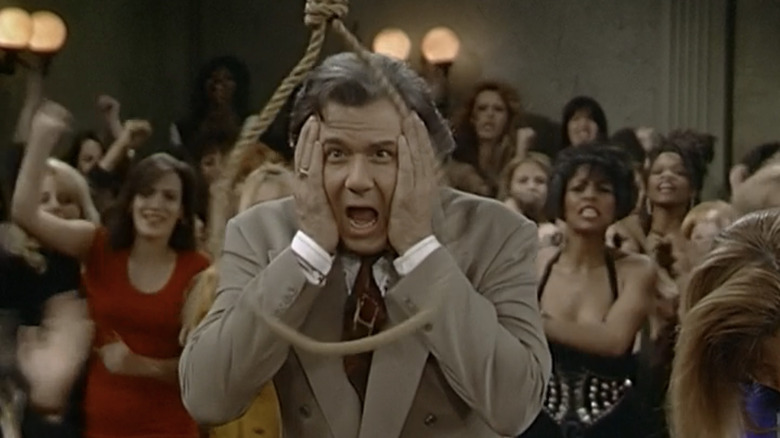 NBC
Like his contemporary Sam Malone on "Cheers" or his spiritual descendant Barney Stinson on "How I Met Your Mother," John Larroquette's lecherous lawyer Dan Fielding is the kind of character that wouldn't really fly today. The show ran long enough to provide Dan with layers underneath his boorish exterior — we know that his social striving and highbrow tastes are cover for his hardscrabble Louisiana upbringing — and Larroquette's performance was so good that it was easy to enjoy the character without fully acknowledging his worst behavior. Dan is often the butt of the joke, and his schemes more often than not blow up in his face, but at the same time he mostly gets a free pass for his callous treatment of women.
To its credit, though, the finale reckons with Dan's womanizing not once but twice, in both dramatic and farcical fashion. In "Opportunity Knock Knocks (Part 1)," Dan's plans to propose to a wealthy publishing heiress (Marsha Dietlein) are dashed when he discovers that 25 years earlier he'd broken the heart of his would-be fianceé's mother, played by Christine Belford. Belford delivers the revelation in a stark monologue, while Larroquette does some of his best work in the series by just listening. "Opportunity Knock Knocks (Part 2)," on the other hand, gives Dan his comeuppance in the form of a dream sequence in which every woman he's ever known packs into the courtroom to put him on trial for his misdeeds, with Christine as his defender and Roz as his heartless judge.
Bull is taken away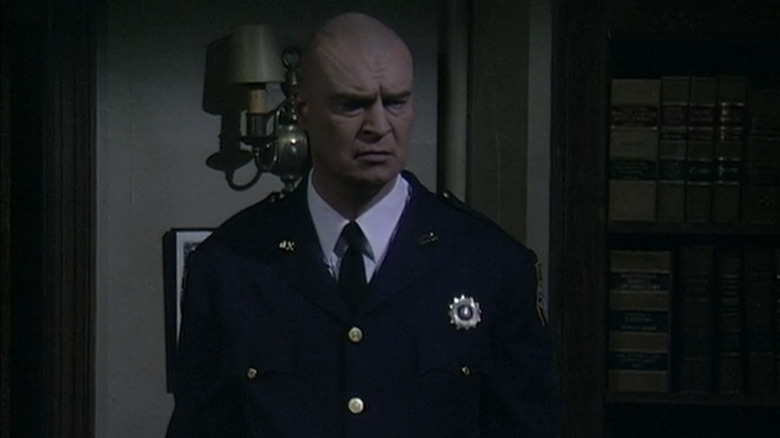 NBC
Richard Moll's breakout bailiff Nostradamus "Bull" Shannon is but one in a continuum of wacky sitcom characters who are not quite of this Earth, from Bob Denver's TV beatnik Maynard G. Krebs and Christopher Lloyd's burnout Reverend Jim before him to Kramer on "Seinfeld" soon after. The finale finds Bull in the grips of paranoia, convinced that he is being followed by strange men who he believes might be aliens. When we finally see these "aliens" in "Opportunity Knock Knocks (Part 2)," they are a pair of little old men (Phil Leeds and Ralph Manza) from Jupiter — Jupiter, Florida, that is.
However, at the end of the episode, we see that Bull was right all along. These gentlemen really are from Jupiter (the planet) and have come to Earth to conscript Bull for a mission of intergalactic importance — they need him to reach all the high stuff on their shelves. In an episode full of farewells, Bull's is perhaps the most permanent, disappearing from Harry's darkened office in a flash of light and a roll of the credits. Perhaps that finality (and a rare win for Bull) is why Moll has been less than enthusiastic over the years about returning to his most famous role.
Moving on
Within a year of the show's final episode Anderson, Post, and Larroquette were each headlining their own network series with mixed results. Anderson decamped to CBS for the family sitcom "Dave's World," a fictionalized take on the life of newspaper columnist and author Dave Barry. Post also moved to CBS, partnering with John Ritter and "Designing Women" creator Linda Bloodworth-Thomason for the political sitcom "Hearts Afire." Originally a modern-day screwball comedy about a pair of senate aids (Ritter and Post) who hate each other until they love each other, the show was retooled in Season 2 when it became a small-town family comedy more resembling Bloodworth-Thomason's "Evening Shade," with Post, Ritter, and co-star Billy Bob Thornton leaving Washington behind to run a struggling Southern newspaper.
The most successful of these, critically if not commercially, was "The John Larroquette Show," which ran for four seasons on NBC. Larroquette starred as John Hemingway, a recovering alcoholic who works the night shift at a St. Louis bus terminal. While its setup bore similarities to "Night Court" — the nocturnal setting, the eclectic and disreputable cast of characters — the show was much closer to a dramedy, or even a weekly short play, particularly in its darker Season 1. 
Despite Emmy nominations for Laroquette and co-star Liz Torres in its first three seasons, the show was never a popular success and was abruptly canceled part-way through its fourth season. Several episodes were never aired until released for syndication years later.
The first reboot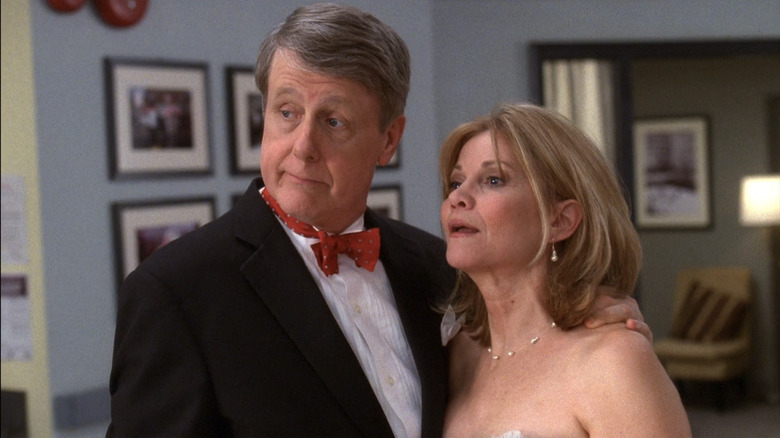 NBC
For fans of Tina Fey's legendary sitcom "30 Rock," it must be both validating and depressing that so many of the show's showbiz jokes — from the reality show "MILF Island" to a musical based on the film "Mystic Pizza" to any number of unauthorized Jackie Jormp-Jomp esque biopics of musicians — have become real life things since the show ended in 2013. The 2023 "Night Court" revival could be added to that list as well, except for the fact that "30 Rock" didn't just joke about a reunion, it actually made it happen. Sort of.
Season 3's "The One with the cast of Night Court" sees Kenneth the NBC page (Jack McBrayer) despondent over the pages' new uniforms. To cheer him up, show-within-a-show star Tracy Jordan (Tracy Morgan) gathers the cast of "Night Court" — or at least Anderson, Post, and Charles Robinson — in order for Kenneth to shoot his unauthorized and probably-illegal script for a more satisfying series finale. However, Kenneth's plans to give Harry and Christine a proper courthouse wedding go awry when the actors fall back into the same 15-year-old jealousies and arguments. 
The episode is a typical "30 Rock" nesting doll of jokes and references. The entire idea of a "Night Court" reunion is a self-parodying riff on the fact that Jennifer Aniston is the episode's main guest star, marking her return to NBC since the end of "Friends" a few years earlier.
Gone too soon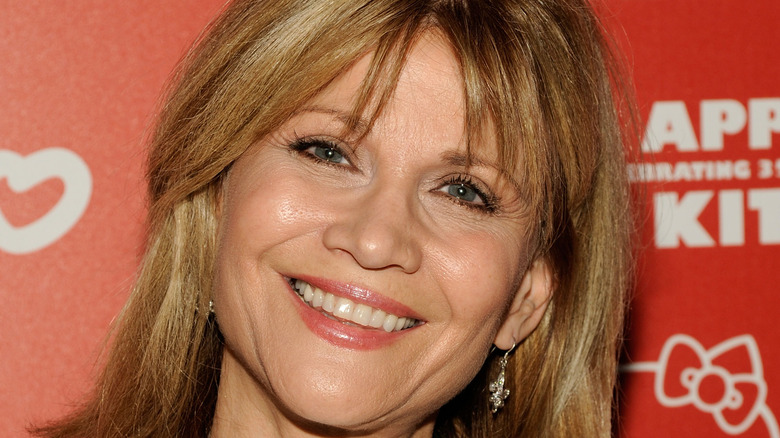 Frazer Harrison/Getty Images
When the "Night Court" sequel series was announced in 2021, fans were justified in wondering not only who from the original cast might return but who from the original cast was still alive to return. The series suffered two notable deaths while it was still on the air. Original bailiff Selma Diamond died after the first season in 1985, only for her replacement, actress Florence Halop, to die after the second season a year later.
After "Dave's World" ended in 1997, Anderson stepped away from the limelight, opening a jazz club in New Orleans where he performed comedy and magic, taking just a handful of on-camera roles, like "30 Rock" and the Timothy Stack "Baywatch" parody "Son of the Beach." In 2018 he died from a stroke in his North Carolina home at age 65. 
Then, in 2021, both Markie Post and Charles Robinson passed away. Like Anderson, Post had stayed away from being a series regular after the end of "Hearts Afire," but had notable roles on "Scrubs" and "Chicago P.D." She died after a brief battle with cancer. Robinson was a celebrated stage actor in addition to his on-screen work and had performed with "The Wire" star Wendell Pierce in a version of James Anthony Tyler's play "Some Old Black Man" just a few months before his death from a heart attack.
New blood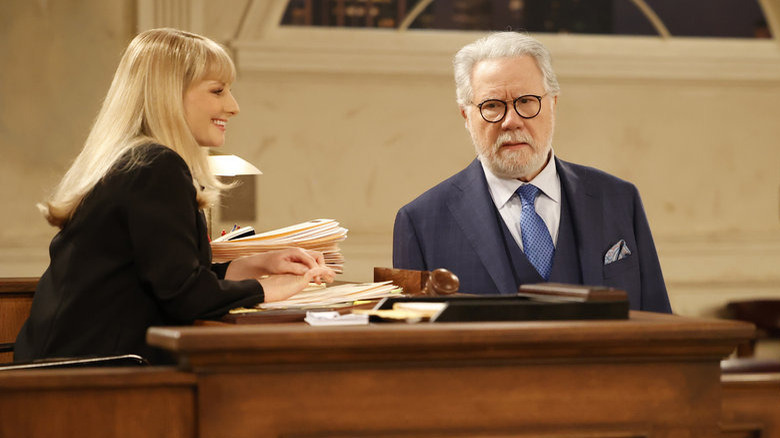 Jordin Althaus/NBC/Warner Bros. Television
The new "Night Court" doesn't ignore the loss of so many of the original cast members but rather places that loss front and center in the characters of Abby and Dan. The in-universe death of Harry Stone hangs over the entire revival, with Abby using her night court judgeship as a way to connect with a version of her father who she never knew. 
The widowed Dan, meanwhile, is more wearied by the length of life in general. Age and a great love (notably not Christine, whom he was pursuing at the end of the 1992 finale) have sapped his lothario energy, and his shock at Abby's request for him to return to his old job is rooted in a very relatable feeling. After they stopped working together, he and Harry fell out of touch and did not stay friends. It's a surprisingly real comment on the type of thing that legacy sequels usually ignore — life goes on after the last episode, and the years spent working in a wacky after-hours arraignment court end up accounting for just a brief chapter in that life.
For now, Larroquette is the only returning cast member from the original series. He anchors a young, diverse cast that includes India de Beaufort as prosecutor Olivia, comedian Lacretta as Gurgs the bailiff, and Kapil Talwalkar as court officer Neil. In January 2023, Marsha Warfield gave the new show her blessing via Twitter, though there is no word yet as to whether she will play Roz once again. Richard Moll, meanwhile, has declined to participate. Presumably, Bull is still reaching tall shelves on Jupiter.