Night Court Has Already Been Renewed For Season 2
Jordin Althaus/NBC/Warner Bros. Television
When it comes to reboots and revivals, there's always a concern if the new product will be able to live up to the original. Now, it's safe to say NBC's "Night Court" revival is on its way to offering as many laughs as the first one. 
The first two episodes of the new "Night Court," starring Melissa Rauch as Abby Stone, premiered on January 17 to impressive numbers. It had the best pilot viewership from a comedy series since 2018 (via The Los Angeles Times), with 7.55 million viewers tuning in. It's been able to maintain solid numbers throughout the following episodes, and it's only getting further viewership with new episodes airing on Peacock shortly after debuting on NBC.
Even with such great numbers, it still must have come as a shock to some to hear that "Night Court" has been picked up for a second season only four episodes into its run (via Variety). It's a great sign for the future and a solid opportunity to tie in other facets of the original "Night Court" into the revival.
Court will be in session for a while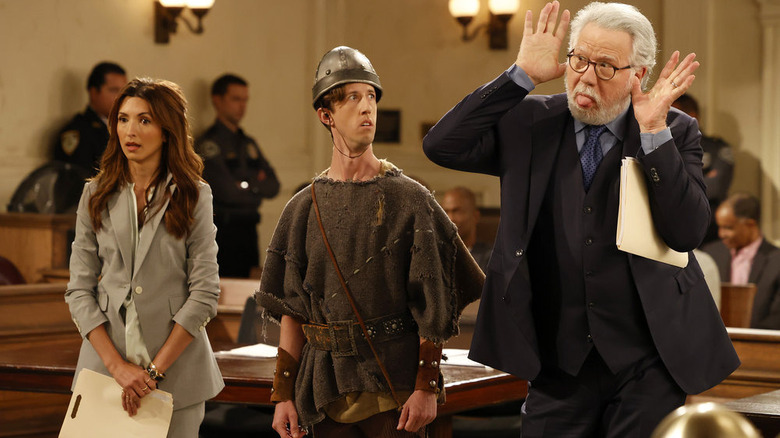 Jordin Althaus/NBC/Warner Bros. Television
Although Melissa Rauch didn't originally intend to star in "Night Court," she's probably thanking her lucky stars she decided to take the lead role. She's now taken a plumb spot in NBC's line-up, and if the show can keep up those kinds of numbers, it could stick around as long as the original series, which ran from 1984 to 1992.
Lisa Katz, president of scripted content at NBCUniversal Television and Streaming, said in a statement, "It's so rewarding to have audiences respond and return to a show in which they have such incredibly warm feelings, and, more broadly, it's testament to how broadcast is still a huge driver of communal viewing." In an era where streaming appears to be taking over, it is refreshing to see a broad sitcom find an audience, similar to how "Abbott Elementary" has done so well for itself airing on ABC. It shows there's still a market for these kinds of shows, and not everything has to adhere to the streaming model. 
Channing Dungey, chairman and CEO of Warner Bros. Television Group, had this to say, "The series' razor-sharp humor makes the show a weekly must watch. We're overjoyed that court will remain in session and return with new cases for Season 2." For now, the show still needs to get through its first season, and you can catch new episodes every Tuesday night on NBC.