Kim Coates Consulted A Therapist To Prep For Dawn's Death On Sons Of Anarchy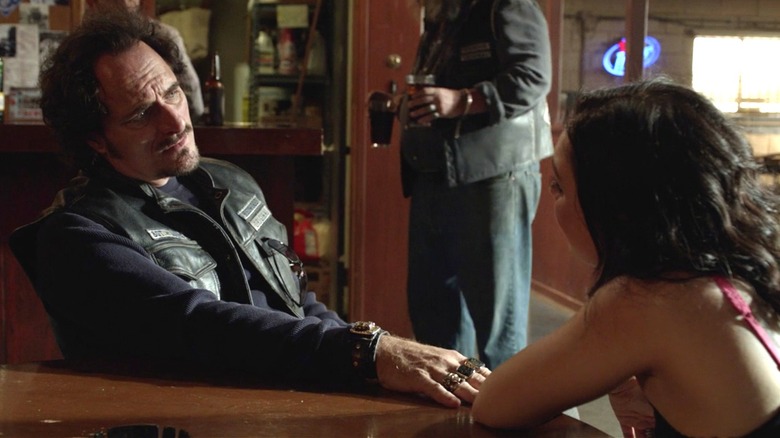 FX
Kim Coates' acting credits are prolific as they are varied. From the horror film "Silent Hill" to the sports comedy "Goon," the Canadian performer has become an esteemed character actor over the past four decades. But while bouncing from theater to film and television roles, Coates had no idea that one of his most beloved characters would come at the hands of Kurt Sutter. After a successful run on the crooked cop series, "The Shield," Sutter created the "Hamlet"-inspired biker show "Sons of Anarchy." 
Coates had initially no interest in playing the chaotic biker with a heart of gold, Alexander "Tig" Trager. Sutter had to convince the actor to join the main cast after some initial hesitation. But once he joined, he became one of the series's most complex and fully developed characters.
Starting as a trigger-happy acolyte of Clay's (Ron Perlman), Tig eventually becomes the best version of himself. Unfortunately, change is not possible without pain, and one of the most painful experiences Tig endures is the brutal demise of his daughter, Dawn (Rachel Miner). No parent should suffer losing a child, let alone watch her be murdered right before his eyes. In seven seasons of crime and violence, this scene is beyond comparison. And Coates had to delve into some dark places to prepare emotionally.
There's a reason that scene is so devastating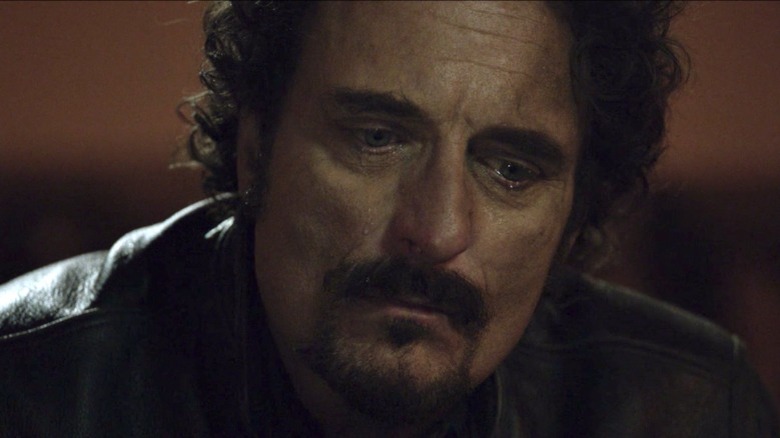 FX
Moral complexities are an essential component of Tig's character. One of the worst things he ever did was attempt to kill Opie (Ryan Hurst) on Clay's orders. In a tragic mix-up on par with Shakespeare himself, Tig mistakenly kills Opie's wife, Donna (Sprague Grayden), instead. Tig killing innocent women is unfortunately a pattern. When it happens again, there is no escaping the repercussions. After killing local gangster Damon Pope's (Harold Perrineau) daughter, he chains Tig and forces him to watch as he lights Dawn on fire. 
Despite Tig's many mistakes and bloodshed in the name of the club, it is impossible to ignore the character's turmoil. Kim Coates was the first to admit how difficult and emotionally visceral the content was. "Kurt Sutter grabbed me in New York City six weeks before we did Season 5 and told me what was gonna happen," Coates explained in a 2013 interview. "And I'm not kidding, you guys, I had tears in my eyes." Ever the consummate professional, Coates knew that he had to handle this material with the utmost care. He immediately contacted a professional to guide him through this dark time.
"When I got that script, I went immediately to my dear friend, Dr. Sam Alibrando, who's a shrink — a therapist — and we went over the internal workings of a human being," Coates continued. "How can you prepare to do something like that unless you really get into it, right?"