Kurt Sutter Had To Convince Kim Coates To Star In Sons Of Anarchy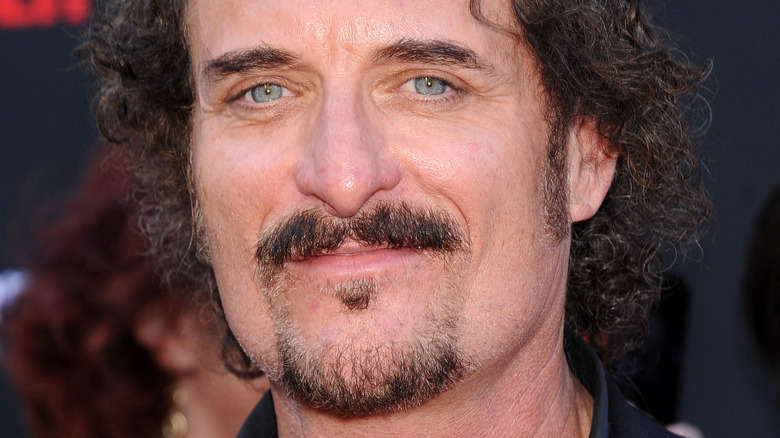 DFree/Shutterstock
For several seasons, FX's "Sons of Anarchy" depicted an anti-hero tale, unlike many others. The series focuses on an outlaw motorcycle gang that does perform terrible and often violent crimes. However, beyond the surface, it is also a deep-seated drama that examines the concepts of brotherhood, loyalty, and familial tragedy. "Sons of Anarchy" is brutal, but it's also one of the most thought-provoking dark series that arguably rides in the same lanes of similar hits like "Breaking Bad" and "The Sopranos."
And much like those two shows, part of "Sons of Anarchy" success is tied to its stellar cast, which includes Kim Coates. The actor portrayed SAMCRO Vice President and Sergeant-at-Arms Tig Trager. Equipped with a "club-first" mentality and a mechanic's skill, Tig ultimately proved to be one of the show's more intriguing characters throughout the seasons. He could be considered a violent sociopath, but, at times, he was also SAMCRO's doggedly loyal member. That type of complexity in Tig came to life because of the acting of Coates, but it almost didn't happen as Coates wasn't entirely sold on the character at first. According to Coates, "Sons of Anarchy" creator Kurt Sutter had to convince him to star in the show.
Coates initially thought his character was too psychotic
Before his turn as Tig Trager on "Sons of Anarchy," Kim Coates had played a variety of characters in numerous projects, including an unstable drifter in "Waterworld," and various guest star roles on TV with shows like "Entourage" and "CSI." But when approached by Kurt Sutter to star in "Sons of Anarchy," Coates immediately had second thoughts about portraying Tig. In fact, as he revealed in an interview with fellow actor Michael Rosenbaum, Coates initially turned down the role as he thought Tig was too psychotic. Coates continued in the interview to note how Sutter had to convince him otherwise by promising the fun of riding a motorcycle but, more importantly, giving a proper breakdown of Tig.
"He [Sutter] goes, 'No, no, Tig's gonna be psychotic for sure, but he's gonna have a heart of gold," Coates said to Rosenbaum. "He's gonna be funny. He's gonna be a moral compass of the club." In retrospect, it was one of the best moves. "Sons of Anarchy" received one of their most compelling characters in Tig, thanks to the acting of Coates. And as Coates reflected on the impact of "Sons of Anarchy" in the same interview, playing such a beloved character helped the actor become more recognizable among viewers. Besides, Tig more than delivered on the qualities Sutter explained to Coates. Besides his hot temper and violent tendencies, Tig had a wicked sense of humor and often felt like SAMCRO's center.