Hellboy Reboot On The Way With A Script Co-Written By Comic Creator Mike Mignola
Cultishly adored comic book superhero Hellboy has been brought to the big screen in two different incarnations: in two beloved films directed by Guillermo del Toro in which he's played by Ron Perlman, and a much less beloved reboot starring David Harbour and directed by Neil Marshall. Now, rumors that another "Hellboy" film is on the way have been officially confirmed, and it appears that fans are going to get yet another big-screen version of the character. But this new iteration comes with a difference that could prove crucial: for the first time in the history of the franchise, the film's script is being written by Hellboy creator Mike Mignola and frequent comics collaborator Chris Golden, according to Deadline's reporting.
Even better for Hellboy fans, the film is based on a specific storyline from the "Hellboy" comic book series. Which one? The answer is in the reboot's title: "Hellboy: The Crooked Man," which is set to begin production in March. The project also has a director: Brian Taylor, best known for his collaborative work on films like "Crank" with fellow director Mark Neveldine.
Hellboy: The Crooked Man will attempt a more comics-accurate version of the character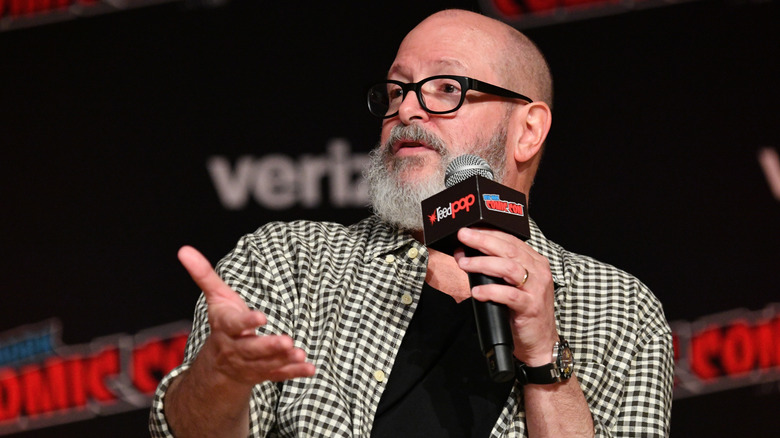 Dia Dipasupil/Getty Images
Mike Mignola's involvement in "Hellboy: The Crooked Man" is a big sign that this version of Hellboy will hew closer to how the character is portrayed in the original comic book source material. That's confirmed by a press statement from Jeffrey Greenstein, president of Millennium Media, which bought the rights to Hellboy back in 2018 to make the ill-fated David Harbour "Hellboy" film.
"'The Crooked Man' is a departure from all previous Hellboy films where Mike Mignola and the creator of the comics will finally shepherd an authentic version of his stories and characters in film form," said Greenstein in a statement to Deadline. He also promises that "The Crooked Man" will be the first in a series, although that, as always, will depend on this film's actual commercial performance.
In the comics, The Crooked Man is an 18th-century scoundrel who is hanged for his crimes and eventually becomes the resident Devil of the 1950s Appalachian community where the story is set, and where his run-in with Hellboy occurs.
With production set to begin soon, you can expect more news, particularly regarding casting, to be reported in the near future. But for now, this seems like a mostly positive development for fans hoping to see a more comics-authentic version of Hellboy brought to the screen.