Rumor Report: Another Live-Action Hellboy Feature May Be In Development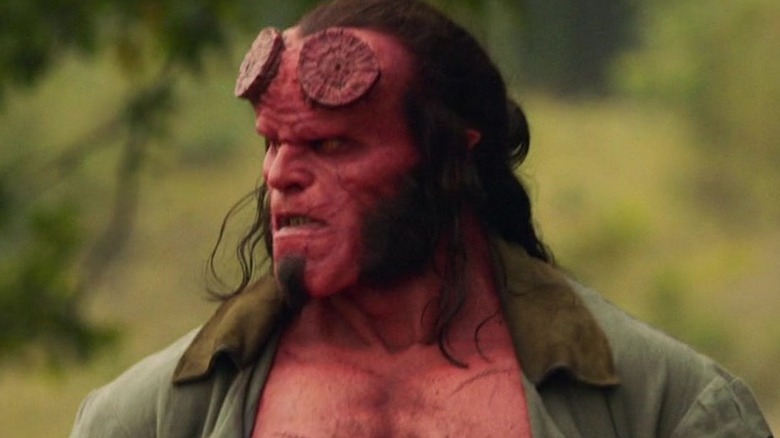 Lionsgate
Hellboy is a familiar name to comic book fans since the character made his debut in 1993. Created by Mike Mignola, who's been writing for the character since his inception, Hellboy is a half-human, half-demon with a special hand called the Right Hand Of Doom. Born in 1574, Hellboy appears on Earth in 1944, ultimately working with the Bureau for Paranormal Research and Defense, helping humans against supernatural and occult threats.
The character made the jump to live-action with the 2004 film "Hellboy," with Guillermo Del Toro at the helm as both writer and director. Ron Perlman took on the titular role in the film and its sequel, "Hellboy II: The Golden Army," which was released in 2008.
"Hellboy" was rebooted in 2019 in a new film of the same name, with "Stranger Things" star David Harbour taking over from Perlman in the main role and Neil Marshall and Andrew Cosby taking on directing and writing duties, respectively.
Now reports have emerged that the character is set to return to live action in a new incarnation. Here's what we know so far.
The film seems poised to adapt a story from a 2011 comic run
Discussing Film is reporting that Millennium Media is in deep into a new live-action reboot of "Hellboy." The script for the film has already been completed, and director Brian Taylor has signed on to the project. Taylor is best known as one-half of the Taylor-Neveldine filmmaking duo, alongside Mark Neveldine. The duo wrote and directed the 2006 film "Crank" and its sequel, "Crank: High Voltage," as well as the 2009 Gerard Butler film "Gamer" and the 2011 superhero sequel "Ghost Rider: Spirit of Vengeance," starring Nicolas Cage.
Taylor reunited with Cage on a solo effort in the 2017 action comedy "Mom and Dad," which he also wrote. His most recent work has been on the Syfy series "Happy!," where he has worked on both the writing side and the directing side. It is unclear if Taylor has also contributed to the script of this new "Hellboy" film, or is just taking on directorial duties.
The film is reportedly titled "Hellboy: The Crooked Man," which was also the title of a 2011 three-issue run that saw Hellboy travel to the Appalachian Mountains in 1958 to help a WWII veteran named Tom Ferrell save his soul from a demon named The Crooked Man, to whom Tom had previously sold his soul.
"Hellboy: The Crooked Man" is being called a reboot, which means it's unlikely that Ron Perlman or David Harbour will reprise the role. It's unsure if any of the supporting characters or performers from previous "Hellboy" films will return in this installment, as they do not appear in the comics version of the story.