Zach Gilford Auditioned For Criminal Minds 15 Years Before Booking Evolution's Elias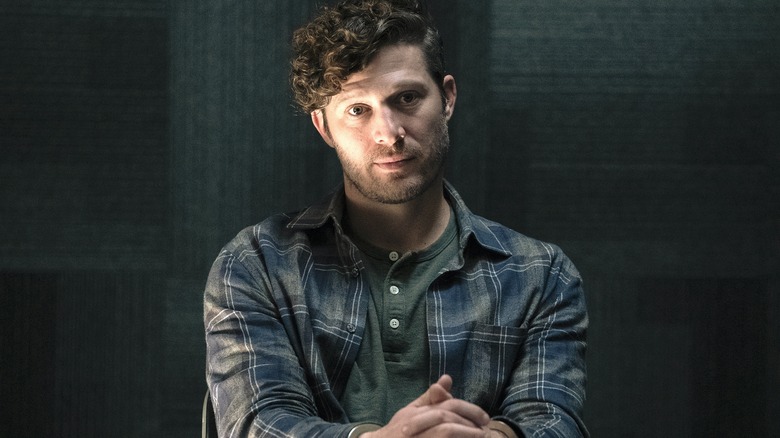 Michael Yarish /Paramount+
Zach Gilford is having himself a moment. And if you've been tracking his career for the past couple of decades, you know that moment is well-earned. Save for a standout performance as beloved second-string QB Matt Saracen on NBC's "Friday Night Lights," Gilford has been a bit of a journeyman as an actor, working largely on the fringes of stardom for the bulk of his professional life to date. But with an impressive run of work in "Good Girls," "Midnight Mass," and "The Midnight Club," the versatile actor's stock has arguably never been higher. And it's safe to assume that after a season's worth of lauded work "Criminal Minds: Evolution," things are only looking up for the star.
Gilford portrays serial killer Elias Voit on the Paramount+ hit. And as the cunning unsub who began organizing the dark web network of killers that made the BAU team's life a living hell throughout the season, Voit instantly became one of the most feared, and unforgettable foes the gang has yet faced. As Voit managed to escape the fray with his life, he'll no doubt continue to complicate things for the BAU moving forward. As it is, joining the cast of "Criminal Minds" is a bit of a full-circle sort of moment for Gilford. That's because the actor first auditioned for the series 15 years prior to booking his spot as Elias Voit. But what role was he up for?
Gilford apparently auditioned for the role of Dr. Spencer Reid on Criminal Minds
As Zach Gilford told Entertainment Weekly during a recent interview, "Criminal Minds" was actually one of the very first auditions he ever went on. Though he didn't land the job, Gilford claims he did become a fan of the show himself over the years. "I always liked the show," he said, adding, "If it was on, I'd always find myself getting lost in the episodes ..."
Gilford went on to admit he's not as obsessive about "Criminal Minds" as some fans are, however. He also had mixed feelings watching the show knowing he nearly starred in it, telling EW, "I also had a bit of a bittersweet relationship with it because it was one of my first auditions I ever had." Gilford added that not landing the role hurt all the more because he was sure he'd get the job, and that would've provided him with more than a decade's worth of steady work. Nonetheless, he's happy to finally be on board, quipping, "But now 16 years later, I get to do it."
As for that initial audition, Gilford apparently read for the pilot episode. And he said he was most likely reading for the role of Dr. Spencer Reid. "Yeah, for the original pilot," he told EW. "It was so long ago, but I think it was probably for Matthew [Gray Gubler]'s part, just based on what parts were options." Needless to say, "Criminal Minds" might've been a very different beast with Gilford playing fan-favorite Reid. While it's almost impossible to imagine anyone owning that role the way Gubler does, Gilford would've made an intriguing alternative for certain.