Shadow And Bone Fans Are Hyperventilating Over Nikolai And Wylan In Season 2's Trailer
Dávid Lukács/Netflix
After a long wait, fans of Netflix's "Shadow and Bone" are finally close to Season 2. The streamer's latest trailer for the upcoming fantasy saga is filled with all the magic, action, and passion that the Grishaverse is known for, and it looks like the new season could be everything we've been wanting. Most of the main cast of Season 1 is back, alongside a few new characters who fans of the novels will already know well. All in all, Season 2 is looking very exciting.
The end of Season 1 certainly leaves some big threads hanging, with Aleksander Kerrigan, AKA the Darkling (Ben Barnes), emerging from the Shadow Fold with an army of monsters in tow. Alina Starkov (Jessie Mei Li) makes it out in one piece with Mal (Archie Renaux) by her side, but her path forward will surely be littered with obstacles. The same goes for the members of the Crows gang.
What dangers and adventures will the next chapter bring? Well, fans can get a glimpse and start theorizing now thanks to a new trailer from Netflix for "Shadow and Bone" Season 2.
Alina Starkov's battle continues in Season 2
The new "Shadow and Bone" Season 2 trailer is packed to the gills, featuring returns from your favorite characters and some newcomers who look primed to shake things up. Like Season 1, the new installment will blend storylines from Leigh Bardugo's original "Shadow and Bone" trilogy and follow-up "Six of Crows" duology, which take place in the same universe.
New character Nikolai Lantsov (Patrick Gibson) seems to be key to keeping those two plot arcs connected, at least according to the trailer. A Ravkan royal, he features in all three main sub-series of the Grishaverse — the two already familiar to "Shadow and Bone" viewers, and the "King of Scars" duology, in which he's one of the main characters.
The trailer also shows Alina going on the offensive against the Darkling, seeking out more ways to amplify her sun-summoning powers so that she can battle back against his dark horde. Fortunately, she's got Mal by her side throughout this time. The Crows are also back and getting into trouble once again, with Jesper (Kit Young) in particular showing off some of his impressive gunslinging skills. Season 1 protagonists Kaz Brekker (Freddy Carter) and Inej Ghafa (Amita Suman) also feature prominently in the trailer, which confirms a release date of March 16, 2023.
New faces enter the fray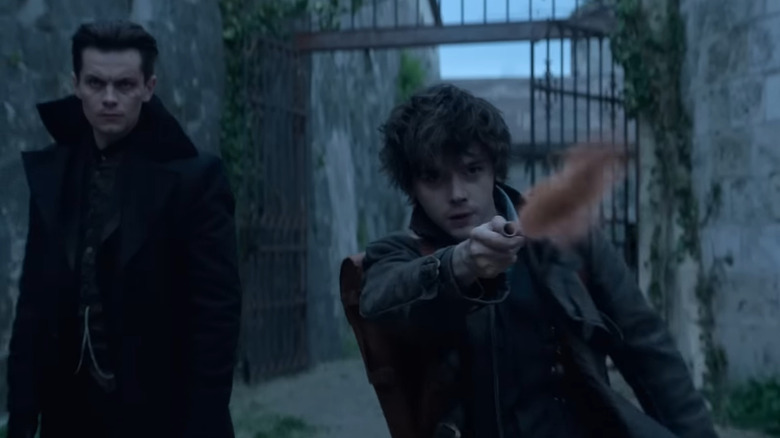 Netflix/YouTube
While it's great to see so many characters and actors returning from "Shadow and Bone" Season 1, some fans are even more excited about the new faces joining the story. In particular, the debuts of Nikolai and wayward demolitions expert Wylan Van Eck (Jack Wolfe) are being celebrated across the Internet in the wake of the Season 2 trailer's release.
"NIKOLAI IS COMING HOME OMG," Twitter user @LORELVJY wrote in response to the trailer. Another fan, @cIubdocorvo on Twitter, commented, "WYLAN MY LITTLE BOOM BOOM MAKER" over a screenshot of the character leaping into action. Other fans expressed similar joy at seeing the characters, with @holmesezra tweeting, "SCREAMING BECAUSE WE FINALLY SEE WYLAN MY BABY."
The Grishaverse is a franchise with a very active and dedicated fan base, so it should come as no surprise to see folks so excited about their favorite character making it to live-action. Nikolai in particular features quite prominently in the trailer, which makes sense given his role in the books. It should be fun to see both characters enter the show when "Shadow and Bone" Season 2 premieres on Netflix on March 16.