Why Katherine Cunningham Described Her Yellowstone Season 4 Return As A Gift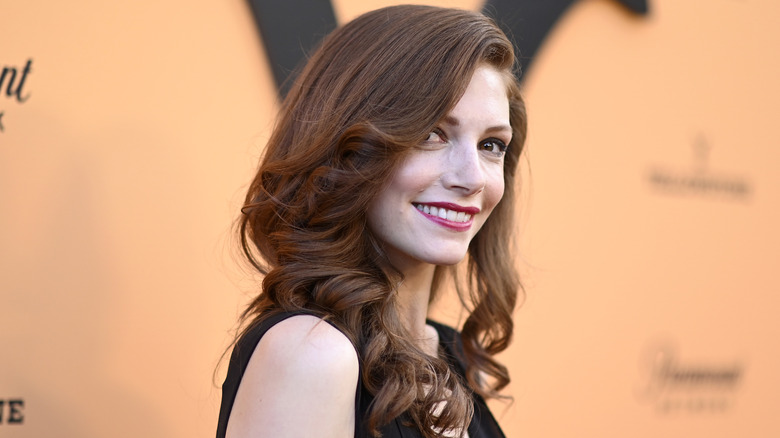 Frazer Harrison/Getty Images
Over the course of the first four-and-a-half seasons of "Yellowstone," the existence of Jamie Dutton has been one of almost non-stop torment. But he has, of course, brought a fair amount of it on himself via his endeavors to either win his father John Dutton's (Kevin Costner) favor or, ya know, burn his power-loving papa's entire ranching empire to the ground.
Despite his "man of constant sorrow" status on "Yellowstone," Jamie has actually endured pockets of relative happiness over the years. One of those rare narratives began in Season 1 when Jamie entered into a seemingly healthy-ish relationship with his campaign advisor, Christina. And that role has been played by Katherine Cunningham since the first season of "Yellowstone," and the character seemed primed to be a major presence in Jamie's life for the series' duration in Seasons 1 and 2. After giving Jamie a decidedly tricky ultimatum over the fate of their unborn child in Season 2, Christina was completely absent from the action in Season 3  
To the joy of many "Yellowstone" fans, she swung back into Jamie's orbit in Season 4, finally introducing the troubled man to his son. But as happy as fans of the series were to see Christina, the character's "Yellowstone" return meant even more to Cunningham herself.  
Cunningham was happy to visit her Yellowstone family during a much needed break from pandemic lockdown
Katherine Cunningham was hardly hurting for work. But when pandemic lockdowns went into effect, and temporarily shut down even major Hollywood productions like "Yellowstone," Cunningham was largely stuck at home with nowhere to go. That changed when Taylor Sheridan called to tell her she was needed back in Montana for the new season of "Yellowstone." And as Cunningham noted in a 2022 Instagram post, that opportunity was truly a gift.
Cunningham's post was accompanied by several pictures of her working and playing on the set of "Yellowstone." And it included a lengthy statement of gratitude towards Sheridan and his team for the chance to get out of lockdown, even for a brief time. "It was such a pleasure to be gifted the opportunity to work on Yellowstone Season 4," the actor began, later adding, "We had been in lockdown in Los Angeles and everything was uncertain." She went on to write, "Then Yellowstone called and asked if my family and I wanted to come to Montana for a month. When we got there, it felt like taking a weighted blanket off our chests."
Cunningham also noted she was particularly thankful for the many safety protocols the production had in place. She admitted that, even as she typically drops an appreciation post at the end of any acting job, this one felt different, as the "Yellowstone" gig gave her and her family a chance to breathe outside of their pandemic bubble. Thankfully, Cunningham brought her A-game to set and helped make Season 4 of "Yellowstone" one of the best to date.