Family Guy's Casting Directors Can't Get Over Seth MacFarlane's Voice-Over-Recording Speed
It perhaps goes without saying, but "Family Guy" would be nothing without Seth MacFarlane. When the Connecticut native's adult animated sitcom aired in 1999, few would have predicted its domination over the television landscape. With its special brand of hard-hitting satire that doesn't hold back from making fun of just about every group imaginable, "Family Guy" remains one of the most jaw-dropping things to ever be animated for TV. (It also takes a while to make every episode.)
Much of its identity can be owed to its creator MacFarlane, who not only helms and writes for the series but also voices many of Quahog's denizens. And it's not just random cameos here and there. Rather, MacFarlane brings to life the voices of several of the show's main characters including Peter Griffin, Stewie Griffin, Brian Griffin, and Glenn Quagmire. If you were surprised by that fact, we don't blame you. But perhaps even more amazing isn't just that MacFarlane can provide such a distinct variety of voices for the show — but the speed with which he can get it all done.
MacFarlane's voice can turn on a dime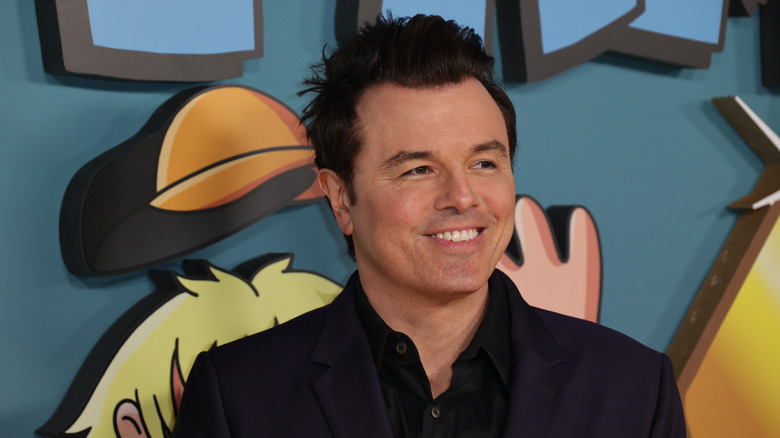 Momodu Mansaray/Getty Images
There's no doubt how seamlessly Seth MacFarlane embodies each of his "Family Guy" personas. And after having provided the voices of so many characters for over 20 years, MacFarlane has only gotten better — and faster.
"Family Guy" casting directors Christine Terry and Jackie Sollitto, who have been with the show since 2017, discussed the long-running sitcom in a 2021 interview with Awards Watch. When asked if there's anything that MacFarlane can't do, Sollitto answered, "No, there really isn't. It's kind of insane. One of the first times when we started on the show, we sat in on one of his records ... And he was going to sit down the scene that had Stewie, Brian, Peter, and Quagmire." Thinking he was going to record each voice individually, Sollitto was surprised to find out that MacFarlane "just sits there and does the entire scene jumping from every single character ... and we were like, this is normal?"
Even more impressive was just how many lines MacFarlane spewed out in the session, with Terry adding, "Like Jackie said, it was phenomenal ... I've never heard anything like that in my entire life ... it was like, 200 lines, and he knocked them out." Solitto estimates that MacFarlane was able to get through up to five episodes with such speed.
This is all the more surprising, given the "American Dad!" creator admitted on a Reddit AMA in 2017 that voicing the speed-talking Quagmire is especially difficult. Not only can MacFarlane voice so many characters, but he also makes it look so easy.