Evangeline Lilly Got Even Closer To Figuring Hope Out In Ant-Man And The Wasp: Quantumania
In "Ant-Man and the Wasp: Quantumania," the two titular heroes will have to contend with a challenge unlike any other. Kang The Conqueror, played by Jonathan Majors, is coming into the MCU as a threat that will only probably become more dangerous when and if the dust settles. Fortunately, by now, Ant-Man, aka Scott Lang (Paul Rudd), and The Wasp, aka Hope Van Dyne (Evangeline Lilly), aren't exactly rookie heroes at this point. In fact, one of the tremendous stand-out points of the "Ant-Man" trilogy has been witnessing Hope's gradual ascension into becoming the hero she was always destined to be.
Hope's complex personal trek has seen her grapple with reconciling with her father, Hank Pym (Michael Douglas), and eventually taking on the Wasp mantle from her mother, Janet Van Dyne (Michelle Pfeiffer). The character's onscreen journey and growth have, of course, been made possible thanks to Lilly's stellar acting. Throughout the "Ant-Man" series, it's felt like Lilly has always had a complete grasp of what makes Hope tick as a character. However, according to the actor, that's not entirely the case. Lilly revealed to The Hollywood Reporter recently that it's only in "Quantumania" that she feels like she's got even closer to fully figuring out her character.
Evangeline Lilly thinks of Hope Van Dyne as a bullet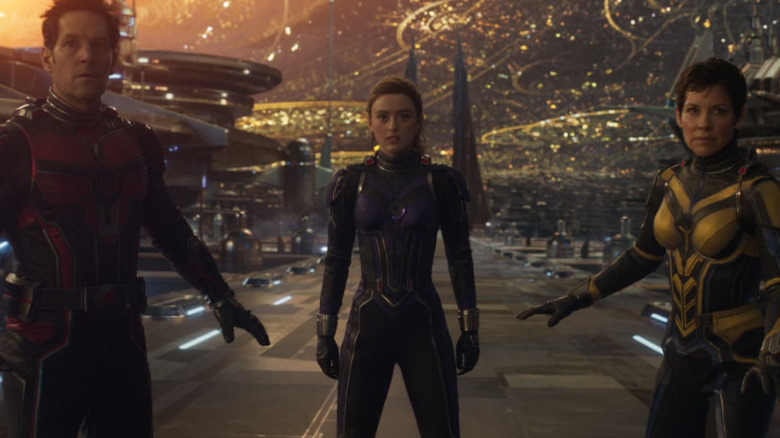 Marvel Studios/Disney
Playing the same character for a while has its advantages. For one, over time, that could equal more screen time. And as a character grows throughout the story, that could also leak out into the actor experiencing their own gradual transformation. For Evangeline Lilly, portraying Hope Van Dyne presented a different advantage, one where the actor got the chance to get a better understanding of her character. While speaking with The Hollywood Reporter, Lilly revealed that it was while shooting "Ant-Man and the Wasp: Quantumania" that she finally felt even closer to unwrapping a character she originally described as a mystery.
"I have one word now that's become my anchor to help me when I feel a bit lost with her, and I just don't know where to put myself, Lilly said in the interview. "And [that word] is the bullet. What I've realized is that there is an efficiency and a sharpness to her. She cuts right through things and she's always going to drive right to the heart of whatever is going on."
Further in the interview, Lilly added that Hope's various changes throughout the "Ant-Man" series made it tougher to pinpoint her character. And honestly, that's a fair point. When we're first introduced to the character, she's estranged from her father, Hank Pym, and believes that her mother is dead because of him. And while more qualified to take up the "Ant-Man" mantle, she instead helps with training Scott Lang. By now, she's fully stepped into the superhero role as The Wasp and saved the world a few times.  And despite Lilly's son deeming Hope the worst Avenger, she might be one of its essential members at this point.