Ant-Man 3 Star Evangeline Lilly's Own Son Once Called Her 'The Worst Avenger'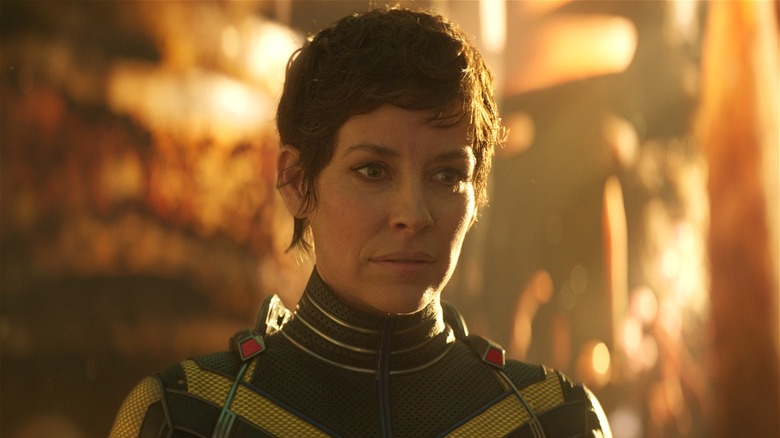 Marvel Studios/Disney
Before she can defeat Jonathan Majors' Kang the Conquerer, Evangeline Lilly must confront one last nemesis — her son's sky-high standards.
Lilly stars as Hope van Dyne in Marvel Studios' latest feature film "Ant-Man and the Wasp: Quantumania," alongside Paul Rudd, Majors, Michelle Pfeiffer, Michael Douglas, Kathryn Newton, William Jackson Harper, and Bill Murray. Though early reactions to the film were seemingly positive, with online users praising the sci-fi tone and Majors' villainous turn, reviews have been largely negative since then. It currently stands as Marvel's second "rotten" movie on the online review aggregator Rotten Tomatoes, holding a score of just 50% as of writing. If it drops below "Eternals'" 47%, it would be the worst-reviewed Marvel Cinematic Universe film on the site.
For Lilly, however, it seems as though the critic she's most eager to please is the one she lives with — her 11-year-old son. The actor recently appeared on the Kelly Clarkson Show to discuss the film and commiserate with the popstar-host about what it's like to constantly chase the approval of tweenage boys.
Your kids are your worst critics
During the interview, Kelly Clarkson (who is raising a young son herself) asked Evangeline Lilly if she could reveal what to expect and look forward to as the years of parenthood march on. Lilly responded bluntly, "You do have to look forward to him thinking you are not cool and being your worst critic."
The two women laughingly tried to explain to each other how they used their careers to make themselves seem "cool" to their children, with Clarkson stating that getting to meet Chris Pratt (or "Owen from 'Jurassic World'" as he's known to her son) got her "in" with her kids. "You're 'in' now," said Lilly. "I thought I would be in once I became an Avenger, and then my son, of course ... Well, he can always find the way that I am not cool." Though The Wasp never held official membership, it is often assumed that everyone who battled Thanos in "Avengers: Endgame" was welcomed into the fold under Captain America's battle cry. Unfortunately, however, saving the universe still wasn't enough.
"He was like 'Mom, why do you have to be the worst Avenger,'" she continued. "'Why couldn't you be Iron Man?' And I was like "Um, okay, I'm trying my very best." It appears as though the benchmark for "coolness" in the Lilly household is getting to headline your own film where you battle a multiversal threat with little help — a benchmark she has just now achieved. "But then, now with 'Quantumania,' I've sort of graduated to being a 'Senior Avenger,'" she clarified. "And he's like 'Okay, Mom, now you're cool."