Abbott Elementary Fans Think The Principal Role Looks Good On Gregory In Season 2 Episode 15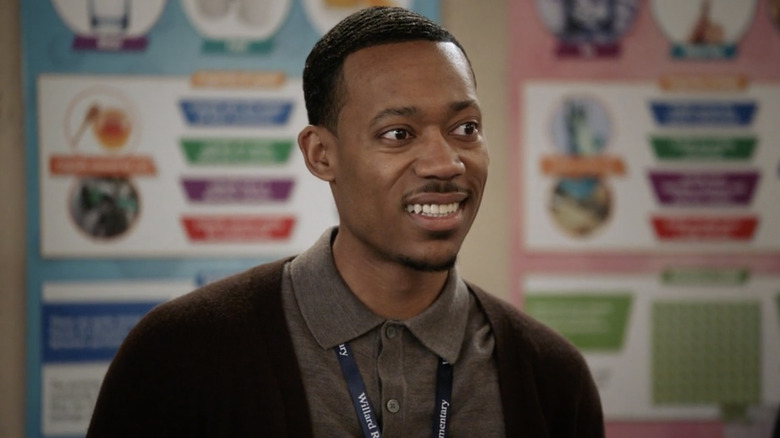 ABC
Tyler James Williams plays arguably one of the funniest teachers on the ABC comedy series "Abbott Elementary," but despite Gregory Eddie's amusing antics in the classroom, it appears several fans can't stop talking about how much they enjoy seeing him as principal.
While he has had roles in several comedies, such as "Everybody Hates Chris," Willaim's efforts in "Abbott Elementary" have not only gone over well with fans but have also secured the talented individual a Golden Globe win. While the actor himself has previously compared his onscreen persona to the likes of a bland pita chip, viewers see things a bit differently. Whether it's the hilarity from the relationship with Gregory's father, played by Orlando Jones, or the fact that he has fans comparing his potential future with Janine Teagues (Quinta Brunson) to Jim Halpert (John Krasinski) and Pam Beasely's (Jenna Fischer) infamous "Office" romance, fans have made it known they enjoy the Abbott Elementary school teacher, especially after watching the entry "Fire."
In Season 2, Episode 15, a small fire in the teacher's lounge is enough for Principal Ava Coleman (Jenelle James) to evacuate the premises post-haste until she knows she won't get burned. With the position of principal vacant, Gregory, who wanted to be principal from the start, finally got to fulfill his destiny, and fans made it clear that they liked what they saw.
Fans hope they haven't seen the last of Principal Gregory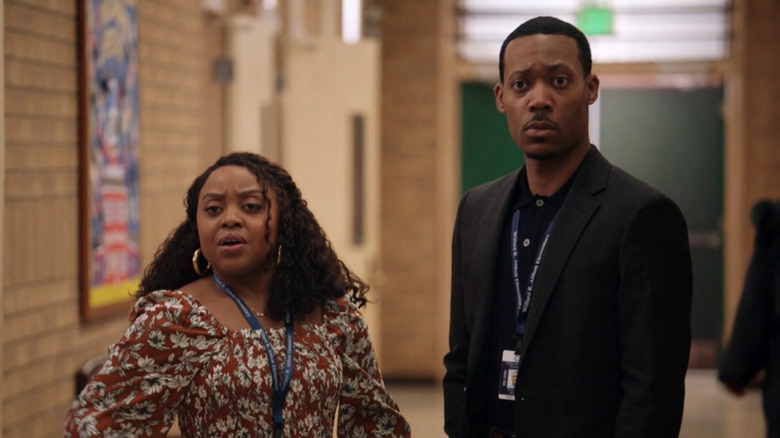 ABC
With a wealth of knowledge and a position-appropriate blazer, Gregory Eddie took things to another level. Despite his first time as principal of Abbott Elementary taking place during a crisis, Gregory manages to handle things well and put out a few fires of his own. His efforts did not go unnoticed by fans, who posted their thoughts about his time at the top of the elementary school food chain on Twitter. One user named @moalosimolemo wrote, "acting principal Gregory Eddie is hilarious," while @amandaeobrien followed up that sentiment with, "Acting Principal? This is the best day of Gregory's life." Others took things in an alternate direction, like @KiraJW, who was happy to point out that "Principal Gregory is extremely attractive."
People definitely liked seeing Gregory stand in as principal, and many want to see more of that. "Loved seeing Gregory as principal and changing into that blazer, lol," one user wrote on Reddit. "I really hope we get to see more intern principal episodes from him." Redditor u/ThisPaige also felt the same way and shared, "Okay, Gregory acting as principal is pretty good. I wish we saw him in action more."
But for some being an interim principal isn't enough, and there are those out there that would like to see the character go further than that.
If fans get their way, Ava Coleman might be in trouble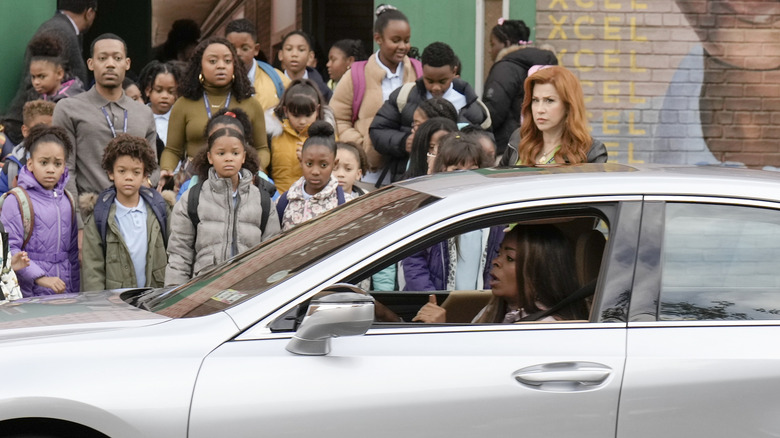 ABC/Scott Everett White
While there is most assuredly plenty of support for Gregory Eddie taking on the role of interim principal more often, others believe he deserves a full-fledged upgrade. Twitter user @Aisela_Lorac pleaded with the showrunners in a post, saying, "please make Gregory assistant principal. I would just love to see that change in the work dynamics with him and Ava." A vice principal gig would add an interesting element to the series, and it would be fascinatingly funny to see how Ava Coleman would handle her so-called hand of the queen.
But while that does seem like a solid idea, there are still bold fans that think he should be the one to sit on the throne of Abbott Elementary. User @leaahk_ said what most people are probably thinking: "Gregory deserves to be a principal." While @Keys_2theLex agrees with that way of thinking, the user did point out that if the changing of the guard takes place, there is no desire to see Ava leave the series. "I don't want Ava gone, but I absolutely want to see Greg as a principal," they wrote. And @californiabarby also had similar thoughts on the matter, writing, "as funny as she is, Ava is a terrible principal, and Gregory is gonna end up with that job."
While nothing has been set in stone, there are undoubtedly some followers of "Abbott Elementary" that are beginning to question Ava's reign in favor of a Principal Gregory dynasty.