Eden Brolin Enjoys Watching Kevin Costner 'Sneer' At People On Yellowstone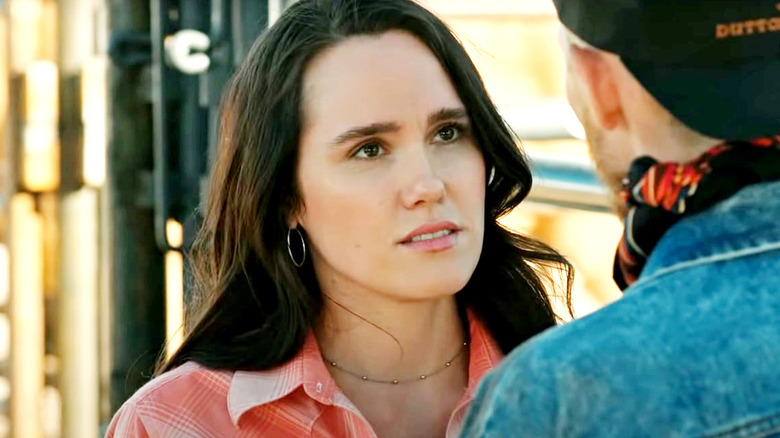 Paramount Network
"Yellowstone" star Eden Brolin has paved her own path in Hollywood outside of the imposing, Thanos-sized shadow of her real-life father Josh Brolin. She regularly appeared in Seasons 3 and 4 of "Yellowstone," but following in her dad's impressive footsteps as a professional actor wasn't always a given. "So, I don't want to say that acting was something that I felt resigned to, but I was willing to explore it and continue being in the frame of mind where I have other things that I've enjoyed doing," Brolin said in an interview with Parade.
"I did other jobs that I didn't mind at all," Brolin continued. "This is something that has continued to fall into place for me, and I'm allowing that to happen." Brolin's career started off modestly enough with the short film "X" in 2008, but she began making a name for herself when she portrayed Charlie Singer in "Beyond." In addition to being a band member of Atta Boy, Brolin portrays the fiery, barrel-racing Mia on "Yellowstone."
Followers of the Paramount Network series are introduced to Mia in Season 3, Episode 3's "An Acceptable Surrender." And it doesn't take long for the newest character in the "Yellowstone" family to set her sights on ranchhand Jimmy Hurdstrom (Jefferson White). Things might not have worked out between Mia and Jimmy, but Brolin has loved working on the streaming series. The thespian is especially fond of the way her co-star Kevin Costner is always showcasing his trademark sneer.
Brolin loves Costner's contemptuous smile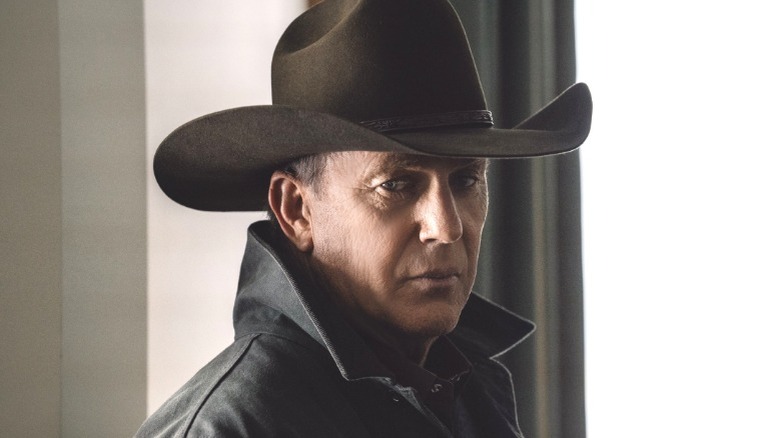 Paramount Network
On "Yellowstone," Eden Brolin's Mia might just be another ranch hand, but she has a real penchant for barrel racing. Showing off her skills at the rodeo might make Mia's day, but the actor who once portrayed a love interest of the bull-riding Jimmy Hurdstram (Jefferson White) finds watching co-star Kevin Costner's on-the-set antics best — especially when he sneers.
"Who doesn't enjoy watching Kevin Costner sneer at people?" Brolin asked in an interview with Reel Talker. Costner portrays "Yellowstone's" main protagonist, John Dutton. For those who have not seen the show, some of John's best facial expressions come out when his adult daughter Beth (Kelly Reilly) and much younger lover Summer Higgins (Piper Perabo) engage in their scrapes.
And while Brolin can't seem to get enough of Costner's proclivity for mocking Montana folks on the show, with that contemptuous smile of his, the actor has thoroughly enjoyed working on the Paramount Network series. "Yellowstone is awesome," Brolin continued. "[I] highly, highly recommend. [I'm] very stoked to be a part of it. Yeah, you gotta watch it, though. It's an event." With the mid-season finale of Season 5 in the books, the second part of the current season is slated to air sometime this summer.