Mike O'Malley's Abbott Elementary Cameo Was Unexpected, But Fans Were Ecstatic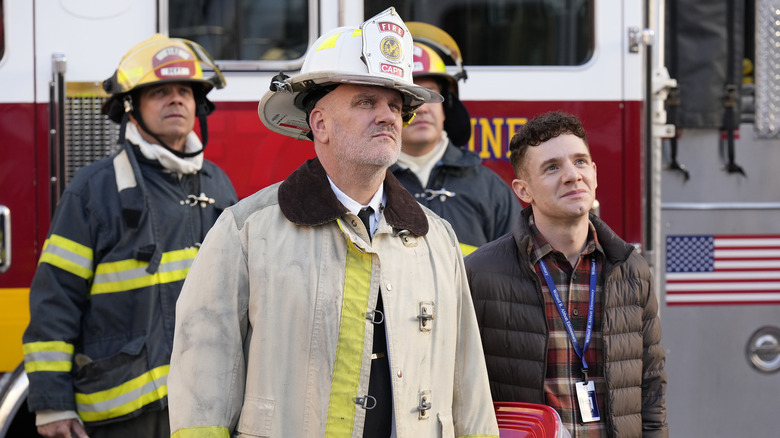 ABC/Scott Everett White
Contains spoilers for Abbott Elementary Season 2, Episode 15 – "Fire"
"Abbott Elementary" is a certified hit over at ABC, and the series continues to use its ever-growing popularity to reel in surprising cameos. Writer and creator Quinta Brunson has managed to bring in Vince Staples, Andre Iguodala, and Sydney Adamu as Janine's sister, with certainly more guest stars on the way.
The show's most recent episode, "Fire," continued the trend, bringing in Mike O'Malley as Fire Captain Robinson. After Barbara (Sheryl Lee Ralph) accidentally sets off a small fire in the teacher's lounge, the fire department arrives to handle the situation, led by Robinson. The Captain then gives a faculty-wide presentation on fire safety, stating that no open flames, even candles, are permitted on school grounds, effective immediately. Later, the fire captain lets Melissa (Lisa Ann Walter) live out her firefighting dreams by using the firetruck ladder to retrieve Jacob's (Chris Perfetti) frisbee.
O'Malley has numerous acting credits to his name, including appearances on "Glee," "The Good Place," and "Snowpiercer." He has also flexed his acting chops on the big screen, appearing in movies like "Deep Impact," "Eat, Pray, Love," and "Sully." For many '90s kids, however, he'll always be known as the host of "Nickelodeon GUTS." But no matter where fans know him from, none seem to have expected him to appear on "Abbott Elementary," and his cameo got fans excited. 
Mike O'Malley is here to teach everyone fire safety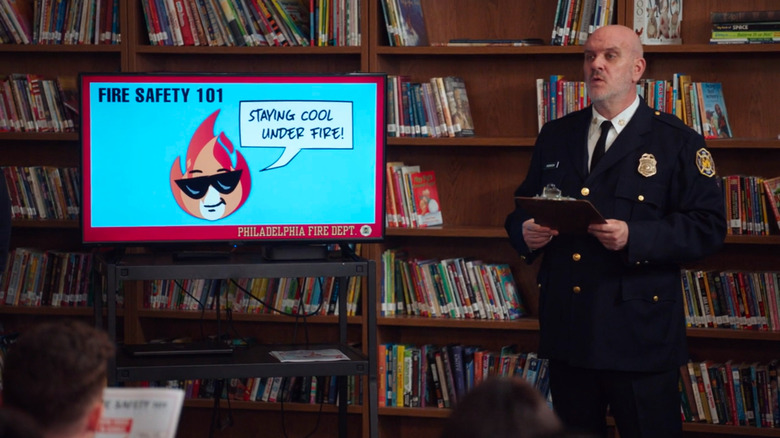 ABC
Although Mike O'Malley's name doesn't scream star power, "Abbott Elementary" fans quickly took to social media to express their love for him following the premiere of "Fire."
On Twitter, @Lozzemarine and @Onelifetoliver were overjoyed to see the actor, with the latter saying, "I love a Mike O'Malley sighting!" Similarly, @Kerri_Lauren loves how the show continues to ride the nostalgia train, saying, "Mike O'Malley!! So much of my childhood continues to be on 'Abbott Elementary.'" Both @PercivalPenman and @Lightecojak had similar responses to the cameo, expressing that it brought back many memories from seeing O'Malley play more prominent roles in projects when they were younger.
The love for O'Malley continued on Reddit, with the episode's official discussion thread quickly pivoted to reminiscing about some of his previous roles. Redditor u/ShesWhereWolf excitedly recognized the actor from his time on "Glee," while u/fedintheheadtheysaid pointed out that he played the doorman on "The Good Place.
"Mike O'Malley is an underrated comedic actor imo!!" u/ShesWhereWolf said in their return to the thread. Many users, like u/lotusmack, pointed out that O'Malley hosted "Nickelodeon GUTS," and u/Alex_Albons_Appendix replied, "Omg flashback. I loved this show! And Mike O'Malley is so great." 
Needless to say, "Abbott Elementary" fans loved O'Malley's brief cameo, and they can't wait to see who pops up in Philly next.