Ghostbusters: Afterlife's Celeste O'Connor Describes The Surreal Moment Seeing The Ecto-1 In Real Life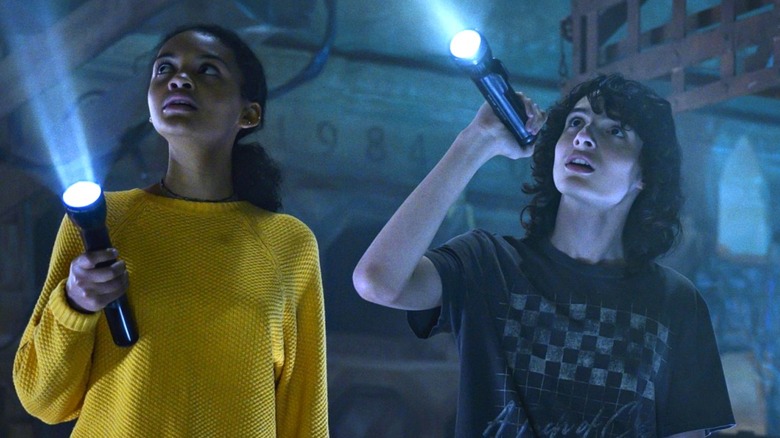 Sony Pictures
"Ghostbusters" is an interesting franchise because, after two wildly-successful films in the 80s, it went in a different direction, with animated shows and video games bringing back everyone's favorite ghost hunters time and time again. Eventually, Sony decided it was time to get the series back to the big screen, rebooting it with an all-female team in 2016 with "Ghostbusters." While star Melissa McCarthy didn't understand the backlash surrounding the reboot, the studio decided to move in a different direction for the franchise's future. Jason Reitman, son of original "Ghostbusters" director Ivan Reitman, created "Ghostbusters Afterlife," a direct sequel to his father's "Ghostbusters 2." Set 32 years after the sequel, "Afterlife" introduces a younger generation of ghost hunters with McKenna Grace, Finn Wolfhard, Logan Kim, and Celeste O'Connor playing the titular heroes.
"Afterlife" couldn't have made a better decision in the casting of the new generation of Ghostbusters. In an interview with Looper, Grace mentioned growing up a massive fan of the films and working with the original cast was a dream come true. Similarly, Wolfhard already had some ghost-busting experience, dressing up as the iconic characters for "Stranger Things." O'Connor also grew up with "Ghostbusters," but playing a member of the new team didn't really register with her until she stepped on set and saw the props from her childhood brought to life.
Seeing the Ghostbusters gadgets put things into perspective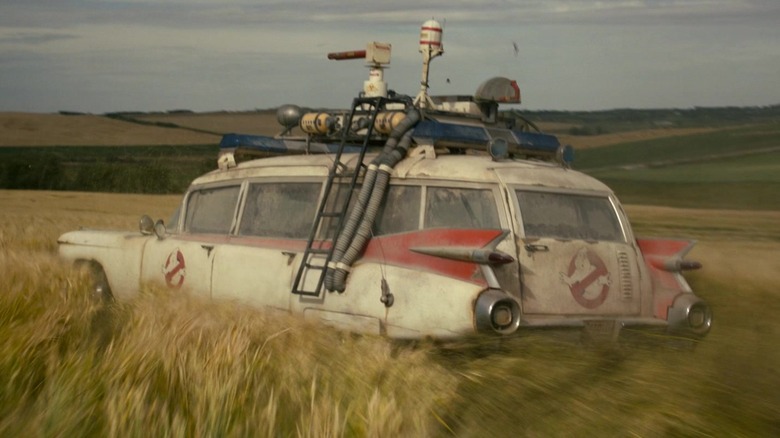 Sony Pictures
During an interview with Cassius Life, "Ghostbusters Afterlife" star Celeste O'Connor spoke about what it was like playing a new generation of younger and more diverse Ghostbusters. She remembered seeing Ecto-1 for the first time, revealing that it meant a lot since she grew up with the original "Ghostbusters" films. "It was amazing," the actress said when asked what it was like seeing Ecto-1. "I stepped into one of the sound stages, and Jason [Reitman] took us on a tour of the prop world. We saw the prop guys making the gadgets and hand painting things and screwing things. It was really cool to see the process of how they were working on things. I saw the Ecto-1 for the first time in that space. It was surreal. It was incredible. I was like, 'This is the one from the movie that I saw when I was a little kid.' It was incredible."
Getting a role in "Ghostbusters Afterlife" meant more to O'Connor than just playing a part in an iconic franchise. She recognizes the importance her character, Lucky, played regarding the representation of people of color in "Ghostbusters," and that's what director Jason Reitman set out to accomplish with "Afterlife." At a "Ghostbusters" fan event, the filmmaker revealed that his story started with the idea of a 12-year-old girl wielding a proton pack, and he set out to tell a more inclusive "Ghostbusters" story. He recognizes those that came before him, like Paul Feig, director of 2016's "Ghostbusters." Reitman acknowledged that if Feig didn't push the agenda forward first, he wouldn't have been able to make a movie "about people of every race, every gender, for people around the world" (via Cinema Blend).