AHS' Jessica Lange Had A Hard Time With Sarah Paulson's Bette And Dot Characters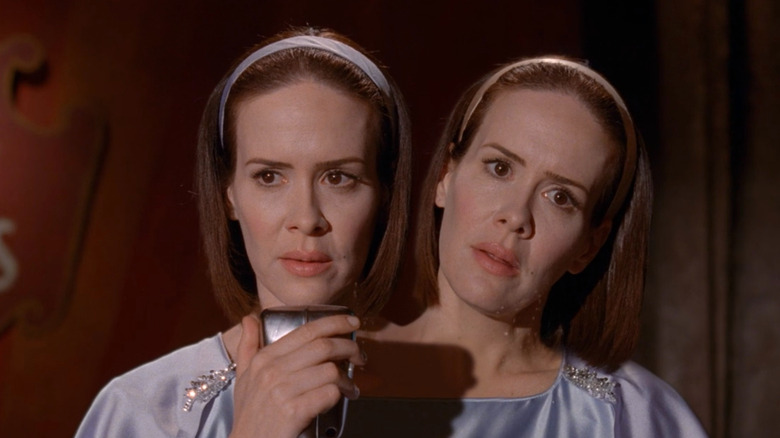 FX
"American Horror Story" is a series that relies on outlandish storylines, talented cast members, and an anthology format to keep audiences coming back for more. Every season offers a blank slate, allowing the actors who work on the series to portray different characters with each new story. The minds behind the show love to play with classic tropes and figures from the horror genre, and at this point, viewers have seen it all. Witches, ghosts, aliens, vampires, and all kinds of undead monsters have had their time to shine in different seasons, though in many ways, "AHS: Freak Show" has the most chaotic combination of characters.
The performers who work at Fräulein Elsa's Cabinet of Curiosities are hardly cause for concern when there's a killer clown, a conman, a ghostly urban legend, and a murderer running around. The season was particularly challenging for actor Sarah Paulson, who played the dual role of conjoined twins Bette and Dot Tattler. It's hard to imagine how Sarah Paulson filmed her roles as Bette and Dot in "AHS: Freak Show," though the actor has admitted that bringing the conjoined twins to life was just as tricky as you'd imagine. However, former series star Jessica Lange also struggled to adjust to the mechanics that made Paulson's performance possible. 
Bringing Bette and Dot to life was a complicated process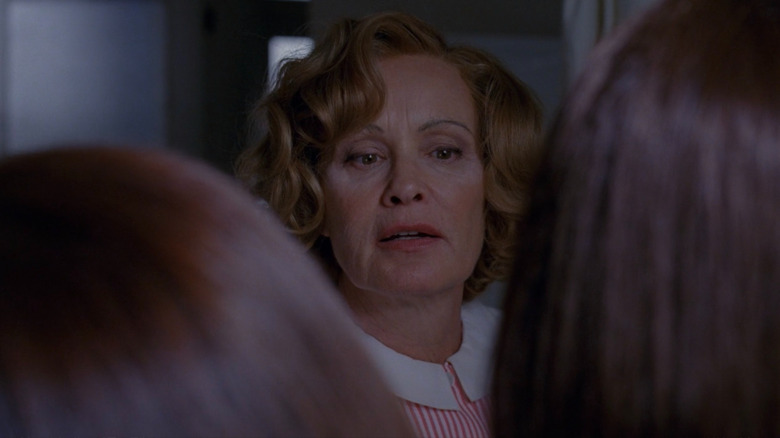 FX
Portraying two characters meant twice the amount of work, and playing each side of Bette and Dot was a nightmare for Sarah Paulson. Paulson would spend upwards of 15 hours on set getting footage of both Tattler sisters acting against a prosthetic head as she went between the characters. Bette and Dot have wildly different personalities, though Jessica Lange still had difficulty telling them apart. During an interview with ABC News, Paulson spoke about helping Lange remember which sister she was supposed to be focused on during Elsa's scenes with Bette and Dot.
"Yes, it was hard because they had to use their imagination, as well," the actor explained. "And also, Jessica Lange had a really hard time keeping track of whoever she was supposed to be speaking to. So I was sort of, sly behind [the] camera, pointing. When she would look in the wrong direction, I would be like, 'No, no. Other head, this one.'"
Lange's frustration with working around Bette and Dot was so profound that Paulson mentioned it in another interview with GQ, saying, "It was the scenes Jessica Lange hated shooting more than anything because she'd be like 'Ugh, are we shooting with the twins today? We'll be here for 20 hours.'"
Despite the confusion, all those long hours paid off. The creative team behind Paulson's transformation went on to win the Emmy Award for outstanding prosthetic makeup for their work.