Rick And Morty's Chris Parnell Found It 'Very Satisfying' To Voice Apocalyptic Jerry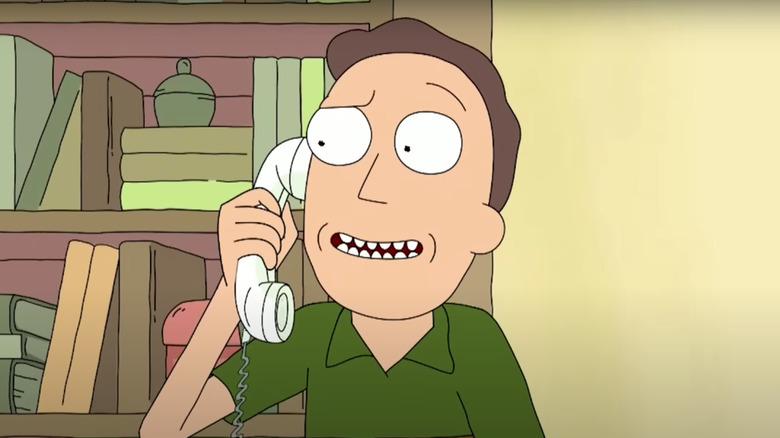 Adult Swim
"Rick and Morty" has built up a pretty dedicated following over the course of its 6 seasons, and while the laundry list of allegations against its co-creator, Justin Roiland, continues to drag down the show's legacy, it's looking like the massive Adult Swim franchise will continue on and fulfill the 70 episode order that it received after Season 3.
With that in mind, surely one of the factors that continue to make "Rick and Morty" so beloved by fans is the growth and layers that have been added to its characters along the way. For instance, while Jerry Smith (Chris Parnell) began the series as a sad loser, he has occasionally been given moments to shine since then and even come out on top from time to time.
Of course, the characters of "Rick and Morty" are endlessly changeable due to the dimension-hopping nature of the series, which sees dozens of alternate versions of each character, including Jerry, showcased throughout the many adventures that the titular duo has undertaken in the show.
Parnell loves voicing Jerry when he's being put through the wringer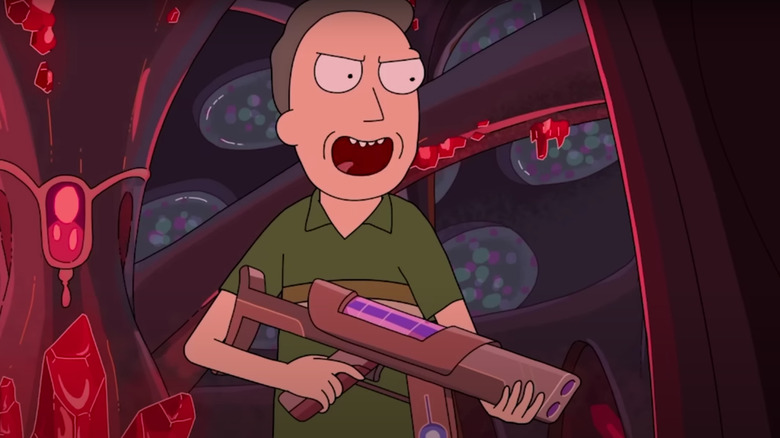 Adult Swim
Chris Parnell participated in a round table event with Screenrant and CBR, and the latter asked about the alternate versions of the characters and how they help to challenge the cast of "Rick and Morty." This prompted Parnell to explain how much he's enjoyed playing Jerry in different situations and alternate realities.
Parnell explained. "But any time Jerry is having to go to a different place emotionally, or like with the really dark apocalyptic scenes with Jerry, he's in a very different place vocally, just because he's been through so much, and that's fun and very satisfying to get to do," the actor concluded.
A great example of what the actor is referring to here comes in Season 5, Episode 2 ("Mortiplicity"), which sees Jerry's most brutal punishment yet. Playing a wooden version of the character, Parnell is tasked with voicing Jerry at his most stressed and exasperated, as his selfish nature sees him living for thousands of years and suffering endlessly.
Now that Jerry's got two wives, though, and has even had a few heroic moments, the character could see a shift in how he's portrayed in Season 7 of "Rick and Morty." Naturally, though, Jerry just isn't Jerry if he doesn't show his pathetic side every now and again, and it seems Parnell wouldn't have it any other way.