Rick And Morty's Chris Parnell Loves That Jerry Is A Pathetic Loser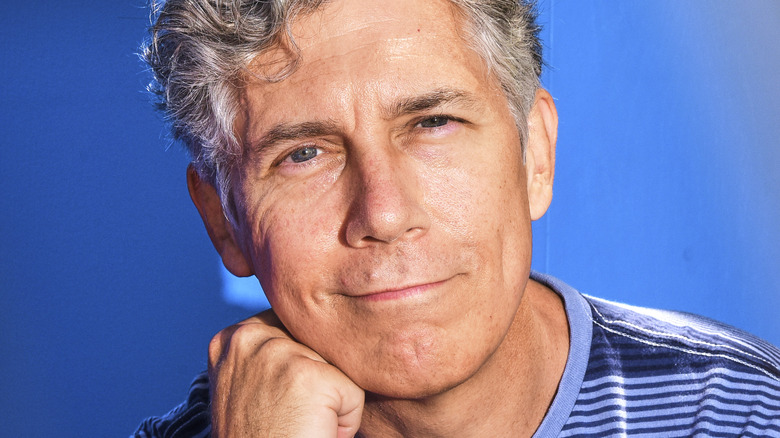 Irvin Rivera/Getty Images
"Rick and Morty" isn't just one of the most popular shows on television (via Parrot Analytics); it's also made its mark as a major part of modern popular culture. From motivating a major corporation like McDonald's to bring back a discontinued condiment (via Forbes) to galvanizing its legion of fans into a force to be reckoned with, the series has continued to succeed in an incredible fashion, despite the occasional bit of controversy (via Pop Culture).
While part of this success undoubtedly comes from the irreverent writing and meta context from "Rick and Morty" creators Dan Harmon and Justin Roiland, credit must also be given to the wild universe of the series, where nearly anything can happen, as well as its hilarious, ever-expanding cast of characters. Among them is hapless loser Jerry Smith (Chris Parnell), and while the foolish and petty father of the Smith family has struggled to do anything meaningful over the course of the series, fans love him anyway.
Parnell thinks playing a loser like Jerry is a lot of fun
In fact, Chris Parnell, who voices Jerry, thinks that the character's stupidity and uselessness are part of what makes him so great in the first place. Parnell sat down with SyFy to talk about his role on "Rick and Morty" and why he loves playing Jerry so much on the Adult Swim series.
"I love that he is kind of pathetic and a sad-sack and a loser. I think that's a funny setup and a fun kind of character to play," Parnell explained. Much like Randy Marsh (Trey Parker) on "South Park" or Homer Simpson (Dan Castellaneta) on "The Simpsons," part of what viewers love about Jerry is that he's so hilariously inept, so it's easy to see where Parnell is coming from here.
"I've learned that it's not too challenging for me to play a pathetic, put-upon guy. That, somehow, is easily in my wheelhouse, it seems," Parnell went on. "Jerry's a bit of a sad-sack, but he's not a bad guy. He doesn't always make the best choices, but he tries to be fun, and he tries to better himself in little ways."
As Jerry found himself in perhaps his most ridiculous "Rick and Morty" situation yet in Season 6, Episode 5 ("Final DeSmithation"), it would seem that the writers behind the hit series still aren't done tormenting the hapless character. But it sounds like Parnell is more than happy to keep putting Jerry through the wringer as long as viewers are enjoying themselves.