Early Reactions To Ant-Man And The Wasp: Quantumania Are Incredibly Exciting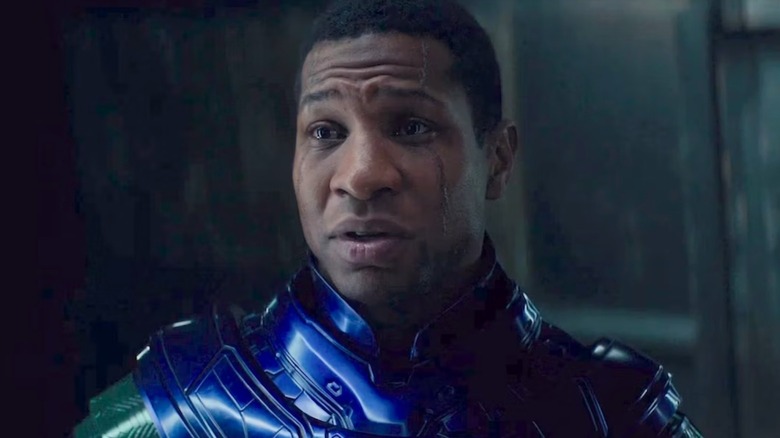 Marvel Studios/Disney
With the Avengers established as Earth's premier superhero force and the Guardians of the Galaxy patrolling the stars, a new hero emerged in the Marvel Cinematic Universe in 2015. At long last, Ant-Man — the Scott Lang version, as portrayed by Paul Rudd — made it to the movies in his own self-titled film. It was a heist story full of action, laughs, and worldbuilding that would greatly impact the MCU in the years to come. Its sequel, 2018's "Ant-Man and the Wasp," delivered more of the same while also letting audiences know where the lead heroes were during the events of "Avengers: Infinity War."
After playing a key role in "Avengers: Endgame," helping the titular team navigate the microscopic Quantum Realm and undo Thanos' (Josh Brolin) "Infinity War" destruction, Ant-Man is coming back to the movies. The release of "Ant-Man and the Wasp: Quantumania" is right around the corner, and it seems like a high-stakes affair to launch MCU Phase Five. Ant-Man, the Wasp (Evangeline Lilly), and their family are sucked into the Quantum Realm with no method of escape. While trying to get home, they come face-to-face with the formidable warlord, Kang the Conqueror (Jonathan Majors).
In the wake of a few teasers and TV spots, the first reactions to "Ant-Man and the Wasp: Quantumania" have hit the internet. For the most part, things are looking good for the long-awaited threequel.
Most folks are loving Quantumania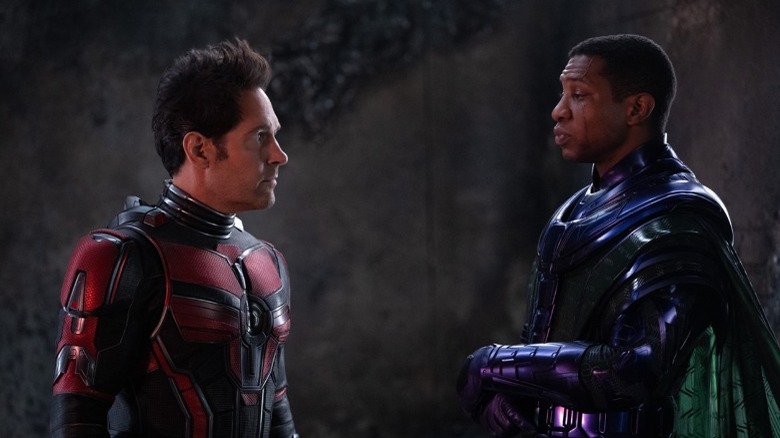 Marvel Studios/Disney
On the evening of February 7, 2023, social media was flooded with early impressions of "Ant-Man and the Wasp: Quantumania." It seemed that the majority of lucky viewers who got to see it ahead of time are happy with what it has to offer.
Twitter user @m77oz gave the film high marks, praising it for its psychedelic nature and consistency with the previous two "Ant-Man" movies. They also give Jonathan Majors credit for his first outing as Kang — something the likes of @BigGoldBelt and @legadodamarvel highlighted in their mini Twitter reviews. Speaking of performances, @GeekVibesNation writes, "Paul Rudd gives his most emotional performance as Scott Lang in #AntManAndTheWaspQuantumania as we see the smallest Avenger take on his biggest threat yet."
In addition to concurring when it comes to Majors' performance, @FicoCangiano also goes as far as calling "Quantumania" the best entry in the "Ant-Man" trilogy. @TheWillThe even one-ups this assessment by calling it the best film in the entire MCU so far. Going behind the scenes a bit, @IamMichaelJLee shines a spotlight on Peyton Reed's directing and his "Star Wars" influence on the film in their tweet: "Peyton Reed's time as a director of The Mandalorian episodes really shows. Not in just his use of the Volume but the production and character designs. It's out of this world!"
Some feel Quantumania is a disappointing start to Phase Five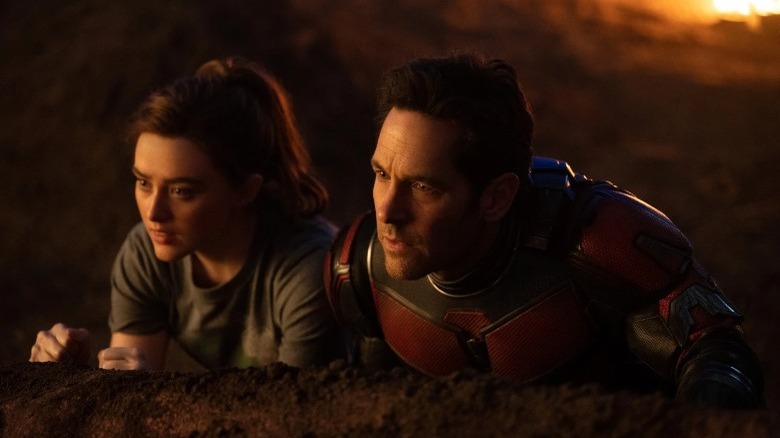 Marvel Studios/Disney
From the aesthetics to the performances, "Quantumania" has been showered with love so far. At the same time, there are more than a few people who have seen it and walked away somewhat disappointed.
"#AntManAndTheWaspQuantumania is a lot of things: loud, super-sized, and constantly dialed up to 11. Too bad so little of it feels new, visually creative, or, uh, just plain interesting. Not even Jonathan Majors can save this hollow, repetitive exercise in WeIrD sTuFf HaPpEnNiNg," wrote @Somthin_Tookish. @AJJetset, who was admittedly impressed with Majors' take on Kang, feels "Quantumania" missed the mark as the start of Phase Five as well. Meanwhile, @jordiepoblete found it to be a middle-of-the-road flick that fails to be as entertaining as some of its MCU contemporaries. @Lulamaybelle notes that it struggles to find its footing emotionally and in terms of structure.
@POCculture found "Quantumania" to be a mixed bag, writing, "#AntManAndTheWaspQuantumania is a super weird movie. And possibly the most #StarWars of any #Marvel film. At times the humor was overly silly & took me out. Think opinions will vary widely on MODOK." As their tweet notes, this movie will serve as the introduction of longtime Marvel Comics villain M.O.D.O.K. played by Corey Stoll. Stoll previously featured in 2015's "Ant-Man" as Darren Cross, aka Yellowjacket, who seems to have morphed into M.O.D.O.K. since moviegoers last saw him.
"Ant-Man and the Wasp: Quantumania" premieres on February 17, 2023, with two post-credits scenes in tow.