Chicago Fire Fans Are Loving Brett And Severide's Friendship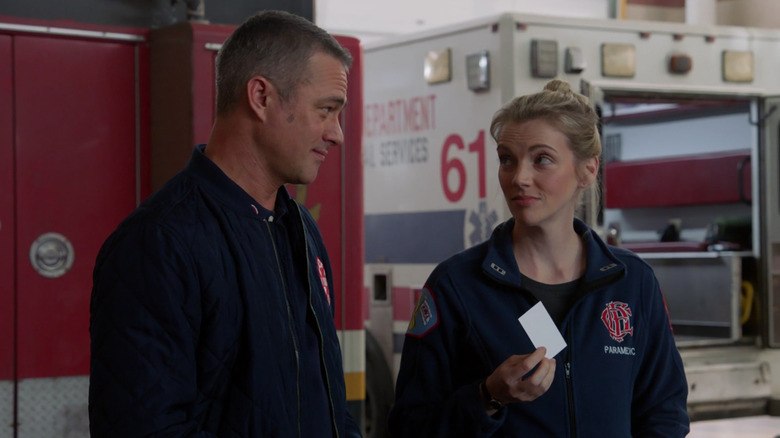 NBC
Over the course of its 11-season run, firefighters, EMTs, and other characters on "Chicago Fire" have cycled through the halls of Firehouse 51. It is that cyclical motion that's been the engine (pun very much intended) of Dick Wolf's hit drama series, even if it means losing some fan-favorite characters along the way. The lucky ones leave on their own terms, as when Peter Mills (Charlie Barnett) decamped for North Carolina, or when Matt Casey (Jesse Spencer) moved to Oregon. Others tragically lose their lives in the line of fire.
The workplace environment on "Chicago Fire" is as capricious as it is uniquely intimate, and the firehouse tends to forge strong friendships, even if they're torn apart by circumstance. Otis (Yuriy Sardarov) and Joe Cruz (Joe Minoso), for example, were inseparable before the former's death in the Season 8 premiere. Now, fans are taking notice of the new friendship that seems to be blossoming between Sylvie Brett (Kara Killmer) and Severide (Taylor Kinney) on "Chicago Fire."
Fans can't get enough of Sylveride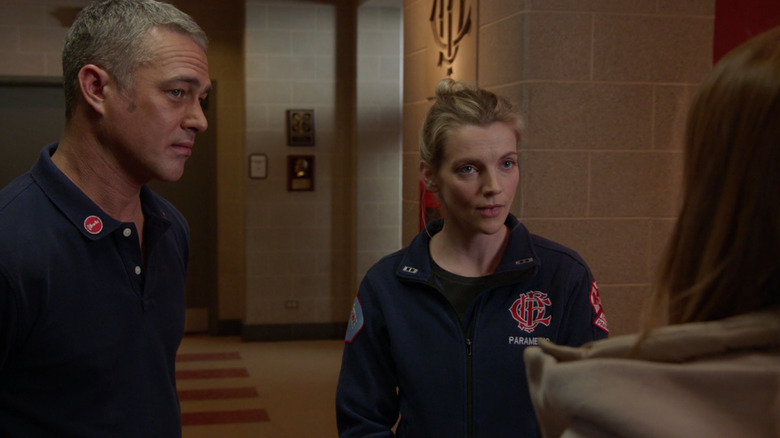 NBC
In Season 11, Episode 13, Brett and Severide are brought together when a man they saved insists on paying them for their efforts. For fans, seeing the characters' platonic chemistry on screen was a gift in and of itself. "I REALLY enjoyed watching them interact this episode," wrote @BrettseyDaily on Twitter. "Hopefully we will see that friendship ... develop more in future episodes/seasons." Other users, like @Learnthingss and @sand86802 agreed, with the latter chiming in, "We got the #Sylveride friendship we have been wanting for YEARS."
A burgeoning friendship between Brett and Severide makes sense, as both were burned by Casey's exit in Season 10. "In some ways it feels like he's still here," Severide said in a tender moment with Brett. "People make a difference in your life like that, you don't forget. Even if it's hard, you have to move on."
Those who are holding out hope for more Sylveride may want to slow their roll. With Taylor Kinney's imminent sabbatical from "Chicago Fire" coming any week now, Severide may not have time for a new best bud just yet.