Young Sheldon's Raegan Revord Thanks Her Legendary Co-Stars For Her Layered Approach To Acting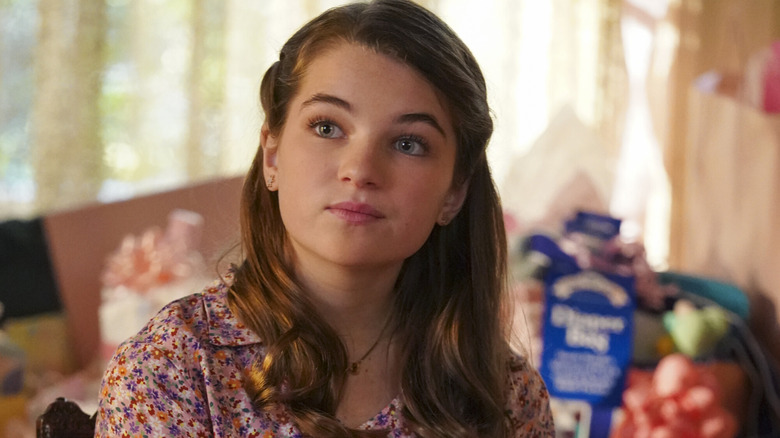 Michael Yarish/CBS
Starring in the prequel series for one of television's most beloved sitcoms can be stressful for anyone, let alone children. However, since 2017, Iain Armitage, Raegan Revord, and Montana Jordan have been holding their own as the Cooper children on "Young Sheldon," which gives "Big Bang Theory" fans insight into the adolescence of the future theoretical physicist.
Jordan, who plays Georgie, was the only one of the trio with no prior acting experience. At the age of 7, Sheldon actor Armitage became known as Ziggy Chapman on HBO's "Big Little Lies." As for Revord, who portrays his sassy twin sister, Missy, she landed the role of Megan on "Modern Family" at only 6, followed by guest spots on Netflix's "Grace and Frankie" and TV Land's "Teachers." For all three of them, however, "Young Sheldon" is their biggest project by a long shot, with the show renewed through at least 2024.
Over the course of the series, viewers watch not only these characters grow and evolve but also the actors who bring them to life. For Revord, who is now a teenager, it's an odd experience to watch Season 1 episodes when reruns come on TV, telling Popternative, "I love to refer to myself then as a little mouse because I honestly sounded like a little mouse, and it's insane to see just the difference."
The role of Missy is becoming more challenging as the character evolves from being simply the sarcastic comedic relief. But as the difficulty increases, Revord is crediting some of her legendary co-stars with helping her thrive.
Annie Potts helped Raegan Revord find different ways to say her lines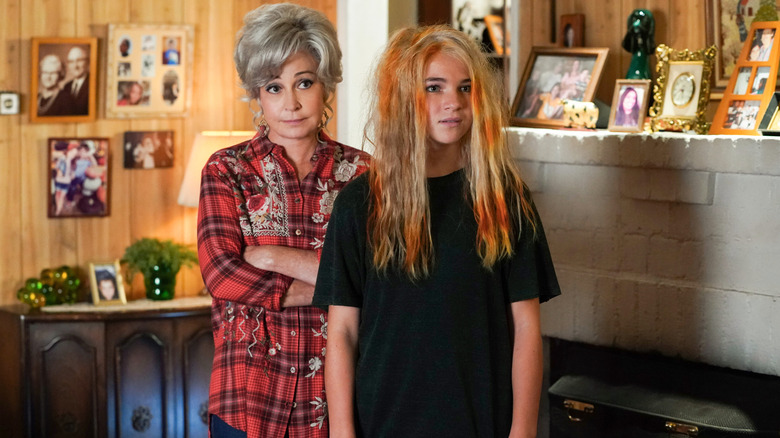 Sonja Flemming/CBS
When Raegan Revord landed the role of Missy Cooper, she wasn't exactly a stranger to the screen. Still, she didn't have much formal training and assumed the key to acting was the ability to memorize lines (via Popternative). Of course, this is certainly part of the job. But her acclaimed "Young Sheldon" co-stars, especially Annie Potts, opened her eyes to the intricacies and layers of the craft.
"I've learned so much from her and just my cast members that surround me on [a] day-to-day basis," Revord said. "And now, compared to [when] I was 9, I go and I read the script and I think about how to approach it and the different ways that I could say a line. And not even just the lines itself, but the reactions and like, if I do it this way, how will it translate to the audience?"
For Potts, it's been bittersweet to watch Revord and Iain Armitage become professional actors before her eyes. She told Smashing Interviews Magazine, "Oh, it seems to have happened so fast, too! They were just so tiny when they were nine."
Based on feedback from "Young Sheldon" viewers, the lessons Revord learned from Potts are paying off. On Reddit, u/Hobbes131 praised Revord for stealing every scene that she's in, adding, "That young lady is going to have one heck of an acting career if she wants to."
While Revord's main focus at the moment is "Young Sheldon," she's made it clear that she wants to eventually expand her horizons, including into the Marvel Cinematic Universe. How proud will Potts be if that happens?