Brandon Sklenar Says 1923's Cowboy Camp Was The First In Which No One Fell Off A Horse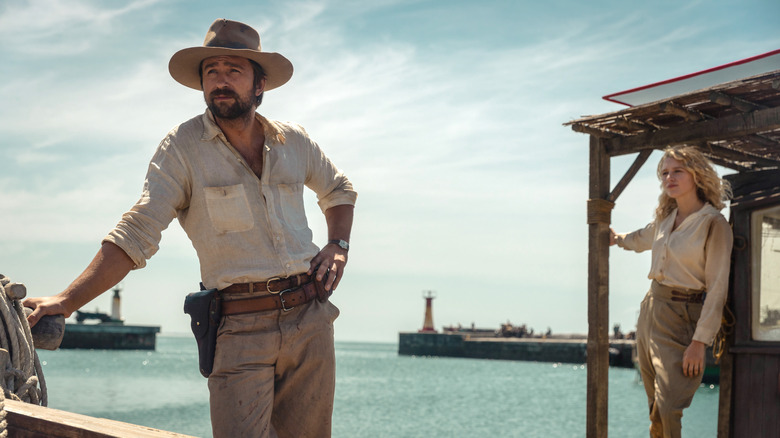 Emerson Miller/Paramount+
If you're going to be in a Taylor Sheridan show, chances are you will need to know how to ride a horse. Even Dwight Manfredi (Sylvester Stallone), a New York City mobster, ended up on a horse in "Tulsa King."
While already having some experience with a horse is a plus (just take legendary Western star Kevin Costner, the lead of "Yellowstone"), Sheridan's shows already provide a cowboy camp for actors to make sure these thespians look proper and more comfortable riding through the meadow. Horse riding can, of course, be challenging. Most prefer to get from point A to point B in a car today, and the fear of being bucked off a horse probably keeps most at bay.
In "1923," just about everyone needs to ride a horse because, well, it's 1923 Montana. Brandon Sklenar plays the adult Spencer Dutton. When the "Yellowstone" and "1883" spinoff begins, Spencer is a long way from Montana, working as a hunter in Africa. He still has to ride horses, though, and as the Dutton family begins to dwindle throughout "1923" Season 1, Spencer finds himself making the dangerous trek back to his home and his proper cowboy ways.
Sklenar has detailed the cowboy camp needed to prepare for "1923" and revealed it was supposedly the first time in the training for Sheridan's shows that no one got thrown from a horse.
Brandon Sklenar has previous experience with horses
In an interview with Collider about "1923," Brandon Sklenar explained he had actually ridden horses when he was a kid, giving him a slight advantage when he went in for his training. According to the actor, no matter where somebody was in their training with horses, the difference at the end of cowboy camp was night and day.
"We spent probably two months every day with some of the best wranglers in the business. Hard for us to come out of that and not be pretty good on a horse. It's all relative compared to these guys. You're still a beginner. But from day one to the end of that, it was night and day for everybody," he said. The actor said going through Sheridan's cowboy camp built a bond between the cast, a bond likely strengthened by the performers' success and the lack of accidents. 
"Everybody did such a phenomenal job. No one fell off. It's the first Cowboy Camp I think they've had when no one fell off their horse or got bucked off," Sklenar said. Other actors have also spoken about the two week cowboy camp in interviews, revealing it included learning roping and riding for eight hours a day.