CSI's Weekly Demands As A Network Show Were Right Up Laurence Fishburne's Alley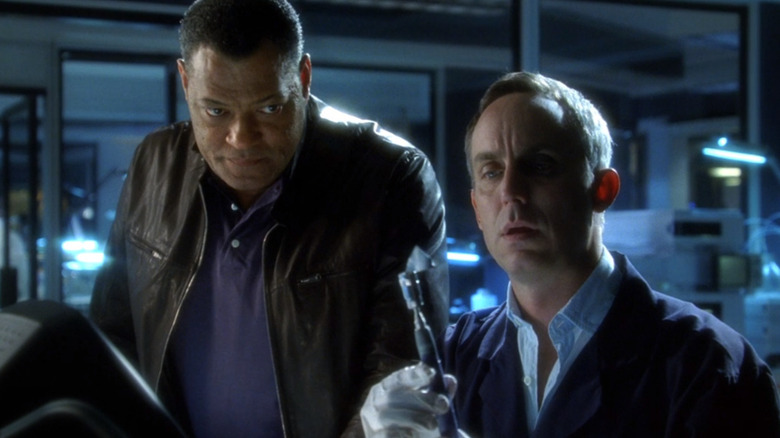 CBS
When William Petersen initially left "CSI" during Season 9, the show's future was a bit uncertain. For years fans have become accustomed to seeing the actor portray the intelligent but quirky Gil Grissom leading the rest of the CSI team. At the time, the show without its beloved lead seemed unfathomable. But to cushion that massive blow, "CSI" brought a huge star to take the torch from Petersen. Within the same season of Petersen's exit, Laurence Fishburne stepped into the series as Dr. Raymond 'Ray" Langston.
Having Fishburne on board seemed like the right move considering Fishburne's impressive career before "CSI." Although it'd been a decade since he'd starred as a regular for a TV series, Fishburne's numerous film roles proved he had an impressive range and talent. He starred in some of the biggest films like "What's Love Got To Do With It?" and "The Matrix" trilogy. The actor had the skills to do the role justice. Still, moving from films to a weekly procedural crime drama on a major network is a significant adjustment. For instance, the scheduling demands required may differ between "CSI" and the movies Fishburne was used to working. But according to the actor, despite the change, the weekly demands of "CSI" were right up his alley.
Fishburne felt prepared thanks to an intense theater schedule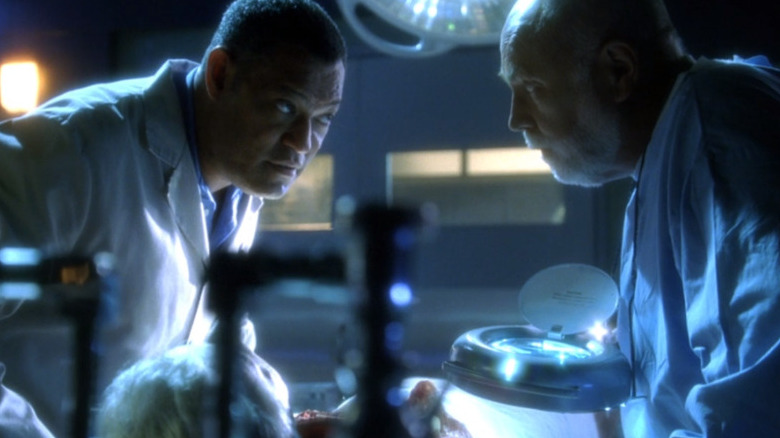 CBS
What's the best way for an actor to prepare for starring on a hit weekly network show like "CSI?" For Laurence Fishburne, the key may have been to take on an intense one-man Broadway show. While speaking with MovieWeb in 2008, Fishburne expressed that his role as Dr. Raymond 'Ray' Langston was a welcome challenge, allowing him to play a completely different character. But as for the demanding shooting schedule for "CSI," Fishburne seemed more than ready thanks to his time in theater prior to taking on the "CSI" role.
"I just finished doing a one-man show on Broadway which has been 145 performances in five months or six months or something," Fishburne told MovieWeb. "That's good training for what I'm about to enter into, with respect to the speed at which you have to work when you're doing network series television."
It sounds like Fishburne put himself through an actor's boot camp, as so many performances in such a short span are incredible. Now the grinding demands of network TV may not have driven the actor away, but Fishburne left "CSI" after Season 11 to pursue other film projects. However, between shuffling his continuing work in movies, Fishburne eventually made time for other TV roles, most notably as Pops in the acclaimed sitcom "Black-ish." Fishburne has accomplished so much in films and theater, but the actor once noted in an interview with Next TV the unique connection TV grants with an audience. "You turn the television on, and you become a member of the family when you're on television," Fishburne said in the interview. "So there's a familiarity."