The Conners Fans Can Relate To Darlene's Job Struggle In Season 5 Episode 14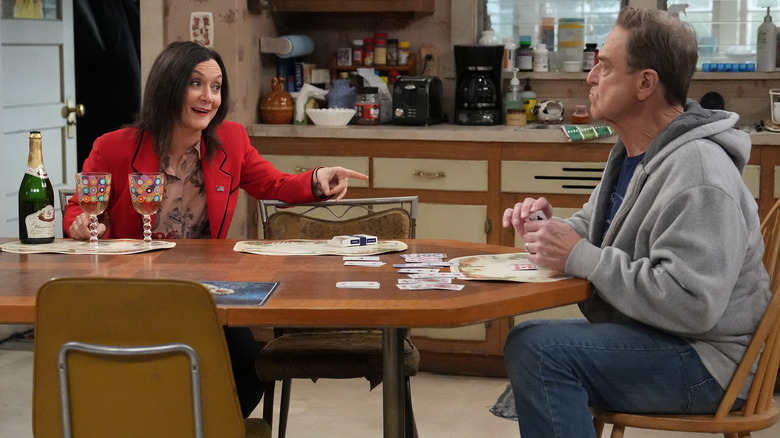 ABC/Eric McCandless
The following article contains spoilers for "The Conners" Season 5, Episode 14 — "Adding Insult to Injury."
Going to job interviews and facing up to the kind of stinging rejections they can bring is a part of the human experience. The stressful process of presenting yourself in your best light, trying to sound well-versed in the role you're auditioning for, and acting like a professional adult at the same time can definitely take its toll.
Darlene Conner (Sara Gilbert) has been trying to get a brand-new job since she was fired from Wellman Plastics all the way back in Episode 7 of Season 5, "Take This Job and Shove It Twice." She's delivered for an Uber Eats-style meal delivery company, had remote interviews, and suffered through a number of ignominious indignities as she's looked for fresh work. But in this episode — after struggling with some honest advice handed to her by her father Dan (John Goodman) — she finally scores a job. In a beautiful touch of irony, it's in the accounts receivable department; Darlene needs to be tough on those who don't pay their bills, something the Conner clan had to dodge during their long, difficult times on the rough side of debt collection. And fans watching the show's latest episode couldn't help but relate to Darlene's struggle to land a new job.
Fans knew exactly how Darlene felt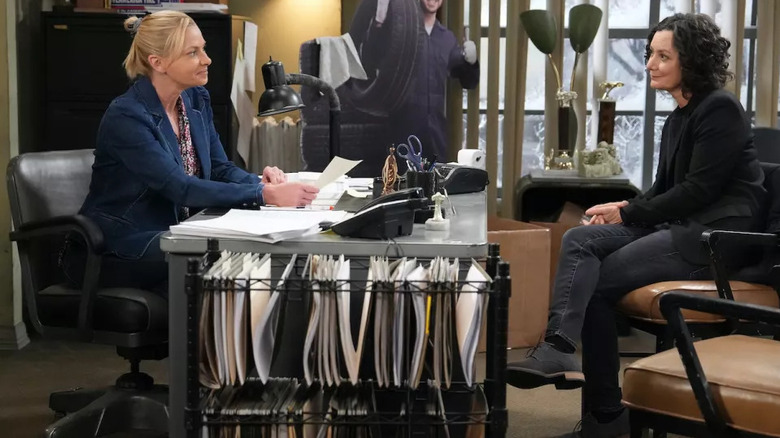 ABC/Eric McCandless
Multiple fans watching along with "The Conners" couldn't help but relate to Darlene as she cycled through some very embarrassing interviews during "Adding Insult to Injury." This was unlike Darlene, who found herself being interviewed by people played by luminaries like Jaime Pressly and Jack McBrayer.
"I've never related to Darlene more," admitted @djgirl40, adding a phalanx of crying laughing emojis. They were among the fans willing and able to offer Darlene support. Some fans just came right out and said how they felt about her. "Love Darlene!" cheered on @RageGrl. Multiple fans responded positively to a tweet containing dialogue from Darlene's monologue to Dan about the humiliation of concealing her real self to find employment, which was posted on the official "The Conners" Twitter, @TheConnersABC. 
It's quite possible that they, too, have needed to be employed more than they've needed to be honest, which is what helps make watching along with "The Conners" such a huge success, and such a relatable show to follow.