April 2018 Trailers That'll Blow You Away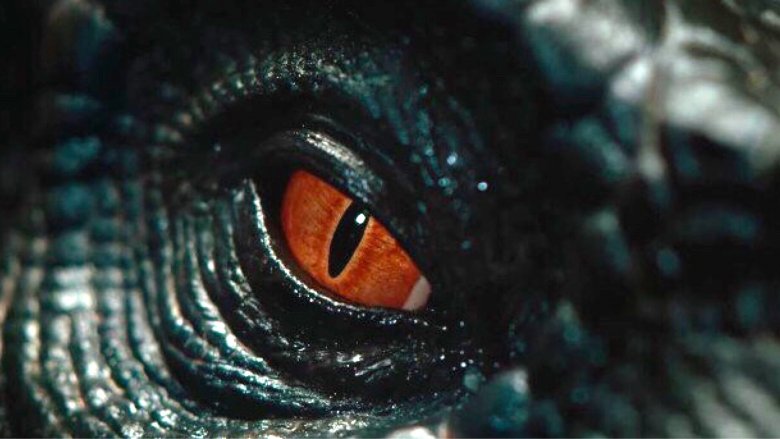 As of April 27, 2018's blockbuster season is officially underway. Infinity War crushed the box office just like everyone expected, paving the way for a new round of high-octane films. The months ahead will see the release of plenty of high profile titles, including Deadpool 2, Jurassic World: Fallen Kingdom, and Solo: A Star Wars Story alongside low-key films like Hereditary, Hotel Artemis, and Terry Gilliam's The Man Who Killed Don Quixote. You don't get much more variety than that, but they all have one thing in common: they look spectacular.
In fact, just about every major upcoming film dropped a new trailer over the past month, all but guaranteeing a massive year at the box office. It's a lot to take in if you're not paying attention. In case you missed them, here's a look at all the new trailers from April 2018 that are sure to blow you away.
The Cleanse — May 4
Cleanses are these health fads where you drink a bunch of questionable liquids and then get rid of all your bad poop and throw up a lot. It's basically everything that happens after the ninth shot of tequila, but somehow healthy. Not to be confused with The Purge, The Cleanse sees a group of people heading out to a mountain health retreat to partake in one of these purging rituals. You can bet those people have all kinds of vile fluids coming out of them, but one guy (Johnny Galecki) expunges something a little more sinister: an actual demon.
The Cleanse premiered at SXSW in 2016 under the title The Master Cleanse, then sat quietly for two years waiting for a distribution deal. With a brand new trailer preceding the film's upcoming release, mainstream audiences finally have a glimpse of the quirky horror comedy. Look for The Cleanse in theaters and on video-on-demand streaming on May 4.
The 12th Man — May 4
When most people are confronted with a Norwegian World War II drama, they immediately check out. But sit up, because The 12th Man is definitely worth keeping on your radar. Starring Jonathan Rhys Meyers and Thomas Gullestad, it tells the true story of Jan Baalsrud, a Norwegian freedom fighter who goes on the run after his group of saboteurs is captured and executed by the Gestapo.
Forced to flee into the frigid Scandinavian wilderness, Baalsrud will have to outwit his Nazi pursuers while struggling to stay alive in the unforgiving Arctic. Don't expect the intensity to let up for a minute. Equal parts harrowing survival thriller and action-packed war drama, The 12th Man is bound to be a tense, unforgettable experience. While the film premiered in Norway in December 2017, distributor IFC Midnight has it slated for a May 4 release in theaters and on video-on-demand in the United States.
Anon — May 4
From writer/director Andrew Niccol — the filmmaker responsible for techno-thrillers like Gattaca, S1m0ne, and In Time — Anon takes place in the near future where surveillance technology ensures that nothing happens without a record. Everything a person sees is recorded and archived. Anonymity is a thing of the past, and no crime goes unpunished.
But when Detective Sal Freiland, played by Clive Owen, encounters a mysterious woman who can erase all records of her existence, he finds himself plunged into a world of paranoia where absolutely nothing is what it seems. There's a lot to see in the recently released trailer for Anon, which highlights the fact that just because you can see something doesn't mean it's really there. After all, if someone can hack into your own brain and create illusions that look and feel completely real, how can you trust anything?
Look for Anon on Netflix on May 4.
Deadpool 2 — May 18
Fox was more than happy to let the fan speculation about the new mutants in Deadpool 2 run wild for months, but their final trailer for the trailer finally names a few of the newcomers. Terry Crews had all but been confirmed as Bedlam, a mutant with the ability to sense and influence energy fields. Now, he's been officially named onscreen. And the guesses about Lewis Tan's mysterious character were right all along. He is indeed Shatterstar, a sword-swinging superhuman with the whole grab-bag of superhero powers — strength, agility, speed, reflexes, and regenerative abilities, to name a few.
What else is there to see in the newest Deadpool 2 trailer? A whole lot of action; plenty of jokes at the expense of DC, Thanos, Wolverine, and Deadpool's own team; and Peter, who just saw the ad and decided to drop in. Deadpool 2 lands in theaters on May 18.
Cargo — May 18
Stick Martin Freeman in a zombie apocalypse, give him a baby, and set him loose — there's no way that movie could fail. Cargo tells the story of a father in rural Australia who finds himself stranded in the middle of a zombie outbreak. To make matters worse, he's stuck with the most precious cargo of all — his infant daughter. When he gets bit, though, he'll have to figure out how to get his baby to safety before he turns into a zombie himself.
Based on a short film that made waves at Tropfest Australia in 2013, Cargo sees the original short's directors — Yolanda Ramke and Ben Howling — behind the camera for the feature-length adaptation. With a brand new trailer released in April, Netflix offers a glimpse of the desolate world of Cargo and promises an emotionally charged journey with the ultimate stakes. Look for it on May 18.
Solo: A Star Wars Story — May 25
In a world where expensive blockbusters always seem to want to bet on a sure thing, a Han Solo origin story was all but inevitable. Was anybody ever going to be completely happy about casting a young actor to replace Harrison Ford in his iconic role? No, but there's no reason we can't have fun with it since it's happening anyway.
The new trailer for Solo: A Star Wars story sees Alden Ehrenreich's young Han taking on what looks like his first smuggling job. He's joined by Chewbacca, and for once — maybe even the last time in his life — he has a good feeling about things.
Unfortunately, most fans are sticking with the original quote. That is, they have a bad feeling about this. Between a changing of directors at the last minute and reports of Disney bringing in an acting coach for Ehrenreich, things haven't boded well for this new incarnation of the scruffy nerf-herder. We'll all have to see what happens in this galaxy far, far, away on May 25.
Future World — May 25
Bizarre. Strange. Inexplicable. There are many apt words to describe the trailer for Future World, and like a Cardi B lyric, they're all basically the same thing. James Franco stars as a weird post-apocalyptic warlord, with Suki Waterhouse as a weird sexy robot, Milla Jovovich as a weirder version of Resident Evil's Alice, and Snoop Dogg as, well...he's pretty normal, all things considered.
The trailer is full of this stuff, and more. In a world where sand has replaced water and gasoline, a post-apocalyptic prince embarks on a perilous journey to find medicine for his mom. While out in the wasteland, he runs into some Mad Max extras and has all kinds of car fights, gun fights, and robot fights. Future World probably won't win any awards, but it looks like a mighty fun ride for anyone craving some sci-fi action. Look for Future World to drop on video-on-demand on May 25.
Upgrade — June 1
Upcoming action extravaganza Upgrade stars Logan Marshall-Green as a regular ol' guy who gets a neural implant that turns him into a human weapon. Is that the easiest writing trick in the world to give your protagonist super fighting skills? You bet, but from the looks of the trailer, Upgrade will have more than enough style to pull it off. The action cinematography looks top notch, and the concerned look on Marshall-Green's face as he brutally destroys a bad guy is priceless.
With Leigh Whannell — writer of Saw and Insidious — behind the camera, this is bound to be a violent movie, and the film's NSFW red band trailer definitely hints at much more visceral fight scenes than you'll see in the normal trailer. Whether any of that translates into a good movie remains to be seen, but we'll be able to find out when Upgrade hits theaters on June 1.
American Animals — June 1
In 2004, a college student named Warren Lipka orchestrated a bizarre heist to steal a collection of rare books from the library at Kentucky's Transylvania University. Together with three friends, Lipka went full Ocean's Eleven on the library, carrying out a meticulous plan to infiltrate the Rare Book Room, subdue its one guard — a 50-year-old librarian — and get rich by making off with millions of dollars' worth of first editions. They even had color-based code names straight out of Reservoir Dogs. It was a plan that was bound to fail eventually, and a story that was bound to make it to the big screen. And so it has.
Evan Peters headlines American Animals as Warren Lipka, with Barry Keoghan, Blake Jenner, and Jared Abrahamson co-starring. The trailer promises a college-bound heist movie equal parts Ocean's Eleven and Harold & Kumar, which should make for interesting viewing. Check it out on June 1.
Ocean's 8 — June 8
While George Clooney's Danny Ocean was the central driving force behind Ocean's Eleven, Twelve, and Thirteen, it's his sister, Debbie Ocean, who's putting together a team for Ocean's 8. The heist: steal a priceless diamond necklace from the New York Met Gala. The plan: waltz right in the front door, evade security, keep the rag-tag team in check, and get out with the necklace before anyone suspects a thing. In other words, it's bound to be super convoluted and a ton of fun.
Sandra Bullock leads an all-star cast that includes Cate Blanchett, Dakota Fanning, Olivia Munn, Anne Hathaway, Helena Bonham Carter, Sarah Paulson, and Matt Damon. Steven Soderbergh, who directed the first three films, serves as a producer on Ocean's 8, with The Hunger Games' Gary Ross stepping in as writer and director. Look for all the high-stakes heist action when Ocean's 8 lands in theaters on June 8.
Hereditary — June 8
The first trailer for A24's Hereditary promised a visually unique horror tale centered around an unsettling young girl named Charlie. In the second trailer, released in April, Charlie's inner demons crawl into the light just a little bit more. It still doesn't explain much about the story, but it doesn't need to. The trailer is a whirlwind of activity, and if the movie is even half as creepy as these trailers have been, it's bound to become one of the best horror films of 2018.
Hereditary was written and directed by Ari Aster and marks the young director's first feature film. Aster has written and directed half a dozen short films prior to Hereditary, but the strange thing about them is that they're all comedy shorts. If there's a joke hidden in Hereditary's trailers, we're missing it — this looks like horror all the way to the bone. This wouldn't be the first time a comedy writer has made waves with a horror film (Jordan Peele's Get Out comes readily to mind), so let's just hope Hereditary surprises us all and lives up to the viciously creepy marketing. You can find out when it hits theaters on June 8.
Hotel Artemis — June 8
The April trailer for Hotel Artemis dropped out of a clear blue sky, but was quick to pull in nearly 13 million views as of this writing. With a frenetic action style that brings recent films like John Wick and Atomic Blonde to mind, Hotel Artemis is about a hospital for assassins that accepts the wrong patient, drawing in the underworld's deadliest like moths to a lamp.
From the trailer, it looks like a cross between John Wick's Continental Hotel and Smokin' Aces' storyline of an assassin free-for-all on a single target. Wait, no — that part kind of sounds like John Wick, too. Let's see...it looks like John Wick, but starring different people. Yeah, we'll go with that for now. Fortunately, that cast of "different people" is more than worth the price of admission. With Jodie Foster, Sterling K. Brown, Charlie Day, Jeff Goldblum, Zachary Quinto, Sofia Boutella, and Dave Bautista, Hotel Artemis is a no-vacancy, no-holds-barred mashup of slick action and all-star faces. Look for it in theaters on June 8.
Incredibles 2 — June 15
After 14 years in the making, Incredibles 2 is finally on the way. It says a lot when the trailer for a cartoon elicits more audience cheers than a Star Wars trailer in theaters, but when you're talking about The Incredibles, well, it's not exactly surprising, either. Original writer/director Brad Bird helmed the sequel, with all the of the original voice cast back as well, and the timing couldn't be more perfect to rope in all those fans of the first film — now grown up, plus their kids, and maybe their parents too if they're still around.
The new trailer sees more of the Parr family dynamic as Elastigirl heads out to fight crime, leaving Mr. Incredible at home to wrangle the kids. In the latter half of the trailer, we get glimpses of the whole family in action, suits and all, with quick glimpses of the Underminer terrorizing the city and the mysterious new villain the Screenslaver brainwashing the citizens of Metroville. The whole thing's just a prize box of exciting imagery — reach right in and take your pick, and check out Incredibles 2 in theaters on June 15. Family not required.
Jurassic World: Fallen Kingdom — June 22
Universal Pictures released not one but three teasers for Jurassic World: Fallen Kingdom in April, building the hype even higher for a movie that millions of people are going to go see anyway. The first trailer opens under the dulcet tones of a Jeff Goldblum voiceover as his Doc Malcolm character explains, yet again, how dinosaurs can't be contained by the petty meddling of humans. Dumb flesh bags! Have we learned nothing?
The second teaser is a little lighter on the dino philosophy and instead focuses on NBA star Kyle Lowry, of all people, as he swishes a few rocks while a velociraptor observes his tight game from the shadows. As it ends, Lowry explains that life finds a way, which is now the official catchphrase of Jurassic movies...although it should really be "Stupid scientists find a way" by this point since, you know, it's the scientists who keep bringing them back. Life gave up around the time Malcolm's daughter gave a gang of velociraptors gymnastics lessons in The Lost World. Life ain't got time for that.
In the final, full-length trailer, Universal finally gets down to brass tacks, storywise. Claire and Owen are heading back to the island to rescue the dinosaurs from a volcano, but the corporation that sends them isn't interested in happy brontosauri — they want to use Owen's veloci-boy Blue to make a new hybrid weapon and auction it off to the highest bidder (remember: stupid scientists). Look for it in theaters on June 22.
The First Purge — July 4
You've already seen three years of the Purge, now get ready for the one that started it all. There are some serious shenanigans at work in the trailer for The First Purge, with the government enlisting black ops soldiers to help get the murder ball rolling on the first night of their new experiment. Turns out, people aren't so keen to go on those bloody rampages after all.
Writer and director James DeMonaco, who helmed the first three Purge films, returns as the writer on The First Purge, with Gerard McMurray stepping in as director. There doesn't seem to be any end to the bloodshed, either. For the first year of the Purge, the government contained their experiment to a single community — but when that community fights back, the Purge explodes in ways that nobody could have imagined. The First Purge drops into theaters on July 4.
The Equalizer 2 — July 20
2014's The Equalizer combined gritty action and heartstopping drama in a movie that pulled no punches and left audiences pleasantly surprised. The reunion of Denzel Washington and director Antoine Fuqua (Training Day) proved that this duo was still a force to be reckoned with, and the upcoming Equalizer 2 looks like another surefire hit.
In the sequel, Denzel Washington returns as Robert McCall, the ultimate man of peace who you definitely don't want to mess with. The trailer showcases Washington going on a veritable rampage while keeping plot details pretty much under wraps, promising an adrenaline-fueled ride packed with plenty of surprises. Pedro Pascal has joined the cast in an as-yet undisclosed role, but the trailer hints that he's an old friend of McCall's who may find himself on the wrong side of the Equalizer's quest for vengeance. Check it out when The Equalizer 2 turns up the heat on July 20.
Night School — September 28
In a summer filled to the brim with heist films, superhero smackdowns, and spine-tingling horror, Night School is bound to be a breath of fresh air. The comedy stars Kevin Hart as a successful grill salesman whose life is flipped upside down when his store blows up. When nobody will hire him because he's a high-school dropout, he suddenly finds himself at the bottom of the corporate ladder, enrolling in night school to get his GED.
Along the way, he'll have to deal with every high school kid's hassles — part time jobs, overbearing principles, and a teacher who really doesn't want to be there. The trailer offers up several laugh-out-loud moments and looks like a great break from the usual blockbuster fare hitting theaters this year.
With a script co-written by Kevin Hart, Night School co-stars Tiffany Haddish and Ben Schwartz and enrolls in a theater near you on September 28.
The Meg — August 10
Throughout his career, Jason Statham has gone up against gypsies, human traffickers, '80s action stars, and his own heart. Now, he's facing his biggest foe yet — a prehistoric sea monster. The Meg sees Statham starring as Jonas Taylor, an ex-Navy Captain who's recruited to help with a rescue mission on a deep-sea research station. The only problem is, there's a 70-foot predator roaming the seas.
The only other problem is, Taylor's ex-wife is onboard the disabled underwater station. Oh, and there's one more problem — years earlier, Taylor had a run-in with this exact same aquatic beast, and his crazy story about a terrifying super shark is what got him kicked out of the Navy and caused his wife to divorce him. There are problems everywhere!
In the first trailer for The Meg, we get some underwater action, we get some big chompy teeth, and we get at least one too many jokes about how there's no way this Megalodon is actually a Megalodon, even though it's clearly a Megalodon.
Venom — October 5
After teasing the world with a Venom trailer that didn't feature any Venom, Sony finally released a trailer chock-full of the symbiote, and it looks amazing. The teaser introduces Tom Hardy's character, Eddie Brock, a reporter digging into a story involving a shadowy tech company called the Life Foundation that's apparently been attempting to merge people with symbiotes.
When Brock gets infected with a symbiote, the Life Foundation's Dr. Carlton Drake sends his henchmen after the guy, and they end up getting more than they bargained for. That's when we get to see the first shots of Venom in action, with inky appendages wall-slamming the bad guys no matter which way they come at Brock.
Another highlight of the new trailer is the introduction of Venom's voice — also provided by Hardy — and some of the iconic back-and-forth between man and symbiote. All in all, this is shaping up to be a great start to Sony's Spidey spinoff universe.
The Man Who Killed Don Quixote — TBD
It took almost 20 years for Terry Gilliam to bring his passion project about Don Quixote to fruition, and the long journey is finally — almost — over. Originally started in 1998, The Man Who Killed Don Quixote is one of the most infamous legends in show business — a seemingly cursed production that suffered one setback after another until it was finally buried beneath the sands of La Mancha.
The original incarnation starred Johnny Depp and Vanessa Paradis, but a long, troubled production eventually sucked the funding out of the movie, and everyone went their separate ways. After multiple restarts, misfires, and casting replacements, the film now stars Adam Driver as the young corporate hotshot/Sancho and Jonathan Pryce as Don Quixote.
And believe it or not, the Don Quixote curse has struck again — as of April 2018, Gilliam is still embroiled in a legal battle over the new film's distribution rights. Fingers crossed that all those troubles come to an end and The Man Who Killed Don Quixote finally reaches theaters. We have a trailer for the film, which is about as close to the finish line as it's gotten in two decades.