Playing Ernest In We Have A Ghost 'Scared' David Harbour Because Of His Lack Of Dialogue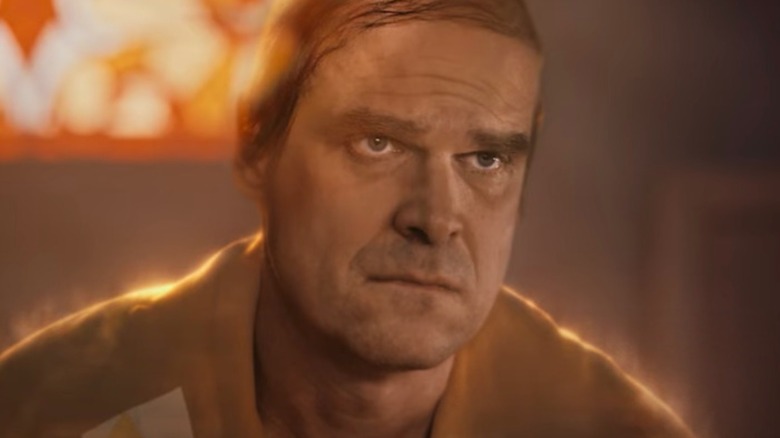 Netflix
Throughout his time in Hollywood, David Harbour has tried his hand at a wide array of roles. From comic book adaptations like "Suicide Squad," "Hellboy" (which went horribly wrong), and "Black Widow" to the Christmas action-comedy "Violent Night," he has proven a multi-faceted talent in front of the camera. Harbour has also become a collaborator with streaming giant Netflix, most famously featuring on the hit series "Stranger Things" as fan favorite Jim Hopper. Next up, he's taking a prominent role in the Netflix original film "We Have a Ghost," courtesy of director Christopher Landon.
Alongside the likes of Jennifer Coolidge and Anthony Mackie, David Harbour will appear in "We Have a Ghost" in the role of Ernest: a ghost with a mysterious past who becomes internet famous thanks to his new and still living friend, Kevin (Jahi Di'Allo Winston). Throughout the film, Ernest doesn't speak, likely due to the fact that he lost some parts of his humanity in the process of becoming a ghost. While this may not seem like much of an acting challenge from the outside looking in, Harbour seems inclined to disagree.
David Harbour himself admitted that Ernest's lack of dialogue in "We Have a Ghost" made playing the character a surprisingly scary experience.
Harbour had to approach the role of Ernest in a unique way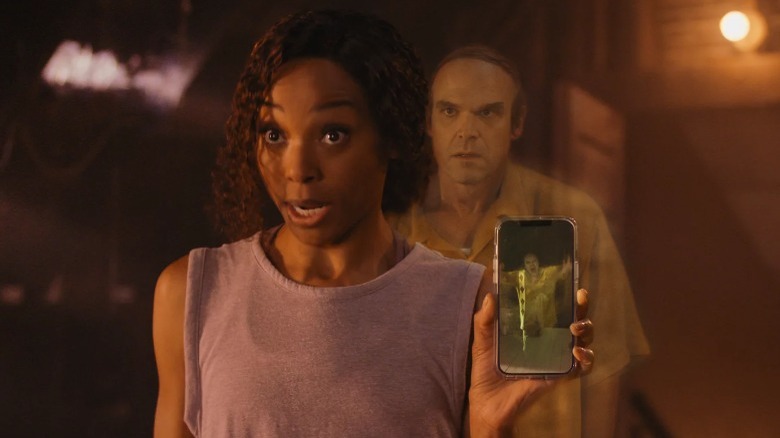 Netflix
During an interview with MovieWeb, David Harbour shed some light on what it was like to play Ernest in "We Have a Ghost." Commenting on what Christopher Landon said previously about him being somewhat scared of the role, Harbour revealed that Ernest presented some unique acting challenges for him. "I've never played a role where I was a big part, but I had no lines, you know, I played very small parts with no lines, but this was — I was on-screen a lot, and I didn't have anything to say," he said, going on to share how he conquered the part.
"It just was something where I had to take out a whole new set of tools out of the toolbox to reveal character, and I didn't know if I was capable of doing that," Harbour continued. He admits that in the early days of playing Ernest, his uncertainty over whether or not he could make the performance happen plagued him. Thankfully, he powered through with the help of Landon, who Harbour adds was instrumental in him getting the portrayal just right. He concludes, "Chris was a really great supportive director and really helped me a great deal."
The David Harbour dialogue-free "We Have a Ghost" will reach Netflix on February 24, 2023. If you're unsure if you want to check it out, perhaps the spooky yet funny trailer will sway you in one direction or the other.