Emma Roberts Signed On To American Horror Story: Apocalypse Knowing Nothing About The Script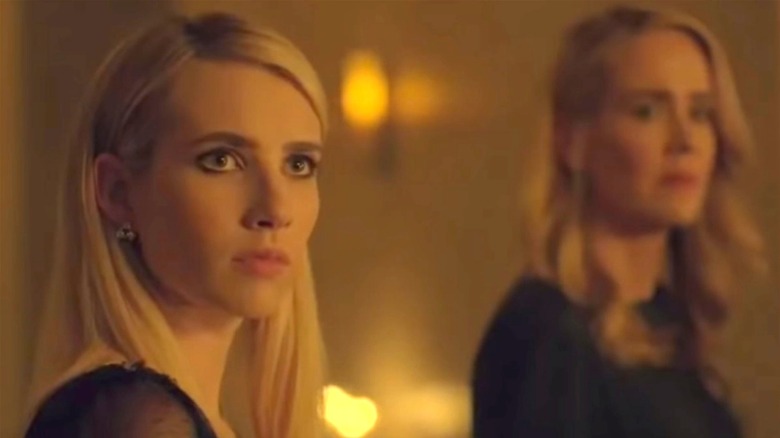 FX
Emma Roberts instantly captivated "American Horror Story" fans as the comeback queen Madison Montgomery. The snarky, powerful witch made an instant impression in season 3's "Coven," with meme-worthy lines, a killer fashion sense, and an intriguing storyline. Roberts even returned for the explosive cross-over season 8, "Apocalypse," without knowing what she was getting herself, or Madison, into. 
Originally, Roberts' character was only intended to be in three episodes, until her scene-stealing role expanded for the entire season. Thankfully, the foul-mouthed fire starter was revived for a short time before she was sent to Hell again in the season finale. Viewers, and Roberts herself, expected Madison to stay there until series creator Ryan Murphy announced the unexpected mash-up season "Apocalypse," featuring Cody Fern as the antagonistic Antichrist, Michael Langdon.
On "American Horror Story," Roberts has been a consistent standout starring in five seasons, and even showcasing her comedic acting chops on Murphy's horror comedy "Scream Queens." Her faith in Murphy translates as she displays her impressive range through vastly different characters, like Brooke Thompson in season 9's "1984," which is a huge departure from her "Scream Queens'" character, Chanel Oberlin. After their colorful work history, it's easy to see why Roberts needed little to no convincing to come back for the end-of-the-world storyline. 
Roberts was thrilled to return as the fiery witch Madison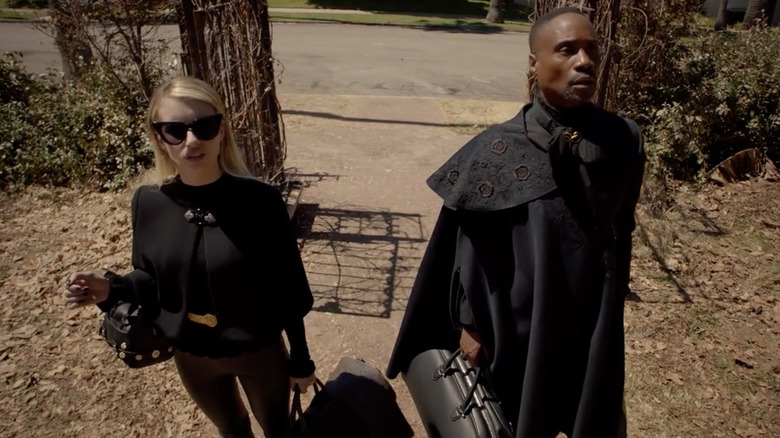 FX
Fans were stunned when Emma Roberts returned in season 8, especially alongside her fellow witches, including the recently resurrected Myrtle Snow (Frances Conroy). The stylish spell caster even restated her iconic line, which made her a biting source of mischief in "Coven." With Collider, Roberts broke down how her "Apocalypse" return came to be.
"There had always been talk of bringing Madison back, but then it went away. When I found out that this season was Apocalypse, I didn't even think that I would be asked to be on it. And then, Ryan called and was like, 'So, it's Apocalypse, but we're also gonna do a Coven/Murder House cross-over.' And I was like, 'Oh, my god, of course! Only you would have a vision for that and pull that off.' He didn't really tell me anything, though. I asked questions and he was just like, 'Do you wanna do it, or not?'"
Roberts needed no time to think it over, as she stated: "And I was like, 'I'm in!' It was a dream come true because I've wanted to bring Madison back for a while now." She continued by relishing in the fun the cast and crew had making "Coven," which made it more than easy for her to say yes again. Unfortunately, the mind-boggling events of the "Apocalypse" finale sadly returned Madison to Hell, which is especially disappointing considering she's the uncontested favorite character by fans' standards. However, if she returned from the depths of The Underworld once, fans can hope she'll be able to pull it off again, and that Roberts will return with more enthusiasm.