Emma Roberts Was Initially Slated For Just Three Episodes Of American Horror Story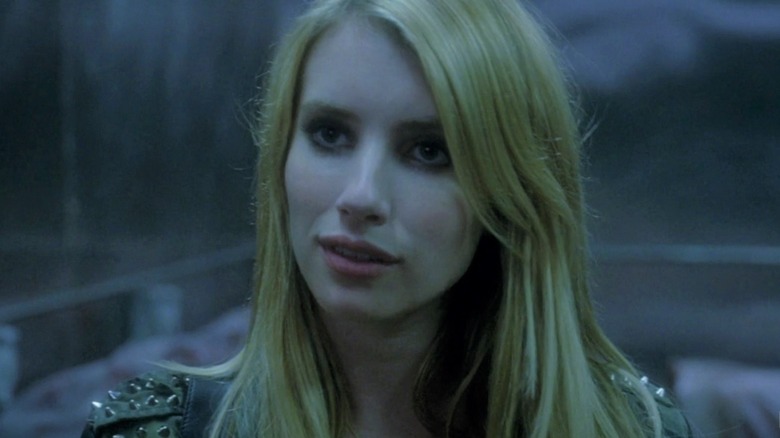 FX
Two years after Ryan Murphy's series "American Horror Story" made its debut in 2011, Emma Roberts joined the cast during season 3, "American Horror Story: Coven." After impressing fans as Madison Montgomery in "AHS: Coven," the "Scream Queens" actress portrayed multiple "American Horror Story" characters over several seasons.
While speaking to Gold Derby in 2014, Roberts shared that she enjoyed watching the spooky series before becoming one of its stars. During the interview, she revealed she had informed her then-fiancé, Evan Peters, that she wanted to co-star with him on the show. She clarified, however, that she secured a spot on the FX series without his assistance. Roberts also noted that she was ecstatic when Murphy approached her to be in season 3.
"It was totally random because I told [Peters] how much I wanted to be on the show and how much I loved it, but you never think that someone as amazing as Ryan Murphy is just going to call you and be like, 'I wrote you a dream role here you go,' so I was in shock and really, really, really happy," Roberts shared.
While some "American Horror Story" fans may have difficulty imagining the show without Roberts' significant presence, the "We're the Millers" actress revealed that she initially thought she had limited time on the horror anthology in a 2018 Collider interview.
Emma Roberts revealed Madison Montgomery was supposed to appear in only a few episodes
In the Collider interview, Emma Roberts shared her thoughts about Madison Montgomery being featured in "American Horror Story" Season 8. She suggested that she did not expect to have a chance to portray the intimidating starlet for a second time. She explained that the witch was initially written as a less significant role. "When I [sic] as originally on 'Coven,' I was only supposed to be in a couple of episodes. It wasn't supposed to be the whole season, or anything like that. They just were like, 'Will you come and do three episodes?' And then, it just kept going and going and going," stated the actress.
Roberts shared similar information during her 2014 Gold Derby interview. She explained Murphy informed her that Madison would be an important character after she filmed the first episode of "American Horror Story" Season 3. "Originally, when we talked about the part, it was kind of up in the air if she was really going to be that big of a role. And I was kind of like, 'wait, no, she has to be back,' and then after the first episode, Ryan was like, 'no, you're definitely going to come back,'" recalled Roberts.
She then quipped that she began bothering the show's writing staff to ensure that Madison would return after she was murdered by Fiona Goode (Jessica Lange) in Season 3, Episode 3 ("The Replacements").