Chris Parnell's Kids Don't Watch Rick And Morty (But Know Mr. Poopybutthole)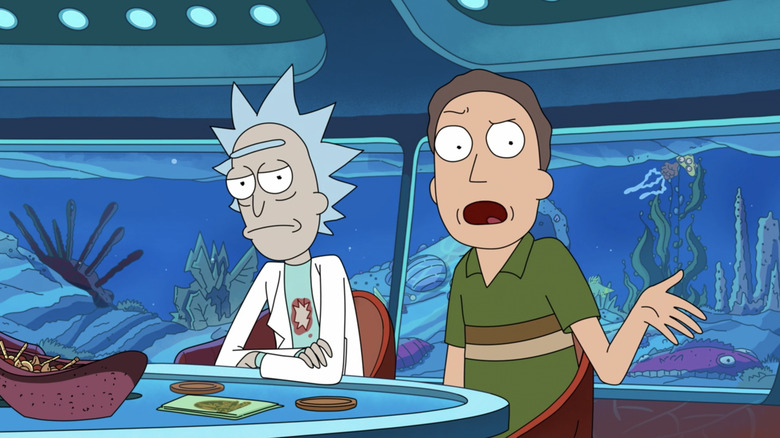 Adult Swim
It's hard to overstate just how popular the adult animated sitcom "Rick and Morty" has become since its premiere in 2013. The show focuses on the eponymous Rick Sanchez and Morty Smith (both voiced by series co-creator Justin Roiland (who exited the series following domestic abuse allegations in 2023) as they travel across the multiverse on a series of absurd sci-fi adventures.
Throughout its six seasons on the air, the show has become a veritable pop culture phenomenon, with a staggering fanbase that has reportedly viewed the show more than 10 billion times across linear platforms, digital, and streaming services (via Decider). Despite some declining viewership over the past two seasons, it's undeniable that "Rick and Morty" have had a stranglehold on adult animated comedy for years and should continue to do so in the future (even without the help of Justin Roiland).
Although it might seem like nearly everybody has seen "Rick and Morty" at this point, series staple Chris Parnell (who voices Jerry Smith within the show) says that neither of his children watches the show — though hilariously, they do know who Mr. Poopybutthole is.
Parnell's children knew about Mr. Poopybuttole because of a toy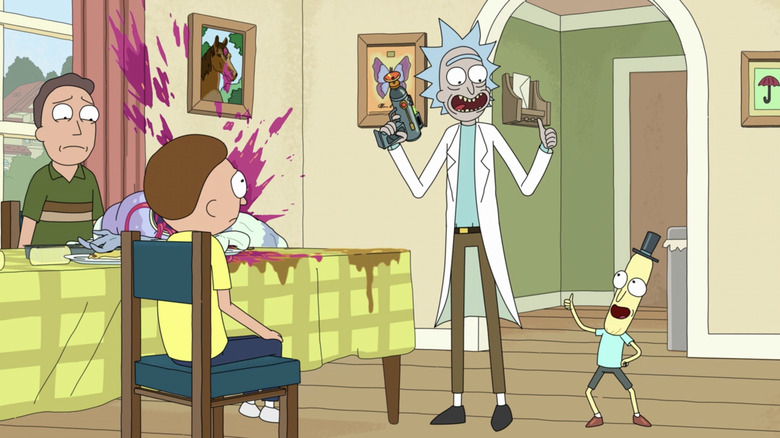 Adult Swim
During an interview with The Verge in 2020 (in which he discussed how Jerry Smith might have fared during the COVID-19 pandemic), actor Chris Parnell explained that his children were currently too young to watch "Rick and Morty," but that they knew about the character of Mr Poopybutthole due to some of the toys and memorabilia in their house.
"My sons are six and three, so they don't watch 'Rick and Morty,' even though they do have some of the plushies and little hard plastic figurines, I mean, my six-year-old knows who Mr. Poopybutthole is, you know?" said Parnell when asked how his family feels about the character of Jerry. "Other than watching the show with my wife and the bit of feedback I get from her, but we don't really take the show apart or anything. I'm not sure if my sister watches it. My parents definitely don't."
For the uninitiated, Mr. Poopybutthole is a character who first appears in the Season 2 episode "Total Rickall," which saw the Smith family battling a horde of alien parasites posing as wacky characters with ridiculous names. The fact that such an absurdly-named character was the only aspect of "Rick and Morty" that Parnell's children knew is undeniably hilarious — especially when their father's character is so much more pivotal to the show.