Poker Face Season 2 Is Given The Green Light From Peacock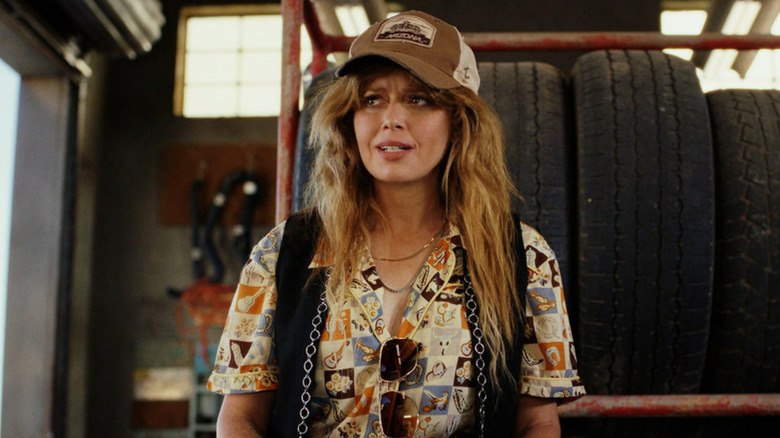 Peacock
Not even a month after it premiered on Peacock, "Poker Face" has already secured a second season on the streamer. Starring Natasha Lyonne as walking lie detector Charlie Cale, the series was created by Rian Johnson, already riding high on the success of his "Knives Out" and "Glass Onion" feature films. In addition to handling executive producer duties on the new show, Johnson wrote and directed several Season 1 episodes.
The series features Lyonne's Charlie Cale as a casino worker with a borderline supernatural ability to tell when someone isn't telling the truth. But when her uncanny skill inevitably gets her into hot water, she's forced to take to the road. Traveling the country in her retro muscle-car Plymouth Barracuda, Cale bounces from town to town and, in the process, finds herself a de facto detective. She stumbles into one crime scene after another and then employs her fib-finding radar to help solve that week's mystery. 
After the series debuted to both critical and viewer raves in January, it isn't surprising the series quickly nailed down an order for a follow-up season (per TV Line).
Poker Face's renewal was confirmed before Season 1 even wrapped up
Stepping into the role of Charlie Cale on "Poker Face" alongside her star-turn in Netflix's "Russian Doll," Natasha Lyonne is joined on the new series by an A-list roster of guest actors. Among the familiar faces turning up on the show are regulars Benjamin Bratt and Ron Perlman, with guest appearances from Adrien Brody, Brandon Michael Hall, Chloë Sevigny, Ellen Barkin, Joseph Gordon-Levitt, Luis Guzmán, Nick Nolte, and Tim Meadows. 
In addition to starring in this popular new crime-of-the-week series, Lyonne has also contributed to the show in another capacity; the star directed the upcoming eighth episode of Season 1, "The Orpheus Syndrome." And she also added another facet to her resume by co-writing the episode with the series' masterminds, Rian Johnson and Alice Ju. 
The show posted strong reviews for Season 1, making its extension for a second season at Peacock of little surprise to fans and observers, alike. There is no word yet as to when the second season of the show will debut on Peacock. Meanwhile, "Poker Face" will wrap up its 10-episode first season with the premiere of its finale on March 9.