Shark Tank's Kevin O'Leary Explains How Toning Things Down Helped Snarky Tea Grow Even Bigger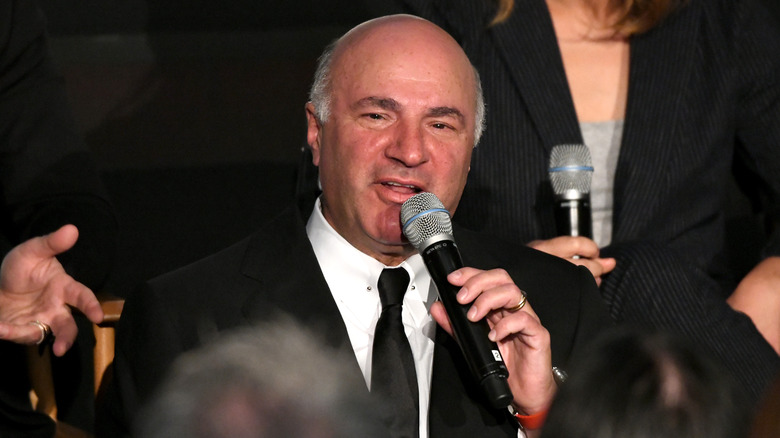 Michael Kovac/Getty Images
Keeping a business in business is never easy, to say the least. In fact, according to the Bureau of Labor Statistics, a staggering one in five businesses fail within their first year of operation. There are an endless array of headaches and hassles that come with keeping any business afloat from financial woes to dealing with competition to physical and mental burnout. So it helps for business owners to have some knowledge on their side.  
And there are few more knowledgeable about how to run and support a business like the investors on "Shark Tank." The hit ABC reality series has been airing since 2009, seeing entrepreneurs from all walks of life pitch their ambitious business ideas to the show's panel of wealthy investors for the chance to make a deal. And that deal can be life-changing. The businesses that Lori Greiner has invested into alone have collectively amassed $1 billion in retail sales. 
Dreams can absolutely come true for the hardworking entrepreneurs who are lucky enough to get a deal on "Shark Tank," but only if they are willing to take the advice of the sharks who have had decades of successes and failures to learn from. And one piece of advice from investor Kevin O' Leary made all the difference for one of his businesses from the show. 
Snarky Tea had to play the name game
Jenni-Lynn Williams made her way on Season 9, Episode 8 of "Shark Tank" where she pitched her "drink with an attitude," Snarky Tea. The beverage aims to defy the dainty stigma given to women who drink tea, with each flavor having names such as "Wake The F**k Up" and "Fierce B*tch." Kevin O' Leary and Bethenny Frankel went in on the business, offering $150,000 for 50% of the company. But it was necessary that some changes needed to be made. 
On a 2018 interview with Vanity Fair, O' Leary recalls how Snarky Tea evolved. "We got all of our capital back and now she's building a brand by reducing the snarkiness," he says. "In other words the large retailers didn't like any swear words or cuss words or anything with sexual overtones, we removed all that and we started getting retailers like Wal-Mart and others." A Season 10 update segment for the product elaborated on the transition, explaining that Williams and investor Frankel worked closely together to alter the more edgy names while still keeping the product's bold personality intact. 
The product itself has gone on to live a fruitful life. Snarky Tea expanded its product line to include a variety of new flavors, cold brew filters, drinkware and more, all of which can be found on its website. It has even included a subscription service option for those who want to be kept up to date on new flavors.