The Uncomfortable Entrepreneur Stare-Down That Happens Behind The Scenes On Shark Tank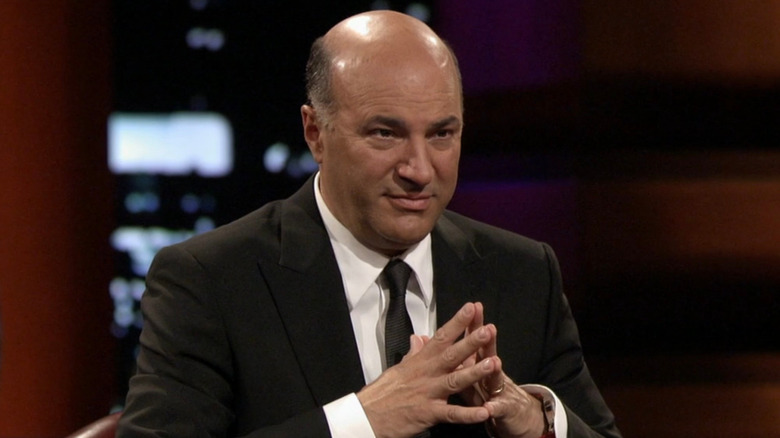 ABC
For most entrepreneurs, an invitation to appear on the popular reality series "Shark Tank" is a dream come true. Well-known brands like Scrub Daddy and Bombas got their starts on the ABC show, and for some contestants, the TV exposure is often just as helpful as scoring a sweet deal from one of the investors. Making it onto the show, however, is half the battle. According to USA Today, "Shark Tank" receives between 35,000 and 40,000 applications each season. Of those, only a thousand move ahead to the next round. In Season 10, just 88 of the 158 filmed segments made the final cut.
Even if you make it all the way to the tank and are lucky enough to pitch your product on TV, there's still the stress of trying to convince a panel of famously fastidious "Sharks" that your product is worth their money. One of the most distressing elements of the whole experience is the pre-pitch stare-down.
The Sharks and entrepreneurs stare at each other in silence before the pitch
A lot of work goes into producing an episode of "Shark Tank," and a lengthy day of shooting amounts to just minutes of footage. That said, it doesn't take long for the Sharks to set the mood. Upon entering the Shark Tank, contestants must pause and stand in silence while a camera films them from several angles. The Sharks look on, also in silence.
Villy Custom founder Fleetwood Hicks, who brought his dog DeVille along for the day, described the stare-down in a post on his blog. "When the doors opened, I was to walk down the hall with DeVille and stop at the 'X' marked on the studio floor where I would do a 30 second 'stare down' with the Sharks and then begin my presentation as they counted down to zero." While technically it's all about capturing quality footage for the episode, these dramatic pauses also serve to build the anticipation in the room. "Walking down that corridor finally got me rattled," Hicks continued. "There were lots of bright lights and once the second set of doors opened, I could see the Sharks right there in front of me staring me down."
According to Nancy Nichols, who chronicled a day on the "Shark Tank" set for D Magazine, the stare-down lasts a full minute. The hopeful entrepreneurs "can't begin their pitch until a camera has filmed them from all angles," she confirmed. "They stare silently at the Sharks. It is excruciating to watch. Finally, the director gives a cue, and they begin." Getting onto the show is difficult, but holding your nerve during the stare-down just might be the hardest part of all.