James Badge Dale Had A Tough Time On The 1923 Press Tour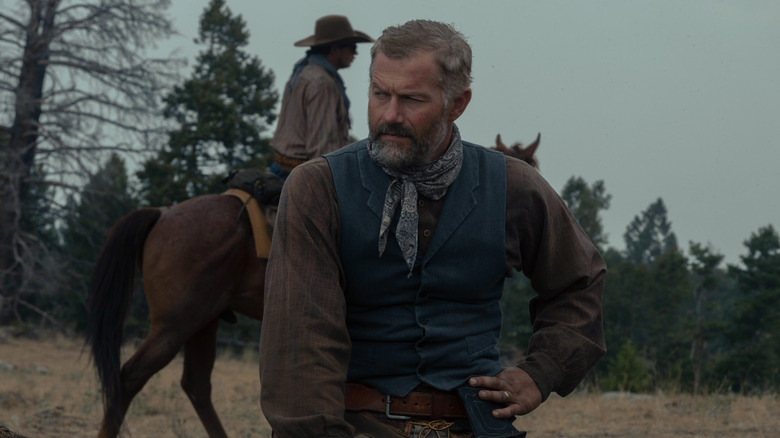 Emerson Miller/Paramount+
Contains spoilers for "1923" Season 1, Episode 3
When "Yellowstone" premiered on Paramount Network in 2018, creator Taylor Sheridan unwittingly created a sprawling Dutton family tree that began to unfold with the single-season spinoff "1883." The prequel series traces the origins of the Dutton family as they make their way to the family's present-day land in Montana. "1883" wasn't for the faint of heart, and many characters met grisly ends, which shocked even the executives at Paramount.
The follow-up series "1923" premiered in December and takes place 40 years later. John Dutton Sr. — the sole surviving family member to live to see the events of "1923" and played here by James Badge Dale — is the through line between the series and a direct ancestor to Kevin Costner's John Dutton III, and is thus positioned as a central "1923" character. However, he is brutally ambushed and killed in Episode 3.
While John's death may have come as a shock to viewers, Dale was well aware of his character's fate. Keeping mum on the subject, however, made the "1923" press tour especially difficult.
James Badge Dale had to put on a poker face when he discussed his character's future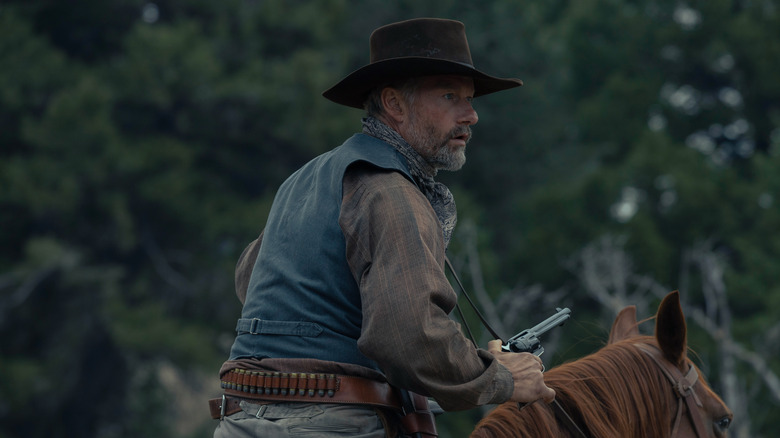 Emerson Miller/Paramount+
In an interview with Newsweek, James Badge Dale admitted that it was tough sitting down with journalists ahead of the "1923" launch. "That was the hardest press junket I've ever done. Everyone kept asking me like, 'What's John Dutton Sr.'s character arc?' and I'm like, 'Oh man.'"
As the sole character to appear in both "1883" and "1923," John was presumed to be a central character in the extended "Yellowstone" universe. Taylor Sheridan, however, had other plans. "Taylor was straight up and honest with me," Dale continued. "He said, 'I want to bring you in to kill you.'" For Dale, the experience, however brief, was worth it to act alongside the veteran stars of "1923." "You don't get many opportunities to work with Harrison Ford and Helen Mirren," he said, noting that filming in the Montana mountains wasn't a bad perk, either. "So it was a tremendous two month-life experience for me as a person and as an actor."
With John out of the picture, Dale's only chance of returning to the series will be in the form of a flashback, leaving Spencer Dutton (Brandon Sklenar) to take up the mantle as his generation's main character. Still, Dale would be happy to work with Sheridan again in another capacity. "He can hit me up wherever he's got my number," he said. "But there's nothing owed in this world. My job and our agreement was this. I came in to do John Dutton Sr. ... And if that's it, that's it. I'm proud of that."