1883's Fatal Finale Was A Huge Shock For Paramount Executives
When Paramount Network moved in to replace Spike in early 2018, the fatcats at Viacom bet big on director and screenwriter Taylor Sheridan to steward the fledgling network to scripted content glory. Almost five years later, that bet has paid off big time. Sheridan's "Yellowstone," the first scripted series for the platform, premiered in June of 2018 and has become its flagship series. "Yellowstone" follows the powerful ranch-owning Dutton family led by its patriarch, John Dutton (Kevin Costner).
A multi-generational family epic like "Yellowstone" is ripe fodder for prequels and spinoffs, and Paramount has happily taken the bait. In 2021, the prequel series "1883" introduced fans to 19th-century-era members of the Dutton clan as they fled Texas for greener pastures. "1883" concluded in March with a shocking finale — so shocking, in fact, that even the executives at Paramount were taken aback.
Paramount thought there would be a second season of 1883 until they saw the finale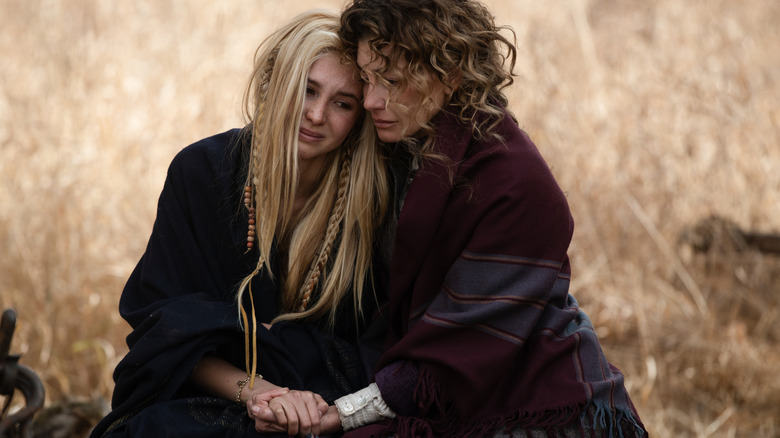 Emerson Miller/Paramount+
Though there's plenty of action and bloodshed in "1883," it's ultimately a somber, introspective portrait of frontier life. That somberness reached an apex in the finale episode, "This Is Not Your Heaven," in which Elsa Dutton (Isabel May) succumbs to her wounds and dies in Montana on the site of the future Dutton ranch. Sam Elliott's Shea Brennan also dies by suicide at the end of the episode.
The ending surely caught viewers by surprise, as well as Bob Bakish, the CEO of Paramount Global. In an interview with Deadline, Taylor Sheridan detailed the network's reaction to his series' dark conclusion, and how he accidentally cut his own series short. "When they read the last episode of '1883,' I don't think they digested what had just happened, even though I made it quite clear from the very beginning." Indeed, Sheridan had conceptualized "1883" as a limited series.
He continued, "The story I heard is Bob Bakish watched it and said, 'Wait a minute, she dies! They all die? What do we do in season two?' I said, 'There is no season two.' They're like, 'There better be a fu**ing Season Two because we already picked it up. I'm sitting here going, 'Guys, everyone is dead.'"
Despite the "1883" snafu with Paramount, Sheridan didn't entirely shoot himself in the foot. In 2021, the showrunner extended his deal with ViacomCBS and has a slate of Paramount shows either on the air or in various stages of development, including the Harrison Ford-starring "Yellowstone" prequel "1923."