Emma Roberts Was Terrified Filming AHS' Nighttime Cemetery Scenes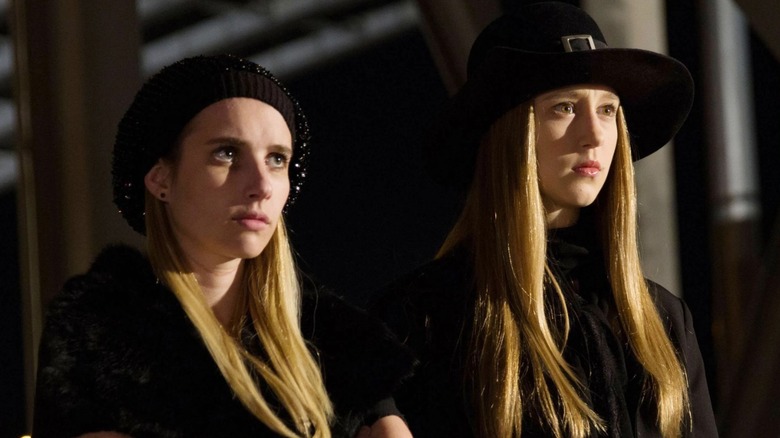 FX
"American Horror Story" first wowed and terrified audiences in 2011. Created by Ryan Murphy — who's also the brains behind the questionable "Glee" — and Brad Falchuk, this horror anthology series started off with "Murder House," and subsequent seasons told a different, spooky story that kept viewers on the edge of their seats. Though it received positive reviews, "American Horror Story: Coven," released in 2013, was one of the highest-rated seasons of the show.
"Coven" was set in present-day New Orleans, and followed a group of witches that happened to be descendants of the unlucky women of the Salem Witch Trials. Though the story takes place in 2013, viewers were treated to flashbacks to the historic Trials of 1692, as well as the 1830s, 1910s, 1960s, 1970s, and 1990s. 
The ensemble cast features actors from previous seasons such as Lily Rabe, Sarah Paulson, and Evan Peters. One new addition to the "American Horror Story" franchise is Emma Roberts, who portrayed Madison Montgomery, a spoiled movie star who has telekinetic powers. Roberts reprised the role five years later in "Apocalypse," which was a crossover of several seasons.
In 2014, Roberts did a virtual interview, in which she spoke about "Coven," her part as Madison, and the part of filming that terrified her the most.
She hated filming in graveyards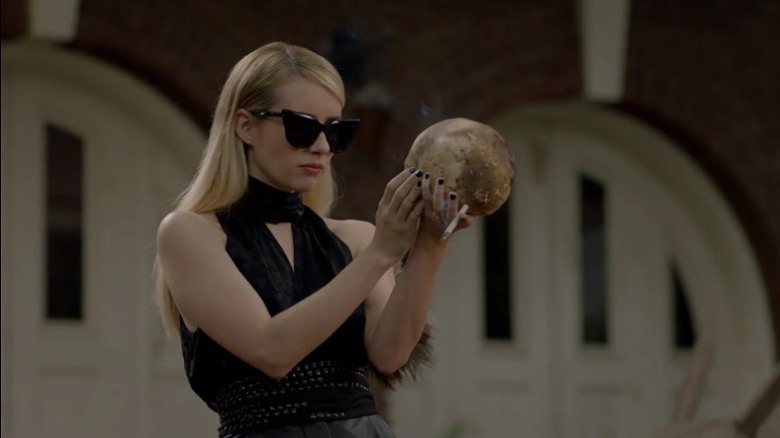 FX
Emma Roberts spoke to Gold Derby about her time working on "American Horror Story: Coven." In addition to talking about her fellow castmates and her part in the current season —which was "Freak Show" at the time — she gushed about getting to film in New Orleans. 
Because the season was about witches and the supernatural, the city was the perfect place to shoot, especially with all the historical homes, cemeteries, and weird energy. Despite how much she loved being there, she admitted that the spooky vibe got to her, particularly when they had to film in graveyards. 
"Some nights, we'd be working in the cemetery," she said. "I'd be all like 'someone has to walk with me. I do not want to walk alone!'" Roberts wasn't the only one who was scared, though. She and the other girls would hold hands as they went through the cemetery, screaming. "It was so funny," she added, showing that she can laugh off the terrifying experience. 
Roberts' dedication to "Coven" paid off. Though she was slated to appear in three episodes, she made an impression on viewers. A user even created a Reddit thread praising her role as Madison Montgomery, and several fans were quick to agree. "In Coven she is absolutely brilliant and just blows me away," u/jeffreii commented. U/Cabbages-and-Queens said that, though Madison wasn't a particularly complex character to them, "Emma Roberts did a good job playing her," and added to the scary, witchy story.