Kit Harington Compares Attending Game Of Thrones Conventions To 'Going Back In Time'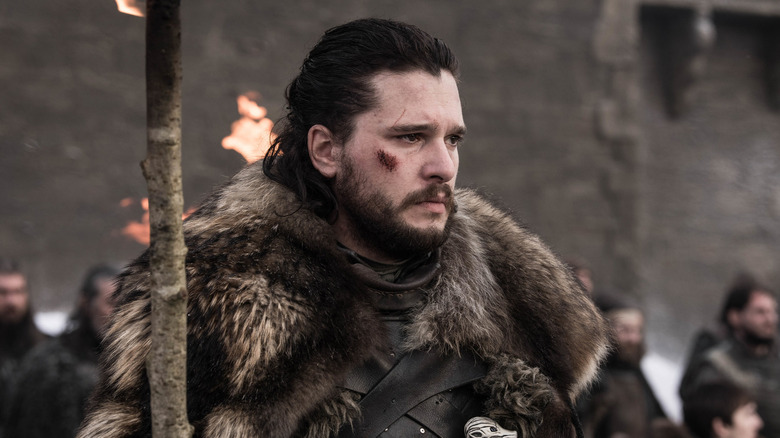 Helen Sloan/HBO
"Game of Thrones" is arguably one of the most popular fantasy shows of all time, achieving record-high ratings for the network HBO toward the end of its run. While the series does embrace certain high fantasy elements like magic and dragons, it elected for a more grounded, gritty, and realistic approach to the genre much like the series of novels it's based on, "A Song of Ice and Fire," by George R.R. Martin. And thanks to Martin's writing and a large, sprawling ensemble cast, "Game of Thrones" made a name for itself with shocking character deaths across its eight seasons.
Perhaps one of the biggest characters in the HBO fantasy drama was Jon Snow (Kit Harington), who managed to survive — mostly; he was killed and then resurrected with magic — all the way and was steadily elevated to main character status as others dropped off. And while the final season may have been met with heavy fan backlash, the property itself remains popular enough to have fan conventions years after it wrapped up. For Harington, attending these conventions feels a bit like traveling back in time in a way.
Harington is amazed that Game of Thrones still has such a big fanbase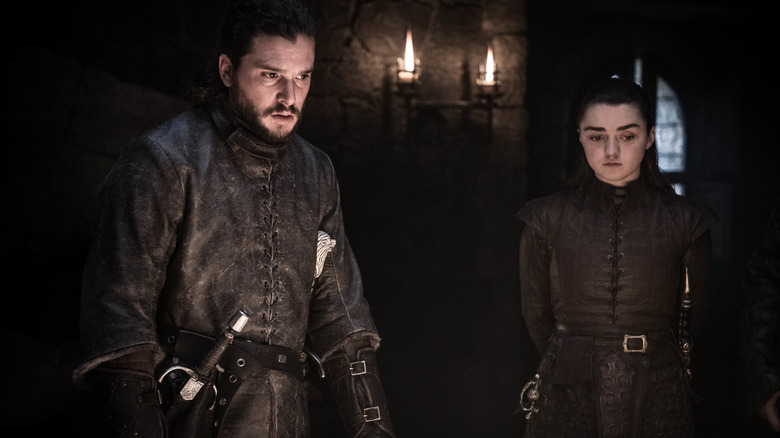 Helen Sloan/HBO
During an interview on "The Tonight Show Starring Jimmy Fallon" earlier in February, Kit Harington touched upon his career and personal life, including the news that he and his "Game of Thrones" co-star-turned-spouse Rose Leslie are expecting their first child. He also talked about what it's like to attend fan conventions for "Game of Thrones" and the enduring popularity of the long-running show.
"It was like, it was a bit like going back in time," Harington said. "You know, I know it's only been four years or something, but it feels longer. And I went to it, and it's nice seeing the fans, and it's kind of amazing that that show has still got such a fan base, and it's continuing on in its own way."
Given the massive popularity of the prequel spin-off series "House of the Dragon," the number of fans who attend these conventions is only likely to increase over the next few years. Harington might soon even have a bigger reason to attend "Thrones" events, what with a Jon Snow-centered sequel series rumored to be among the many forthcoming spin-offs. So while fan conventions may be like time travel for the actor, it seems as if he'll be attending them for the foreseeable future, especially if his own series comes to fruition.