Whatever Happened To Karen Jackson From Shameless?
For the first few seasons of the Showtime hit "Shameless," Karen Jackson is Lip Gallagher's (Jeremy Allen White) promiscuous and extremely on-again, off-again girlfriend. Karen tries to take care of her agoraphobic mother Sheila (Joan Cusack), but she also has a manipulative streak which makes her treat the lovestruck Lip pretty badly.
First, she sleeps with his dad, Frank (William H. Macy), who is also Sheila's boyfriend at the time. Then she marries Jody (Zach McGowan) while possibly being pregnant with Lip's baby. Lip turns out to not be the father, but Karen also doesn't want the child, Hymie, either. Sheila ends up raising it, and Karen runs away from home.
Karen later returns in season 3 and tries to get back together with Lip, who is understandably reluctant. However, Mandy (Emma Greenwell), Lip's current, vengeful girlfriend, strikes Karen with her car, causing permanent brain damage. Jody then moves with Karen and Hymie to Arizona.
Here's what happened to actress Laura Wiggins after "Shameless."
Laura Wiggins' last screen credit is in 2020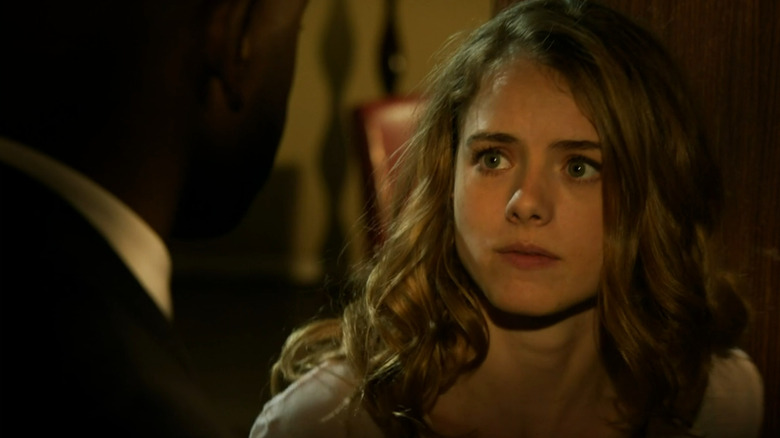 CBS
After originally debuting in the TV movie "Not Like Everyone Else," Laura Wiggins — often credited as "Laura Slade Wiggins" — appeared on 30 episodes of "Shameless" over 3 seasons. The actress said of her character's fate, "I don't think Karen will be back for season four. I can't say what happens though! I think the writers want to reinvent and focus on the Gallagher's" (via Talk Nerdy With Us).
Wiggins continued to appear in movies and shoot guest roles on TV. Her IMDb credits include "Law & Order: SVU," a recurring role on the short-lived CW show "The Tomorrow People," NBC's "Chicago P.D.," and "CSI." She also starred in the Lifetime TV movie "Starving in Suburbia." 
Wiggins has recently taken on more roles in independent and horror feature films. These include "20th Century Women," "Along Came The Devil 2," as well as the 2017 third installment in "The Ring" franchise, "Rings." She also co-starred as Helen in the 2019 children's book adaptation "Nancy Drew & The Hidden Staircase."
However, Wiggins hasn't made any film or TV appearances since 2020. Hopefully, this isn't a permanent hiatus, and audiences will get to see her again — whether on the small or big screen — sometime soon.