Jamie Lee Curtis Is Still In Disbelief Over Her 2023 Oscar Nomination
The list of nominees for the 2023 best supporting actress Oscar consists almost entirely of first-time nominees, including both Stephanie Hsu and Jamie Lee Curtis for their roles in zany dramedy "Everything Everywhere All at Once." While Hsu is a relatively young up-and-comer, Curtis is, of course, a Hollywood veteran, receiving a nomination from the Academy of Motion Picture Arts and Sciences for the first time in her nearly fifty-year long acting career.
Among some of Curtis' most memorable performances is her starring role in "My Girl," notorious for a scene in which a young Macaulay Culkin has a fatal run-in with a beehive. Other career highlights include one of the two main characters in the 2003 "Freaky Friday" film, Wanda in "A Fish Called Wanda," and the lead in influential slasher flick "Prom Night." Of course, her involvement in the latter project came on the heels of her star-making performance in the original "Halloween" as Laurie Strode, which she went on to reprise on and off through "Halloween Ends" in 2022.
Curtis' Oscar nomination, then, is the cherry on top of an already legendary career. Nevertheless, Curtis was overjoyed and even surprised to reach this milestone, which she discussed at length in an interview about her nomination.
Jamie Lee Curtis' biggest fear leading up to her Oscar nomination was disappointment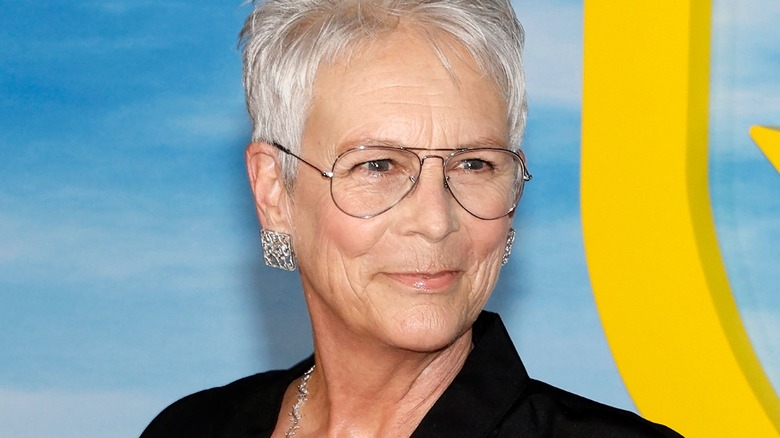 Ovidiu Hrubaru/Shutterstock
A couple of weeks after the list of Oscar nominees went public, Access Hollywood published a video interview with Jamie Lee Curtis in which she details how it felt to be nominated for an Oscar for the first time at 64 years old. At their conversation's outset, correspondent Jason Kennedy describes Curtis' mood as joyful, and she replies with a smile and nod.
"People know that I never saw this coming," Curtis says at the 1:15 mark, explaining that her elation is authentic, and the result of genuine surprise. Kennedy then references a post Curtis shared to her Instagram account of the moment she learned of her nomination. Curtis replies that, while she didn't exactly expect an Oscar nod, enough people in her orbit suggested she might be acknowledged by the Academy that it made her nervous, and fearful of rejection.
Her close friend Deborah Oppenheimer ultimately kept her company during the time her nomination broke, and was the one to document her reaction on camera, eventually presenting Curtis with a book commemorating the moment.
Finally, at the 8:50 mark, Curtis clarifies that her biggest fear wasn't her own sense of disappointment, but letting those closest to her down. "Me, I never thought it was going to happen anyway, so it didn't matter," she said. Rather, it was only for the sake of her closest supporters that she wanted the Academy's recognition.