Famous Actors You Forgot Were On ER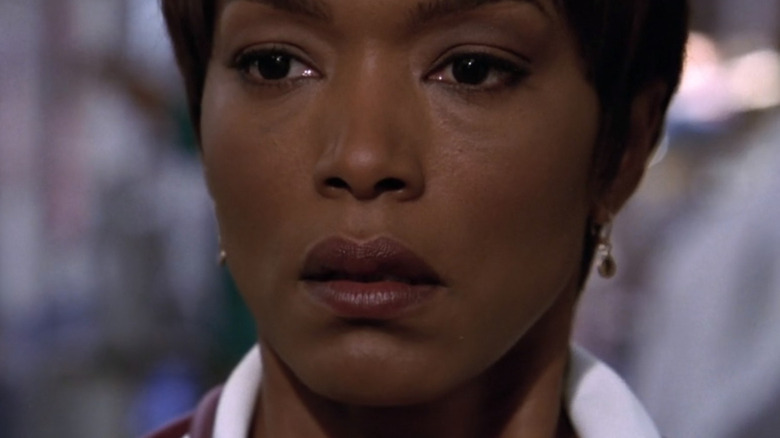 NBC/Hulu
The acclaimed series "ER" gave fans 15 seasons of intense hospital drama and complex character relationships, starting with its first episode in 1994. The show follows the complex lives of doctors and nurses at Cook County General Hospital, who must balance their professional and personal lives in an action-packed emergency room environment. Along the way, the series birthed some of the most memorable characters of its genre, many of which are still beloved by fans over a decade after the series finale aired.
However, "ER" did more than bring dynamic characters to life; the series also jump-started the careers of many actors behind those characters. Whether they became a central cast member, played a recurring character, or even made a brief cameo, most performers greatly benefited from their time with the series. Unfortunately, the list of actors who made this show possible is so long that even diehard fans may have forgotten some talented faces that walked through the emergency room doors over the years. Many have since enjoyed long, fruitful careers in film and television, but their appearances in "ER" remain noteworthy early highlights on their resumes.
Mariska Hargitay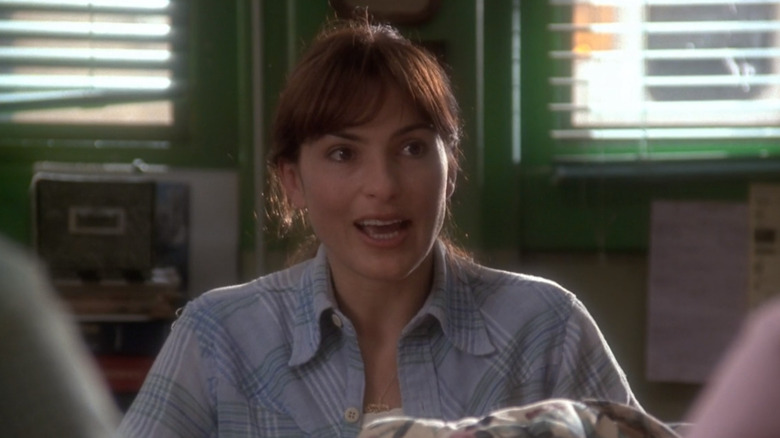 NBC/Hulu
Anyone who has watched procedural television over the last two decades has likely become familiar with seeing Mariska Hargitay as her "Law & Order: SVU" character, Olivia Benson. However, before she flashed a detective badge, Hargitay picked up a clipboard as desk clerk Cynthia Hooper, a young small-town woman who has just moved to Chicago. This lovable character got her start in the appropriately-named Season 4 episode, "Something New," in a memorable interview.
Hooper sits with nurse manager Carol Hathaway (Juliana Margulies) and Dr. Mark Greene (Anthony Edwards) and is hilariously, relatably flustered. Although she has no relevant job experience (and even cries during her interview), Cynthia still makes a memorable impression on her interviewers. After his shift at the hospital, Cynthia finds Dr. Greene to apologize for her nerves, and he tells her that she can start working on Monday. The pair later begin a romantic relationship, but Cynthia abruptly leaves the series by quitting her hospital job and moving away mid-season.
Zac Efron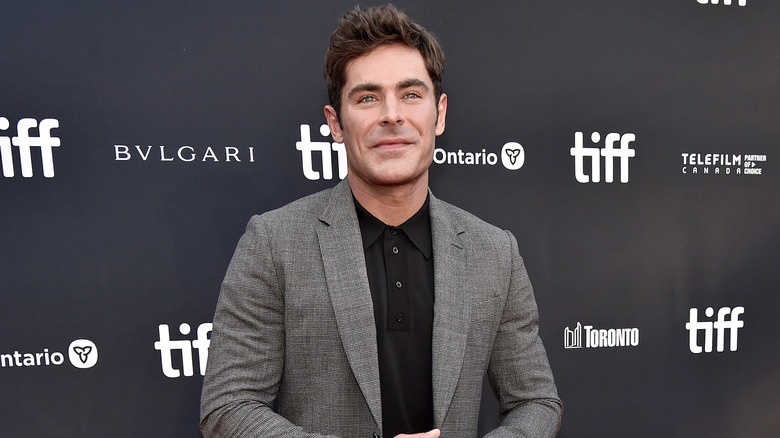 Rodin Eckenroth/Getty Images
Zac Efron has become a fixture in Hollywood blockbusters, but the actor started as a television star when he was a young teenager. One of his earliest performances was in the "ER" Season 10 episode, "Dear Abby." In this episode, Efron plays Bobby Neville, a young gunshot victim who fights for his life in the emergency room. He first encounters Dr. Abby Lockhart (Maura Tierney) after a mysterious car drops him off at the hospital, already bleeding heavily but still conscious. Dr. Lockhart calls for a gurney, and the team rushes him into surgery.
The tense scene following Bobby's arrival at the hospital demonstrates what the high-stakes medical series does best. Unfortunately, Bobby dies from his injuries despite the Cook County General team's best efforts. Although Neville isn't a central character, his tragic death is nonetheless a memorable moment from early in Season 10. After this single-episode appearance, Efron continued to take on minor television roles before his break-out part in the "High School Musical" film series.
Gabrielle Union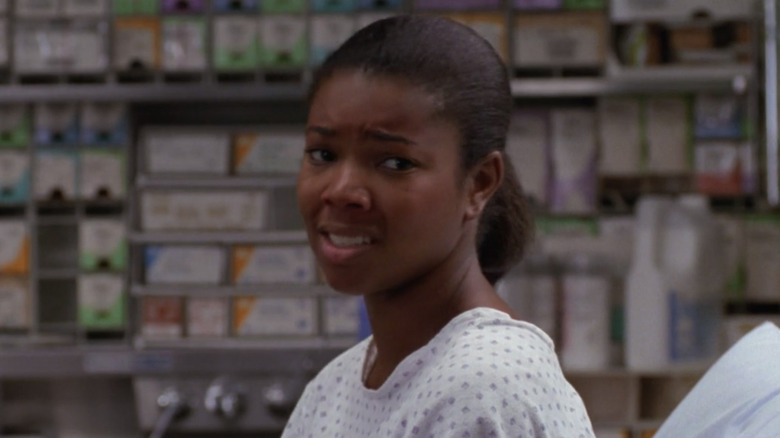 NBC/Hulu
Gabrielle Union started her career in the early 1990s, appearing as minor characters in sitcoms and television dramas. In 2000, she joined the "ER" cast for a single-episode cameo in Season 6's "Family Matters." Union stars as Tamara Davis, a student and athlete who lands in the emergency room after falling asleep while driving. She bonds with Dr. Cleo Finch (Michael Michelle) over basketball and track. Still, it becomes clear that her overbearing parents are behind the teen's rigorous schedule of sports and academics.
When they arrive at the hospital, Davis' parents insist that she has to play in the evening's basketball game. They barely ask how she is before also discussing their plans for her to take chemistry during summer school. Even when doctors determine that the young girl needs a cast for her injured wrist, the couple remains focused on her obligations instead of her healing. This minor character is likely a window into Dr. Finch's past since the teen's high school experience mirrors her own.
Lucy Liu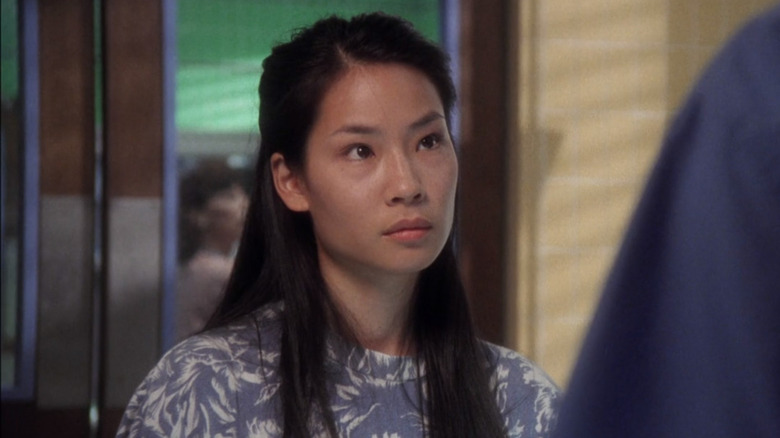 NBC/Hulu
Lucy Liu has become well-known for her television and movie roles since the early 1990s. Although many of her early television roles were minor characters that appeared only once, Season 2 of "ER" gave her a three-episode arc as Mei-Sun Leow. She first appears in "Do One, Teach One, Kill One" as a young mother whose son is dying from AIDS. Leow comes to the emergency room after a clinic doctor erroneously gives her son two prescriptions for the same medication. She builds a connection with Dr. Doug Ross (George Clooney), who puts her nervous child at ease.
Leow's character arc is heartbreaking, especially her final appearance in "And Baby Makes Two." Dr. Ross determines that her son, Chia-Chia (Joshua Hoon Cho), needs a lumbar puncture. Unfortunately, Dr. Ross and a medical student botch the painful procedure by not retrieving enough spinal fluid the first time and subject the boy to a second procedure. In the end, Leow agrees with other doctors that her son is too far gone and takes him home to die peacefully.
Aaron Paul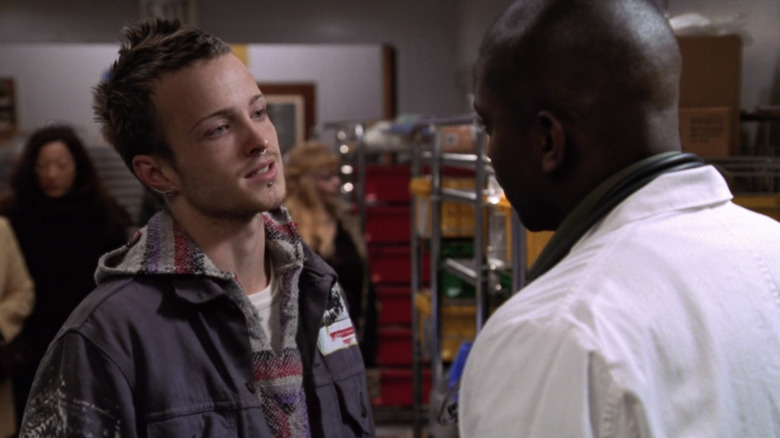 NBC/Hulu
Long before he became a household name as meth dealer Jesse Pinkman in "Breaking Bad," Aaron Paul spent several years starring in commercials and minor television roles. In the "ER" Season 9 episode, "A Saint In The City," Paul stars as Doug, an irresponsible twenty-something who comes to the hospital because his mother, Mrs. Hawkes (Jeannetta Arnette), needs treatment. Doug comes to help with his siblings, who are too young to care for themselves during Mrs. Hawkes' hospital admission, but he receives a very hostile welcome from his mother.
Paul has a long history of playing wayward young characters, and Doug is no exception. Mrs. Hawkes immediately accuses him of being high on drugs and is angry at the hospital staff for calling him in the first place. He's not excited about the prospect of caring for his siblings for a few weeks, but his appearance at the hospital does unite the estranged family. Doug is one of the multiple minor characters that Paul played in the early 2000s as he slowly worked toward his breakout role in "Breaking Bad."
Kirsten Dunst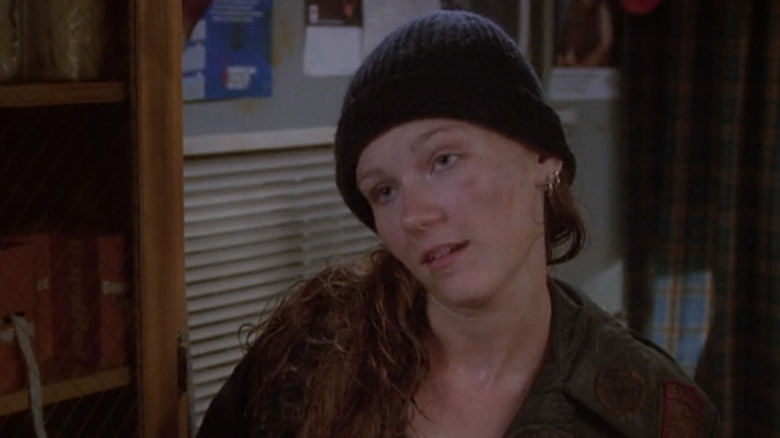 NBC/Hulu
Kirsten Dunst's acting career started when she was very young, and her list of credits grew steadily throughout the 1990s. Finally, in 1996, she took on a six-episode character arc as Charlie Chiemengo, a teenager that repeatedly crosses paths with Dr. Ross. She first appears in Season 3's "Ghosts," where a Halloween prank leads her to a community health outreach program staffed by Dr. Ross. The two build an instant rapport, which carries through the rest of Charlie's appearances. However, it becomes apparent that Charlie is willing to lie and steal whenever necessary to survive as a runaway.
Unfortunately, Charlie's appearances often feature the dark side of living on the streets. For example, she arrives at the hospital badly beaten after an apparent sexual assault in "Night Shift." Later, authorities find her near death in a local park after taking a cocktail of drugs. Charlie also breaks Dr. Ross' trust, makes horrible accusations against him, and ultimately proves herself to be beyond the doctor's salvation. She is among the most complex minor characters of the early seasons and is a memorable role for Dunst.
If you or anyone you know has been a victim of sexual assault, help is available. Visit the Rape, Abuse & Incest National Network website or contact RAINN's National Helpline at 1-800-656-HOPE (4673).
John Stamos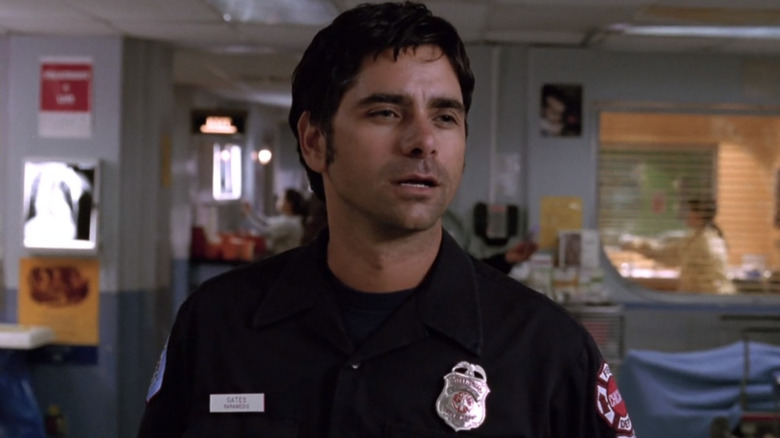 NBC/Hulu
Many sitcom fans remember John Stamos as Uncle Jesse from "Full House," but the actor later spent a little over three seasons on "ER." His character, Dr. Tony Gates, first appears in the Season 12 episode, "The Human Shield," as a paramedic transporting a patient to the hospital. Gates then appears as a recurring character for a few episodes before assuming his full-time role in the series. In his second appearance in "Two Ships," Dr. Neela Rasgotra (Parminder Nagra) has to save his life after an explosion. Gates later builds a romantic connection with Dr. Rasgotra.
Still, this relationship comes at the expense of Gates' current girlfriend, Meg Riley (Paula Malcomson), which makes him a questionable character right from the start. Nevertheless, Dr. Gates remained at the center of the action in Cook County General until the series went off the air in 2009. He isn't quite as compelling as some of the leading men who came before him, but the complexities of his personal life add memorable drama to his series, especially in Season 13.
Thandiwe Newton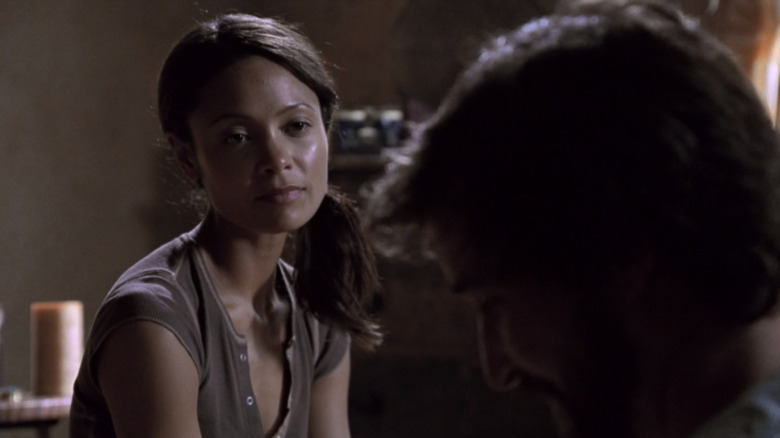 NBC/Hulu
Thandiwe Newton's career spans multiple decades and genres, starting with her first role in 1991's "Flirting." In 2003, she took on the recurring part of Makemba "Kem" Likasu in "ER." Kem appears across three seasons, with most of her storyline occurring in Season 10. She first appears in "Freefall" as a clinic worker from the Democratic Republic of the Congo who develops a relationship with Dr. John Carter (Noah Wyle). When she comes to Chicago in "Makemb," she is pregnant with Dr. Carter's child.
From the start, Kem is a dynamic character, but her relationship with Carter is often tricky. For example, the couple's son is stillborn in the episode "Midnight," and the loss puts an understandable strain on the bond. Like many noteworthy characters from over the years, Kem returns for the series finale, "And In The End...," but the conclusion of her storyline is very open-ended. Dr. Carter has to choose between his relationship with her and his love of working in Chicago, and audiences never get a clear answer on his choice.
Ewan McGregor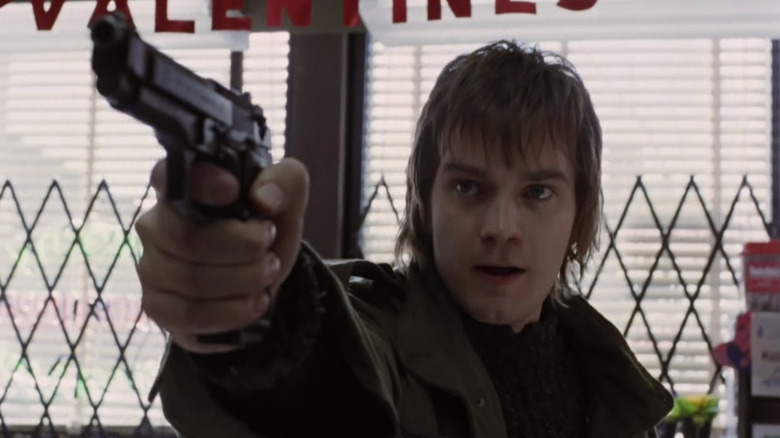 NBC/Hulu
A year after starring as Renton in "Trainspotting," Ewan McGregor played another wayward young man in "The Long Way Around," a Season 3 episode of "ER." McGregor stars as Duncan Stewart, a local criminal holding a family grocery store in nurse Carol Hathaway's neighborhood. Unfortunately for Hathaway, she is in the store during the robbery, and a desperate Stewart demands she helps him after his partner, James (Currie Graham), sustains a gunshot wound.
The simple robbery quickly spirals out of control and escalates into a full-blown hostage situation and both criminals panic. Although he is not a hero, Stewart is still a multidimensional, sympathetic character. He befriends Hathaway during their brief time together, and Hathaway does her best to treat James' injuries. As the situation in the store goes from bad to worse, he begins to redeem himself by second-guessing his choice to commit the robbery. When Duncan eventually dies in the hospital after the police shoot him, the episode comes to a surprisingly tragic end. The episode primarily focuses on Hathaway, but Duncan steals the show.
CCH Pounder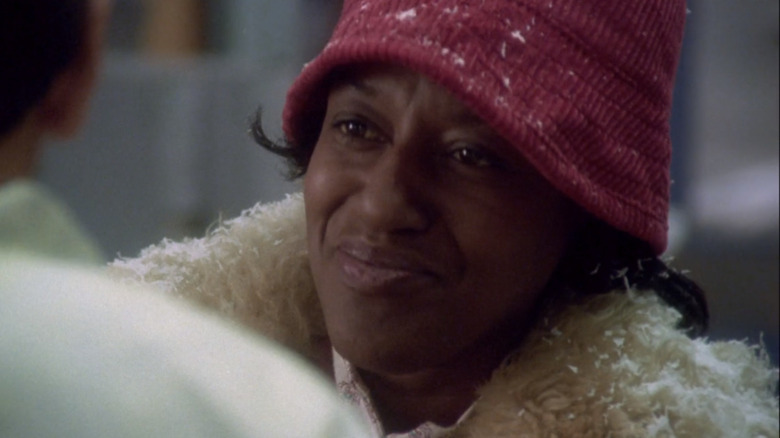 NBC/Hulu
Throughout her career, CCH Pounder has frequently taken part in procedural television projects such as "The Shield," "Law & Order: SVU," and "L.A. Law." The multi-talented actress has also appeared in sitcoms, traditional dramas, and various films. In the first four seasons of "ER," Pounder appears as Dr. Angela Hicks, a recurring character that adds calm wisdom to the team. She first appears in the Season 1 episode, "Blizzard," where she helps the overwhelmed emergency room deal with a large influx of patients during a winter storm. This first episode establishes Dr. Hicks' ongoing role as someone the other doctors can turn to in a crisis. 
Although audiences see many instances of her mentoring some of the younger doctors — including Dr. Carter — Dr. Hicks never really has a chance to shine in her own right. She regularly takes a backseat to the more extroverted characters around her and slowly fades from the series with little explanation. However, CCH Pounder's compelling performance as Dr. Hicks still earned her a 1997 Emmy nomination for outstanding supporting actress in a drama series. 
Josh Radnor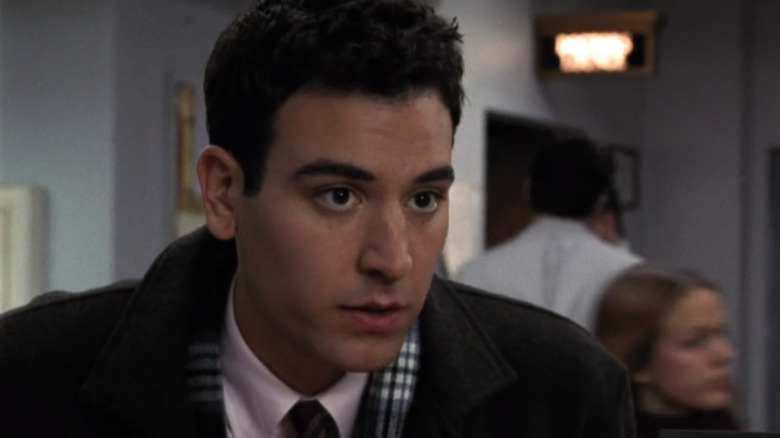 NBC/Hulu
Although Josh Radnor is likely best known for his run as Ted Mosby in "How I Met Your Mother," the actor has also made multiple appearances in crime procedurals and medical dramas, including "ER." In 2003, he appeared as Keith Mitchell in the Season 9 episode, "The Advocate." Although he only appears in one episode, Keith has a relatively complex timeline. This humble, friendly young man is Alderman John Bright's (Bruce Weitz) secret lover and seeks treatment at Cook County General for syphilis.
Dr. Kerry Weaver (Laura Innes) faces an ethical problem when treating Keith because of her pre-established loyalty to Alderman Bright. The alderman wants Dr. Weaver to treat Keith without telling anyone at the hospital which could jeopardize the doctor's medical license. The combination of the alderman's blackmail threats makes it difficult for the doctor to justify denying the young man treatment. Ultimately, Keith dies a tragic, unnecessary death when an undiagnosed allergy to antibiotics causes complications after his syphilis treatment. Although Alderman Bright privately expressed love for the young man, he delivers the news of his death via press conference as though he were just another staff member.
Sally Field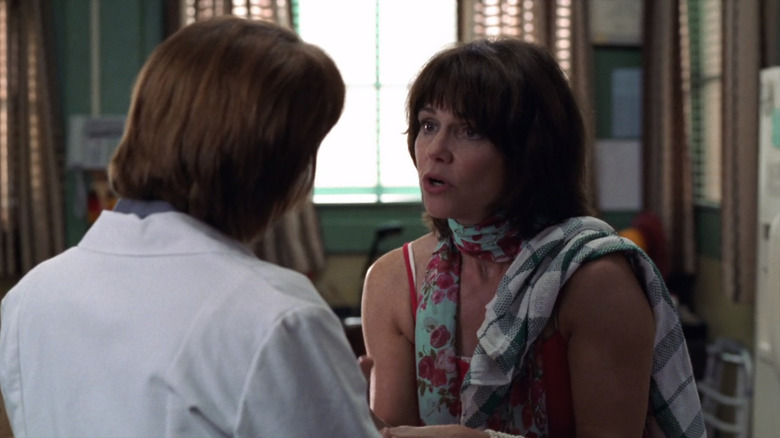 NBC/Hulu
In Season 7, audiences meet Dr. Lockhart's mother, Maggie Wyczenski, a character who brings Sally Field to the series. Wyczenski first appears in the episode, "The Visit," when she unexpectedly turns up at the hospital and makes life difficult for Dr. Lockhart. Audiences slowly learn that, although Wyczenski obviously cares about Lockhart, her bipolar disorder has led to unpredictable, sometimes dangerous behavior in the past. Understandably, this complex history makes Lockhart hostile toward her mother.
Field does an excellent job of bringing this complex character to life, especially in her multiple appearances across Season 7. Her behavior makes it easy to see why Lockhart keeps her distance, but audiences can simultaneously sympathize with Wyczenski. After Lockhart pushes her away again, Wyczenski only appears a few times after Season 7. Her final appearance is in Season 13's "Graduation Day," when she surprisingly reappears to help her daughter cope with the loss of her newborn son. The reunion is by no means perfect, but this somewhat redemptive moment brings her character arc to a satisfying close.
If you or someone you know needs help with mental health, please contact the Crisis Text Line by texting HOME to 741741, call the National Alliance on Mental Illness helpline at 1-800-950-NAMI (6264), or visit the National Institute of Mental Health website.
Stanley Tucci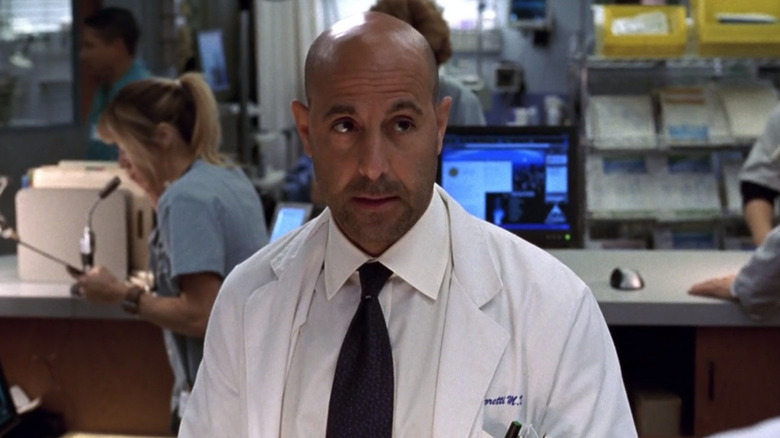 NBC/Hulu
Stanley Tucci is an undeniably talented performer who is able to portray characters from many walks of life. In 2007, Tucci took on the role of Dr. Kevin Moretti, who serves as the Chief of Emergency Medicine for some of Season 14. Although his tenure on the series is short, Dr. Moretti is a strong character because of his convictions. He is more concerned with running the emergency room at his standards than making friends on his team, which puts him at odds with other doctors on multiple occasions. He is also very hotheaded and opinionated, which adds a necessary dose of drama to the season.
Despite his abrasiveness, Dr. Moretti has one soft spot. His son, Brian (Michael Moretti), has a mental health disorder that negatively impacts his life. Dr. Moretti leaves his position to care for his son, later returning in the episode, "The Chicago Way," at the end of the season. He tries to make amends with some of those he wronged, including Dr. Lockhart, but the highlight of Moretti's final appearance is his conversation with Dr. Kovac. Instead of accepting Moretti's apology for disrupting his marriage, Dr. Kovac punches him in the face.
Angela Bassett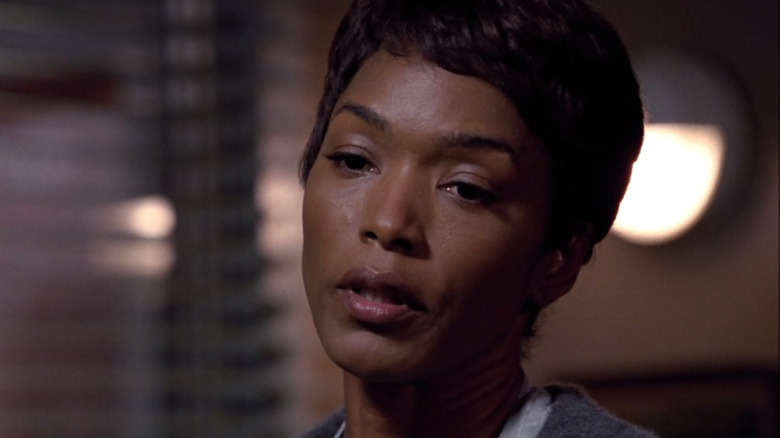 NBC/Hulu
Angela Bassett's work touches nearly every genre imaginable, and the actress is well-known for playing deeply complex characters. Bassett joined the cast of "ER" in Season 15 as Dr. Cate Banfield, who first appears in the tense episode, "Another Thursday At County." Dr. Banfield's tough exterior makes her an influential physician and hides a checkered past, slowly revealing itself throughout Season 15. She expects top performances from her team and is consistently committed to doing her best in every emergency room case.
In "Heal Thyself," audiences see Banfield's first harrowing encounter with the hospital's staff through flashbacks. Bassett appears as Banfield alongside her real-life spouse, actor Courtney B. Vance, who plays her husband, Russell. The two appear not as doctors but as concerned parents on the verge of losing their young son to a mysterious illness. Although Banfield's son dies in the flashbacks, she uses her memory of his condition to save a patient in the episode's present-day narrative. Dr. Banfield continues to save lives under difficult odds until the series finale.
Forest Whitaker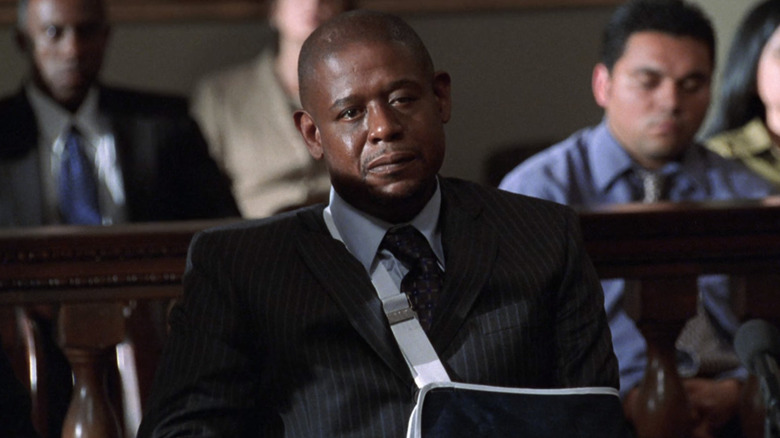 NBC/Hulu
Forest Whitaker has demonstrated an impressive amount of range across his three decades in Hollywood, acting in historical films, primetime dramas, and even superhero movies. In 2006, he took on a six-episode "ER" appearance as Curtis Ames, a character who goes through a shocking transformation in his short tenure. After receiving emergency room treatment for pneumonia, Ames suffers a stroke and blames the medical staff for being incompetent. He first appears in the episode, "Ames v. Kovac," where the history of his treatment is told in flashbacks. 
Dr. Luka Kovac (Goran Visnjic) faces Ames in court over a medical malpractice suit, but this is only the beginning of this intense subplot. The disgruntled patient returns a few more times in Season 13, but his most memorable appearance is his final one in "Murmurs Of The Heart." Ames breaks into Dr. Lockhart's home and threatens her with a gun, demanding one last showdown with Kovac. He takes the doctor hostage and demands the one thing he wanted most of all: an apology for his unfortunate stroke. Satisfied, Ames turns the gun on himself and dies by suicide at the end of the episode. His storyline is among the most dramatic arcs of the later seasons. 
If you or anyone you know is having suicidal thoughts, please call the National Suicide Prevention Lifeline​ by dialing 988 or by calling 1-800-273-TALK (8255)​.