The Big Bang Theory Writer Blames Friends For The State Of Sitcoms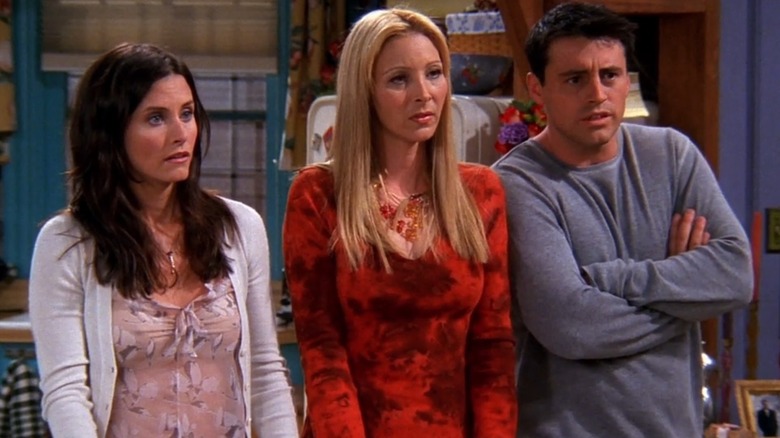 NBC
Eddie Gorodetsky knows a thing or two about sitcoms. Having produced and written for shows like "Two and a Half Men" and "Dharma & Greg," he has been on the pulse of what was happening in the television landscape in the world of sitcoms. In a recent book, Gorodetsky had some choice words for "Friends," and he thinks a show he worked on, "The Big Bang Theory," set some things right that "Friends" changed about his beloved genre.
Bursting onto the scene in 2007, "The Big Bang Theory" starred "Roseanne" actor Johnny Galecki, "Garden State" standout Jim Parsons, and "8 Simple Rules" star Kaley Cuoco. It was a show about nerds, love, and making it in the world of physics in Pasadena, California. Side characters in the show's ensemble format included characters played by Simon Helberg and Kunal Nayyar, with Mayim Bialik and Melissa Rauch joining in future seasons.
According to Gorodetsky, "Big Bang" broke away from the traditional casting of young and conventionally-beautiful people, something a show like "Friends" engaged in. Or rather, it cast actors like that but then put them in unflattering clothes, hair, and makeup. Gorodetsky noted that "Friends" changed the state of the sitcom genre in its wake, and he was there when "The Big Bang Theory" broke that mold.
After Friends, sitcoms only featured attractive people
In the 2022 book "The Big Bang Theory: The Definitive Inside Story of the Epic Hit Series," producer Eddie Gorodetsky dished (via startefacts), "The worst thing that 'Friends' did was find six people who are really good-looking and funny. So you went through this period of time on television where we kind of went [backward], and they just wanted to find good-looking people, and they didn't care if they were funny for a while."
One has to wonder what shows exactly he might be referring to. A guess could be something along the lines of "Entourage," which wasn't exactly a traditional sitcom, but a comedy that featured pretty people in the lead roles. 2014's "Friends with Better Lives" comes to mind as it featured supermodel Brooklyn Decker as one of the leads. Or maybe something like "How I Met Your Mother" and "New Girl," or cult favorites like "Happy Endings," though all of those shows featured some actors who were known for their comedy work. While some ran for many seasons, others didn't even make it past the first one.
Gorodetsky didn't expand on his remarks, probably not wanting to dunk on anyone by taking names. The cast of "Big Bang" may not be unattractive by any stretch of the imagination, but for the producer, it was about how they were put on screen. He said, "The idea of seeing people you can identify with and going 'I'm not a freak. I'm not the only one who has to bleach my mustache,' is really important."