1923's Julia Schlaepfer Found Her Character Through Tears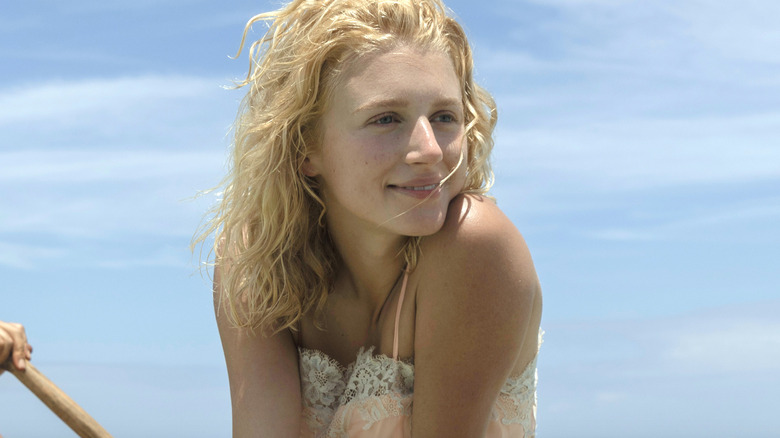 Emerson Miller/Paramount+
The "Yellowstone" universe isn't lacking in memorable characters. Since it began in 2018, the Taylor Sheridan-helmed franchise has expanded quite a bit, and frequently in ways that "Yellowstone" fans likely never saw coming. Not only has "Yellowstone" run for a total of 5 seasons to date, but it has also spawned a handful of spin-offs. Sheridan's first "Yellowstone" prequel, "1883," made its debut near the end of 2021. Now, that show's follow-up, "1923," is currently in the midst of making its way through its planned two-season run.
With "1923," Sheridan has only continued to add more diverse and memorable characters to the "Yellowstone" universe, too. Indeed, not only does "1923" feature two formidable leads in Harrison Ford's Jacob and Helen Mirren's Cara Dutton but the series' cast also features a number of other noteworthy supporting characters — some of whom aren't even members of the Dutton family.
Among the show's cast of significant supporting figures is Alexandra (Julia Schlaepfer), a British woman who quickly decides to leave her entire life behind after crossing paths in Africa with Spencer Dutton (Brandon Sklenar), Jacob's youngest nephew. In the aftermath of that decision, Alexandra and Spencer's romance has emerged as a key storyline in "1923" Season 1. However, despite that fact, it sounds like Schlaepfer had to do a lot of work in order to truly unearth Alexandra's heart and soul.
Julia Schlaepfer had to throw out all of her original ideas about Alexandra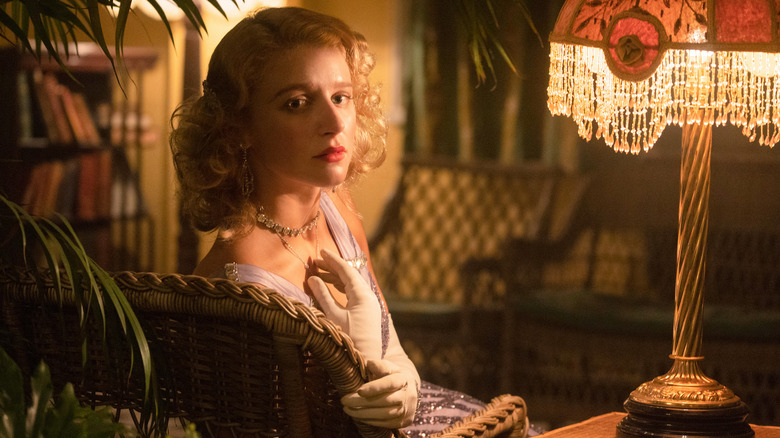 Emerson Miller/Paramount+
In an interview with The Wrap, Julia Schlaepfer opened up about how she not only landed her role as Alexandra in "1923," but also found her performance as the character. Schlaepfer, in specific, was asked what it was like for her to try to inhabit a role written by Taylor Sheridan, who often chooses to withhold many details about his characters from even the actors who play them. 
According to Schlaepfer, it was only after Sheridan gave her some very specific notes about her performance that she managed to give herself fully over to her "1923" role. "Taylor just looked at me and said, 'Just be you.' He was like, 'I don't want you to do anything but be yourself. Because you have the qualities that I'm looking for in Alexandra,'" Schlaepfer recalled. The actor went on to reveal that Sheridan chose to personally participate in her second audition for "1923." 
At the end of that process, Schlaepfer says that she ultimately ended up letting go of all of her preconceived notions about Alexandra. "I brought myself completely to it and let go of all these ideas of who she was. All of the research I did, I threw out the window in that moment," the "1923" star explained. Schlaepfer added, "By the end of reading those scenes with him, like we were all in tears in the room, just like crying together. It was really special. And I was like, 'I think I found her.'"
Based on the fact that she was eventually cast in "1923," it seems safe to say that Sheridan was sufficiently impressed by Schlaepfer's second, more instinctive take on Alexandra.
Alexandra's future has yet to be revealed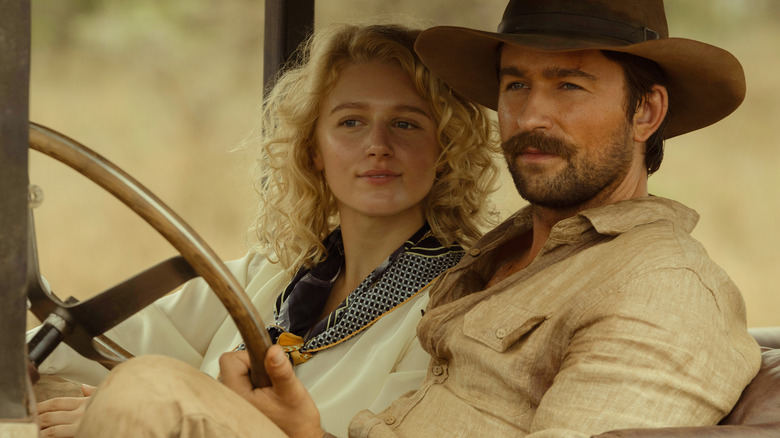 Emerson Miller/Paramount+
While Taylor Sheridan has slowly but surely built out his "Yellowstone" universe in recent years, that doesn't mean the "1923" creator has revealed everything that happens to the Dutton family's most notable members. In fact, many "1923" viewers remain unsure of what exactly lies in store for Brandon Sklenar's Spencer Dutton and Julia Schlaepfer's Alexandra.
The pair have, of course, already endured a lot in "1923." After all, not only did they choose to run away together, but Alexandra and Spencer have also since survived a shipwreck and even gotten married. Now, the two are currently faced with the difficult task of making their way back to Spencer's family in Montana. With that in mind, Schlaepfer did recently reveal in an interview with Deadline that both she and Sklenar got to participate in Taylor Sheridan's infamous "Cowboy Camp."
"We were very lucky. Brandon and I got to do an extended Cowboy Camp because everyone was in Montana shooting," Schlaepfer revealed. "We had a month or two before we had to fly out to Africa with the crew." Her comments, notably, suggest that viewers may very well get to see Spencer and Alexandra ride around on the Dutton Ranch at some point in "1923."
As for what Alexandra's connection ultimately is to the Dutton family members in "Yellowstone" and, specifically, Kevin Costner's John Dutton III, Schlaepfer seems to know more than she's willing to let on. "We don't fully know. Taylor keeps all those things quite a secret until he's fully ready to show us the scripts. But we have a very strong idea," the "1923" star told Deadline.
Unfortunately, beyond her above comments, Schlaepfer has yet to reveal any more details about Alexandra and Spencer Dutton's future together, which means "1923" viewers will just have to wait to find out the full arc of their story.