One Tree Hill's Hilarie Burton Morgan Details Awkward Intimate Scene With Chad Michael Murray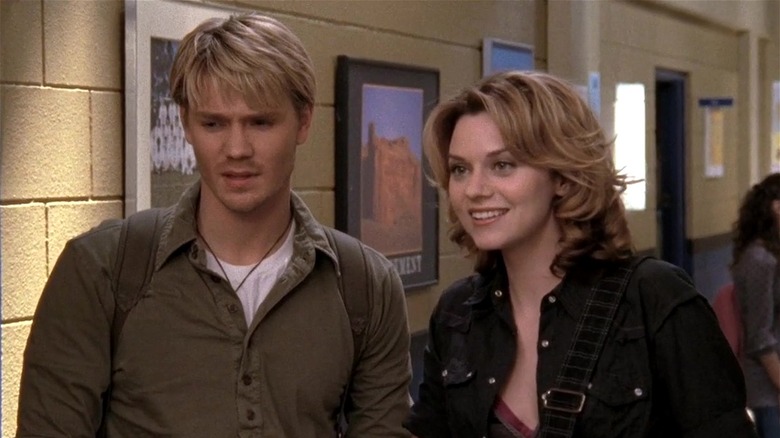 The CW
Teen dramas have been a staple for the TV industry for decades, giving audiences binge-worthy shows before binging was even a thing. For a while, the genre truly reigned supreme on TV, with generations of audiences growing up with wonderful yet overly-dramatic high school stories. Although the trend has continued into today's TV with "Euphoria," "Riverdale," and "The Outer Banks," none of these would have been possible without "Gossip Girl," "The O.C.," and "One Tree Hill."
The latter has seen a recent resurgence in popularity thanks to the "Drama Queens" podcast hosted by "One Tree Hill" stars Hilarie Burton Morgan, Sophia Bush, and Bethany Joy Lenz. Each week, the women rewatch an episode of the iconic series, giving fans a peek behind the curtain with stories and memories from their time on set. Whether they are recalling giving Chad Michael Murray a hard time on "One Tree Hill" or fancasting  "The Winchesters'" Meg Donnelly in a "One Tree Hill" Reboot, the actors always have a good time.
In the most recent episode of "Drama Queens," "Hindsight is 20-23," the hosts break down "One Tree Hill" Season 4, Episode 14, "Sad Songs for Dirty Lovers," which features an intimate moment between Lucas (Chad Michael Murray) and Peyton (Morgan). Morgan reminisced on filming the scene, which was far from the romance-filled moment seen between the characters.
It doesn't get more awkward than this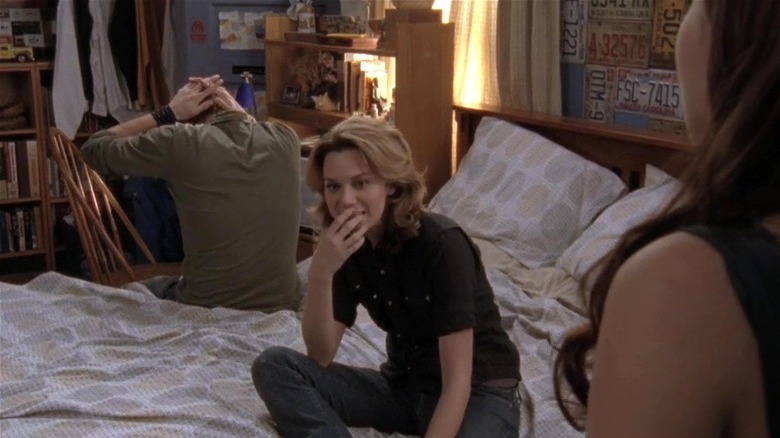 The CW
Hilarie Burton Morgan was in an interesting situation on the set of "One Tree Hill" as she details in the latest episode of "Drama Queens." The actor had a close relationship with members of the "One Tree Hill" crew, including her brother and her boyfriend at the time, so it made for an awkward time shooting romance scenes with her on-screen boyfriend, Chad Michael Murray. 
Burton recalled the shoot was a "cringey experience," saying that it was unbelievably awkward to shoot an intimate scene while her boyfriend, brother, and boyfriend's dad watched. Along came Murray to help her, but a wardrobe mishap made everything worse. 
"There was one point where [Murray's] beard hair got caught on my bra, and it pulled my bra away a little bit," Burton said. "Chad freaked out and was just like, 'I'm so sorry,' and it ruined the take, and I was like, 'Shh, lowkey. I don't think anyone saw it.' But he was worried that other people saw it and didn't want to play it off like no big deal, so it became this thing ... It was so uncomfortable, and he was trying so hard to be above board." 
Although it sounds like his attempts made things worse, Murray standing up for Burton showcases the loving relationship between the two co-stars. Even though they both left "One Tree Hill" in Season 6, the once on-screen lovers remain close, with Murray even wishing Burton a happy birthday on Instagram.