Barney The Dinosaur Is Back To Love You All Over Again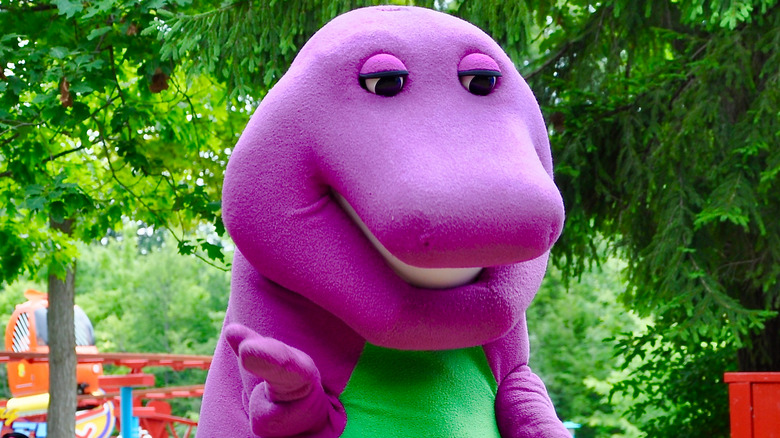 Lester Balajadia/Shutterstock
Everyone's favorite purple dinosaur is making a comeback. Courtesy of the behemoth toy company Mattel, Barney will return to stores, screens, and even the internet in the coming year. The character made his debut in the 1992 PBS series titled "Barney & Friends," a live-action show featuring a cast of young actors, original music, and Barney himself (played by numerous actors wearing a large, purple dinosaur suit). Though the original series ended in 2010, it wasn't long until plans to revive the character were in development.
As recently as 2019, "Get Out" and "Nope" star Daniel Kaluuya was set to bring Barney into the modern age through a feature film produced by the actor's 59% Productions. Whether or not that project is still moving forward, however, is unclear, as recent reports bear no mention of Kaluuya's film, specifically. Instead, Mattel has announced that it will be partnering with a major animation studio to develop a new twist on the character — one that will hopefully spark the imagination and compassion of kids and adults alike.
Barney will get a new animated series from Nelvana
As Deadline reports, 2024 will bring children across the world a brand new iteration of Barney, spanning numerous projects and different types of media. The centerpiece of this new era will be an animated series from Canadian animation studio Nelvana. Mattel also partnered with Nelvana on their relaunch of the "Thomas the Tank Engine" franchise, which resulted in the 2021 series "Thomas and Friends: All Engines Go." The series was met with significant backlash for its reimagining of the characters.
For their reinvention of "Barney," creators hope to make changes to engage with today's child audiences, with senior vice president and general manager of Mattel Television Fred Soulie stating, "In creating the new series, it was important to us that we properly reflect the world that kids today live in so that the series can deliver meaningful lessons about navigating it." Soulie will also serve as an executive producer on the upcoming animated series.
Josh Silverman, chief franchise officer and global head of consumer products at Mattel, echoed Soulie's sentiment while implying that the new series will be enjoyable to audiences, both new and old. "Barney's message of love and kindness has stood the test of time," he said. "We will tap into the nostalgia of the generations who grew up with Barney, now parents themselves, and introduce the iconic purple dinosaur to a new generation of kids and families around the world across content, products, and experiences."
As Deadline notes, the "Barney" revamp will include new products (toys, books, clothing, etc.), music, YouTube videos, and even a film. The character was recently explored in 2022's Barney-centric docuseries titled "I Love You, You Hate Me."