Julia Schlaepfer's Recent 1923 Interview Hints That Alex Makes It To Montana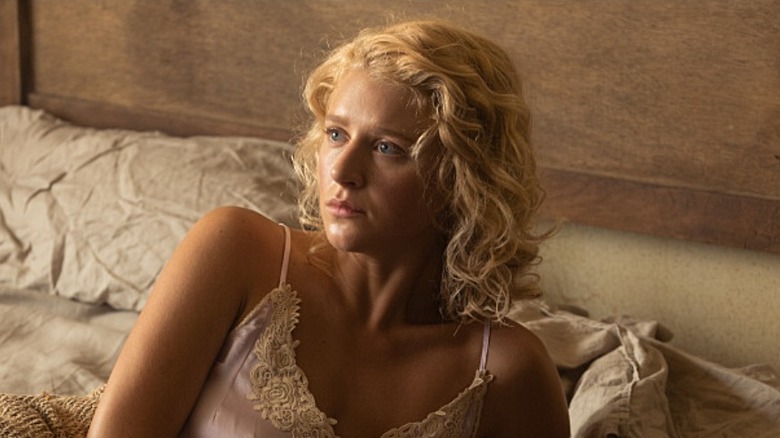 Emerson Miller/Paramount+
Although the majority of Taylor Sheridan's "Yellowstone" prequel "1923" takes place in Montana (and specifically focuses on the Dutton ranch and its surrounding settlements), the series periodically shifts its focus to Spencer Dutton (Brandon Sklenar) and his adventures on the other side of the world. When we first meet Spencer at the beginning of "1923," he is living in Africa, where he makes a living hunting big game.
A particularly nasty encounter with a leopard forces Spencer to spend time recovering at a hotel in Kenya, where meets a woman named Alexandra (Julia Schlaepfer). The two fall for each other almost instantaneously, and Alex abruptly leaves her current fiancé to travel across the country with Spencer — who later asks her to marry him. When the growing range war back home forces Spencer to return to Montana, Alex promises to come with him – and Episode 5 saw the duo nearly drown after their boat capsized near the Suez Canal.
Both Alex and Spencer are currently on their way to a port in Marseilles, France, though it's clear their tumultuous journey home is far from over. Although we can certainly expect plenty more hiccups along the way, a recent interview with Julia Schlaepfer seems to indicate that Alex will actually make it all the way to Montana with Spencer — since she and Sklenar spent several months in Montana before shooting in Africa.
Julia Schlaepfer went to Cowboy Camp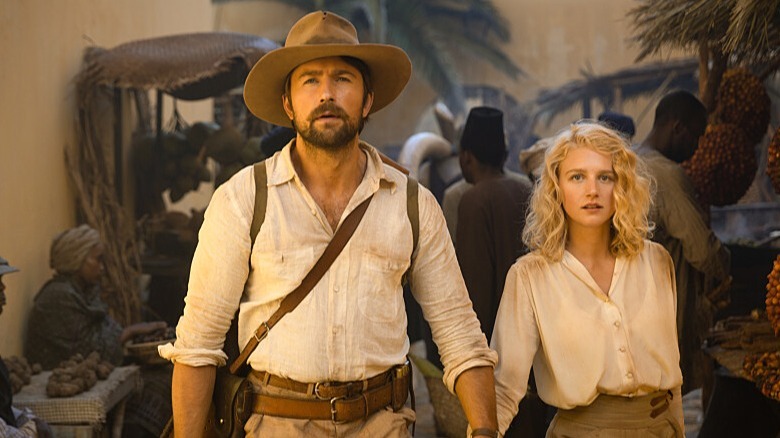 Emerson Miller/Paramount+
While speaking to Deadline about her personal journey in taking on the role of Alex, Julia Schlaepfer admitted that both she and Brandon Sklenar participated in the infamous "Cowboy Camp" prior to shooting in Africa –- which seems to indicate that both Alex and Spencer Dutton will be arriving at the ranch sometime in the future.
"We were very lucky. Brandon and I got to do an extended Cowboy Camp because everyone was in Montana shooting," said Schlaepfer. "We had a month or two before we had to fly out to Africa with the crew. So we stayed in Montana, just the two of us, and we would go to the ranch every morning and ride on our own. Then we'd grab lunch and go for swim training. It was like summer camp, honestly."
Although at first glance this story might seem like just a fun little anecdote from her time prepping for the character, the fact that she participated in "Cowboy Camp" (a nickname for the horse and rancher training required for all members of the "Yellowstone" cast) seems to indicate she'll be participating in activities on the ranch alongside Spencer. Despite not actually mentioning any sort of filming during her stay in Montana, the mere fact that Schlaepfer went through this rigorous training regimen is a hint that she'll be making it to the ranch – in spite of all the obstacles currently stand in Alex's way.