Deadliest Catch Captains Admit They Went To The Wrong Graveyard When Burying Phil Harris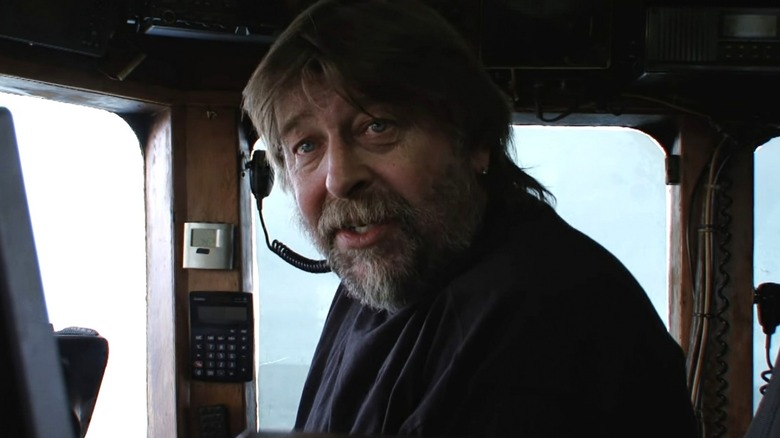 Discovery
Back in 2010, along with his coworkers, family, and friends, fans of Discovery's "Deadliest Catch," were shocked to learn about the untimely death of Captain Phil Harris. Producers of the show were able to capture the emotional and heart wrenching moments of Harris's hospital stay, eventual death, and how it affected not only the his family, but also the entire fleet. Sometime later, when fellow captains came together to memorialize the late leader of the Cornelia Marie, they told a humorous story about the funeral procession heading to Harris's service.
Flanked by his two younger sons, Josh and Jake, Harris was surely the most featured captain on "Deadliest Catch." He embodied a typical sea skipper, probably thanks to coming from a family of fisherman, as his father taught him the crab business. Harris continued the family tradition, eventually purchasing the Cornelia Marie, which is known for its impressive size. Before long, he and his crew found themselves on the hit series, collecting more and more fans as the show went on.
That all came to a dramatic end when Harris tragically passed away in 2010. While filming in Saint Paul Island, the crew realized that Harris hadn't come out of his state room. He was eventually found on the floor, resulting in a emergency visit to the hospital. In addition to the numerous health issues Harris had faced (via the LA Times), his cause of death was an intracranial hemorrhage. Later on, at an on-stage memorial, several captains injected some much-needed comic relief as they told humorous stories about Harris, including the mistake of going to the wrong graveyard for his burial.
Johnathan Hillstrand admits to leading people to the wrong cemetery
After the death of Phil Harris, a memorial gathering was held in his honor. Different captains began to rattle off funny stories related to Harris, including Andy Hillstrand recalling the late captain forcing him to smoke his very first cigarette, as well as Keith Colburn telling a tale of being chewed out by him. However, one of the best stories told on that stage came from Johnathan Hillstrand, who explained that when it was time for Harris's funeral, he led the way towards the wrong cemetery.
While the "Deadliest Catch" captains were taking turns reminiscing about Harris, Johnathan Hillstrand detailed the mishap. "When we buried him, the actual burial of his ashes, we went to the wrong graveyard," he admitted. Reacting to the audience's laughter that came from the story, Hillstrand assumed Harris had a similar reaction from the afterlife. "That son of a b**** is going, 'you dumb ... you stupid ...'," he joked. "He was loving it!" Hillstrand finished up explaining that the long procession of cars continued following him all the way to the wrong graveyard.
That wasn't the only humorous tidbit these captains gifted fans and family members during the memorial. For example, Hillstrand also giggled about the fact that he would sometimes need to wait for Harris to finish Animal Planet shows such as "Meerkat Manor" and Orangutan Island," before they could head out to their destination. Or Sig Hansen's story about Harris hiring a housekeeper just for his small trailer-home. All these special memories, in addition to what fans saw on TV, prove that Captain Phil Harris truly captured the love and affection of just about anyone who was lucky enough to know him.