SNL Characters Who Were Supposed To Have Movies But Didn't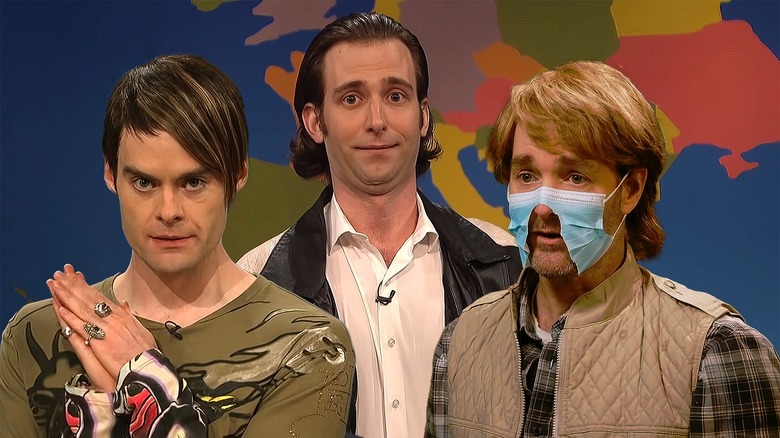 "Saturday Night Live" has been a staple of late-night television since it began all the way back in 1975. The show, created by Lorne Michaels, has spanned nearly 50 seasons and served as a launch pad for some of the most iconic comedians of all time. Many of those comedians, like Eddie Murphy, Mike Myers, Will Ferrell, and Kristen Wiig, left SNL to pursue successful careers in the world of film and some of those movies, in fact, began as simple ideas in the halls of 30 Rock. 
The first film based on an SNL sketch was the 1980 comedy, "The Blues Brothers," starring Dan Aykroyd and John Belushi. However, the second film didn't come until 12 years later, when Myers and Dana Carvey both starred in "Wayne's World" and "Wayne's World 2," which were made during their tenures on the show. Since then, many popular SNL sketches have transitioned to the big screen to mixed results, such as the box office bomb, "Stuart Saves His Family" or the Molly Shannon-led "Superstar." 
The last film based on an SNL sketch was 2010's "MacGruber," but many projects have been in development over the years that never came to fruition. Some were attempts to cash in on the success of successful sketches, while others were passion projects that simply never saw the light of day. These 12 SNL-inspired films probably won't see the light of day anytime soon, unfortunately.
Hans and Franz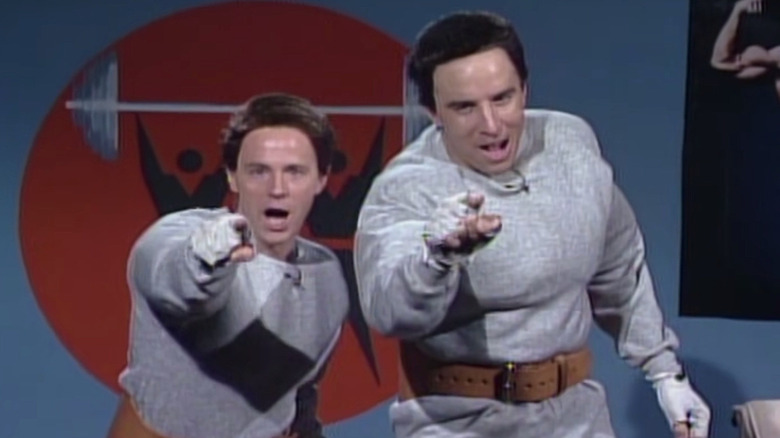 NBC
It's hard to imagine there was ever a time when Kevin Nealon and Dana Carvey were the new blood at SNL. In 1987, the two comedians were only entering their second season when they were inspired by watching Arnold Schwarzenegger on TV and subsequently created the now-iconic bodybuilding duo of Hans and Franz. The two quickly became successful characters who were reprised throughout Carvey and Nealon's runs on the show. 
The sketch and its characters were an easy contender for a potential movie, despite the reservations of writer Robert Smigel. However, after Schwarzenegger himself expressed interest in being part of a Hans and Franz movie, Smigel co-wrote a screenplay with Carvey, Nealon, and fellow SNL writer, Conan O'Brien. The concept that made Smigel excited about the potential movie was putting the characters in a musical, which he revealed in a "Late Night with Seth Meyers" interview.
The film's story, according to Smigel, centered on Hans and Franz traveling from their home in Little Austria in New York City to Hollywood pursuing movie stardom. However, as Carvey later told Howard Stern in 2016, the film ended up being canceled when Schwarzenegger dropped out after the failure of several SNL movies. Still, some concepts from the film ended up in a commercial for State Farm in 2014 where Hans and Franz exercise alongside Green Bay Packers quarterback Aaron Rodgers. 
Coffee Talk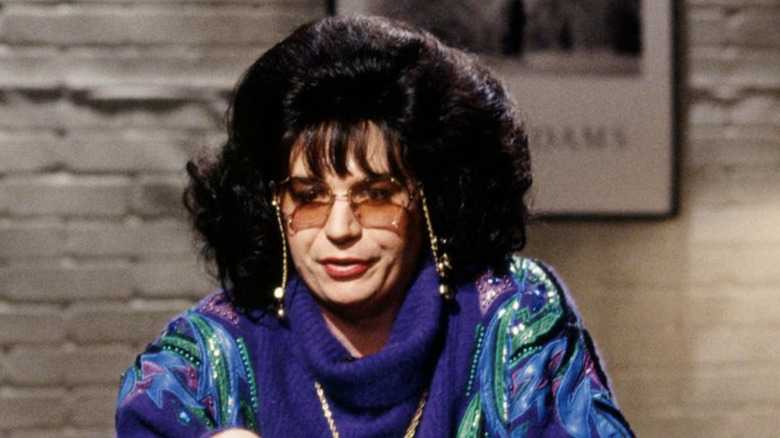 NBC
Mike Myers had one of the most successful movie careers of any SNL star. During his tenure on the show, Myers and Dana Carvey both starred in "Wayne's World," which became the highest-grossing film based on an "SNL" sketch, and also spawned a sequel the following year. While Myers would find later successes with franchises like "Austin Powers" and "Shrek" in the late '90s and early 2000s, "Wayne's World" wouldn't be his last attempt to adapt one of his SNL characters to the big screen.
One of those characters was Linda Richman, the host of "Coffee Talk" (pronounced Kaw-fee Tawk). Myers played Richman, a Jewish woman living in New York City who loves Barbara Streisand and engages in discussions such as "The Partridge Family were neither partridges, nor a family. Discuss." Myers based the character on his mother-in-law of the same name, who is an author and lecturer.
Though "Coffee Talk" seemed prime for a potential movie, little is known about the project or how far into development it ever got. The biggest source of its existence is the infamous 1995 article, "Comedy Isn't Funny," from New York magazine, which lambasted the show amidst sweeping changes including a mass exodus of cast members. According to that article, the fallout of a deal Myers had to create a "Coffee Talk" movie was the catalyst for his departure from SNL.
Dieter
While the development of a "Coffee Talk" movie remains mostly unknown, the development of a movie starring Myers' character Dieter from the "Sprockets" sketch was highly publicized. Similar to "Coffee Talk," "Sprockets" was another Myers-led talk show, this one hosted by an eccentric German artist who originated during the actor's time with Second City Toronto. The sketch was set to be the basis for a feature film surrounding the character of Dieter, titled "Dieter's Day."
"Dieter's Day" was co-written by Myers, SNL writer Jack Handey, and future "Austin Powers" co-writer Michael McCullers. After Dieter's pet monkey, Klaus, is kidnapped, the character goes on a road trip to rescue him that side-tracks into various absurd situations, with planned appearances by then-SNL star Will Ferrell, as well as David Hasselhoff playing himself. However, per Vulture, Myers abruptly abandoned the project just before production was about to start in 2000, citing dissatisfaction with his own script, which made no effort to make the character of Dieter likable to the audience.
Myer's backing out of "Dieter's Day" ended up resulting in a legal battle between Myers and Universal Studios, who sued the comedian for over $3 million for breach of contract. Though the suit was eventually settled, part of Myers' agreement with the studio was to star in another of their films as a replacement, which ended up being the 2003 critical disaster, "The Cat in the Hat."  
The Saturday Night Live Movie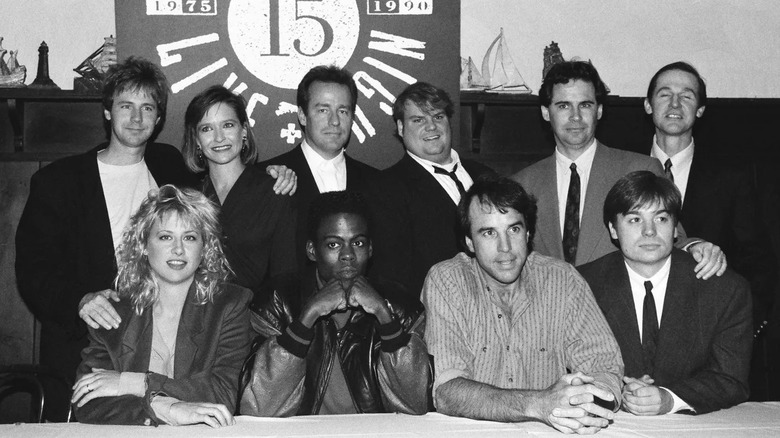 NBC
While many SNL-inspired movies were based on characters or recurring sketches, one undeveloped project was more ambitious. In 1990, the SNL writing team at the time collaborated on a script for "The Saturday Night Live Movie," which featured an anthology of sketches centered around movie tropes and parodies. The 133-page script leaked online in 2010 and has since floated around as an insight into what a feature-length episode of SNL would be like.
Though it's unknown which actors would have potentially starred in the project, the show's cast in 1990 included the likes of Dana Carvey, Phil Hartman, Jan Hooks, and Chris Farley, among others. However, the writing staff is credited at the end of the script, with sketches penned by veterans like Al Franken and Jim Downey, as well as the show's then-new writers like Robert Smigel and Conan O'Brien. 
The film's potential sketches included a romance between a woman and a farting Italian man, as well as an "E.T. the Extra-Terrestrial" parody featuring escalating aliens being horrifyingly killed off. It's unlikely this draft of "The Saturday Night Live Movie" will ever be made, but perhaps it proposes a concept for how the show will celebrate its upcoming 50th anniversary. Gathering together the show's cast and writers old and new for a feature-length sketch show may be a dream come true for SNL fans. 
Bill Swerski's Superfans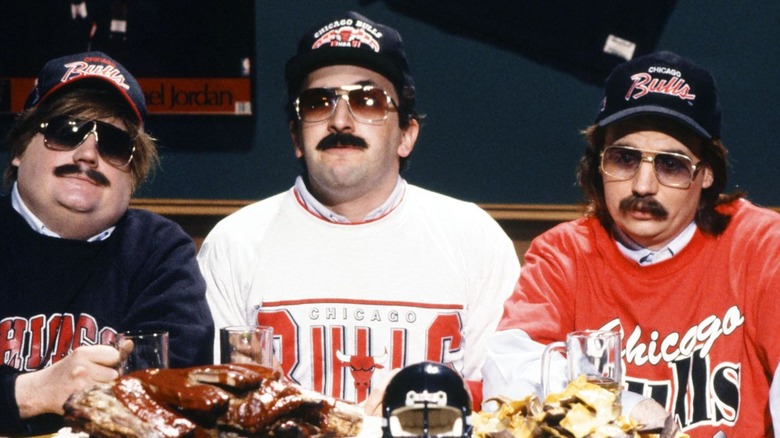 NBC
Considering that many legends of the SNL cast and writers room hail from Chicago, Illinois, it's no surprise that a sketch like "Bill Swerski's Superfans" took off the way it did. The original sketch premiered in 1991, featuring Joe Mantegna, Chris Farley, Mike Myers, and writer Robert Smigel in a rare on-screen appearance as four fans of the Chicago Bears co-hosting a roundtable talk show together, complete with thick Chicagoan accents and a table full of food. 
The sketch, which Smigel developed alongside fellow writers Bob Odenkirk and Conan O'Brien, was notable for coining the now-iconic catchphrase: "Da Bears," in reference to the Chicago-based football team. Their spoofing of a sports fan archetype caught on amongst Chicago Bears fans, with further reprises of the characters featuring George Wendt as another Mike Ditka-loving superfan turned it into an instant classic for both SNL fans and sports fanatics of the '90s. 
The success of the characters eventually led to Smigel and Odenkirk collaborating on a script for a Superfans-centric movie. Smigel later discussed the idea, which revolved around a football strike that forces the Superfans on a road trip around the country and eventually develop their own sport. Though the concept, which also involved a role for Martin Short, never took off, the Superfans remain an iconic and unforgettable part of 1990s sports history. 
The Ambiguously Gay Duo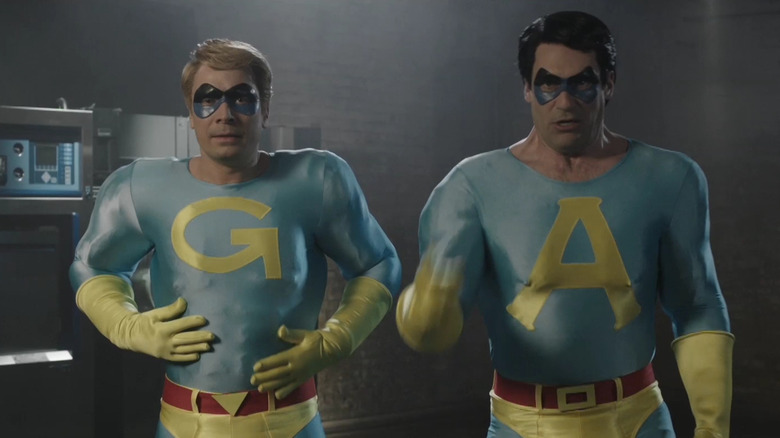 By now, it should be clear that many of the undeveloped SNL movies were projects helmed by writer Robert Smigel, who joined the writing staff in 1985. Years before Smigel became a household name through his character, Triumph the Insult Comic Dog, the comedian spent several years on and off working at SNL. During one of those brief hiatuses in 1996, Smigel and several other up-and-coming comedians wrote for "The Dana Carvey Show," a short-lived ABC program helmed by SNL's former star. 
While the show never took off, one recurring sketch that made its way back to SNL was called "The Ambiguously Gay Duo," which was notable for featuring the voices of Stephen Colbert and Steve Carell who were never cast members on SNL but originated the voices of the potentially homosexual crime-fighters Ace and Gary through their tenure on "The Dana Carvey Show."
After studios expressed interest, Smigel co-wrote a script for a film adaptation with Colbert in 2003. Though the rights to the characters were mixed up, Carell and Jim Carrey were once in talks to star. Although the film never happened, in 2011 Smigel demoed the idea with an episode of "The Ambiguously Gay Duo" featuring Jimmy Fallon and Jon Hamm as the live-action versions of the characters. 
The X-Presidents
"The Ambiguously Gay Duo" aired on SNL in a segment known as "TV Funhouse," which also featured many other sketches such as "The All-New Adventures of Mr. T" and a trailer for a "Matrix"-style sequel to "Bambi." Another one of Smigel's other "TV Funhouse" projects was "The X-Presidents," which followed Gerald Ford, Ronald Reagan, Jimmy Carter, and George H.W. Bush as a superhero squad after a radioactive thunderstorm during a charity golf event. 
Around the same time as Smigel's attempt at making a movie based on "The Ambiguously Gay Duo," he also co-wrote a feature film for "The X-Presidents" with Adam McKay that was inspired by the 1960s iterations of "Batman" starring Adam West and Burt Ward. Even though Smigel thought he could get it produced for only $3 million dollars, the film never ended up seeing the light of day and remained a spec script for Smigel.
However, out of all of Smigel's failed SNL movie ideas, "The X-Presidents" ended up having more traction than most. After the movie wasn't produced, Smigel and McKay developed the concept into a comic book that was published in 2000 (and is still available to purchase on Amazon). At the very least, one of Smigel's planned SNL films got to have a happy ending. 
Mr. Peepers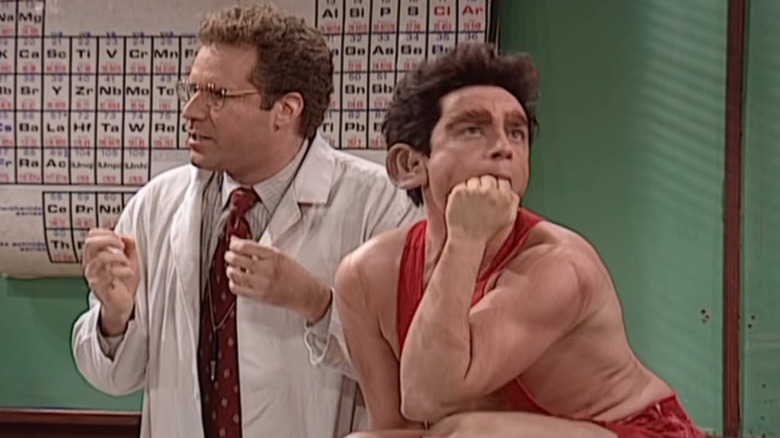 NBC
Chris Kattan joined the cast of SNL in 1996, quickly becoming one of the show's biggest stars alongside performers like Will Ferrell and Cheri Oteri. Ferrell and Kattan hit it big with their head-bobbing duo, the Butabi Brothers, who would go clubbing to the tune of "What Is Love" by Haddaway. The characters ended up starring in their own film, "A Night at the Roxbury," which was released in 1998, and co-starred fellow SNL castmates, Molly Shannon and Colin Quinn. 
However, perhaps Kattan's more well-known character from his time on the show was Mr. Peepers, a half-man-half-monkey being showcased for a science class. The character was a part of Kattan's audition for SNL, though unfortunately the character never ended up with a movie of his own. That possibility was taken advantage of by comedy writer Justin Becker, who in 2012 wrote a screenplay for a Mr. Peepers-centric film titled "Peepers: A Canticle," and left copies of it scattered through Californian bookstores. 
The gag was Becker's attempt to be a "demented Johnny Appleseed," which spurred online discussion over whether the film, which was credited to Kattan and dated September 10, 2001, was legitimate. Even though Becker's idea was merely a hoax, it still gave a lot of SNL fans a sense of what a full-length feature starring Mr. Peepers would be like. 
Key Party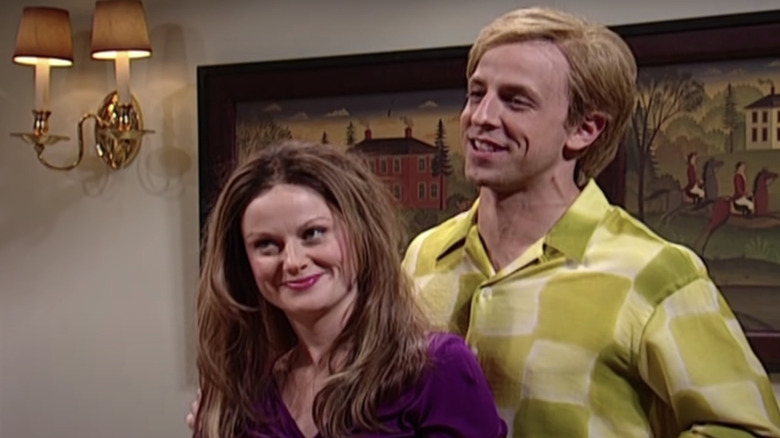 NBC
Seth Meyers first joined SNL all the way back in 2001, spending a long time as a cast member before becoming head writer and later co-host of Weekend Update alongside Amy Poehler. Meyers' stint as Weekend Update host would eventually lead to a new phase in his career as the host of "Late Night with Seth Meyers" on NBC since 2014, taking over after Jimmy Fallon inherited The Tonight Show from Jay Leno.
However, Meyers' aspirations for movie stardom weren't nonexistent. In 2005, prior to joining the Update desk with Poehler, Meyers had an ambitious idea for his sketch titled "Key Party." The sketch, which aired in 2004 with Colin Farrell hosting, features Meyers and Poehler as the organizers behind a "key party," in which several couples gather and swap house keys to determine which of the couples will intermingle, which gets wildly complicated due to their differing personalities. 
In 2005, Meyers sold a pitch to Paramount Pictures based on the "Key Party" sketch, with Lorne Michaels attached to produce. Though the film never ended up being developed, it would've marked an interesting path for Meyers and perhaps Poehler, who ended up stars in their own right through "Late Night" and "Parks and Recreation," respectively. 
MacGruber 2
Prior to 2010, the last film based on an SNL sketch was 2000's "The Ladies Man" starring Tim Meadows. The opportunity didn't arise again until Will Forte and "The Lonely Island" member Jorma Taccone collaborated on the recurring sketch "MacGruber," parodying the high-stakes bomb-defusing sequences of the 1980s TV series, "MacGyver." A typical "MacGruber" sketch aired in three segments over the course of an SNL episode, each more absurd than the previous and rarely lasting over a minute each. Nevertheless, it became a prime target for an SNL movie.
"MacGruber," against all odds, was actually produced and released in 2010, starring Forte, Kristen Wiig, and Ryan Phillippe in a parody of '80s action movies. Though the film was the recipient of middling reviews, the film has gained cult classic status in recent years. Discussions of a "MacGruber" sequel had circulated since its release in 2010, with Taccone even considering a Kickstarter campaign to fund it. Though the film never took off, despite progress made in 2016, they got their second chance with the character through a Peacock series in 2021, featuring the return of Forte, Wiig, and Phillippe and new cast members including Laurence Fishburne and Sam Elliott. 
Stefon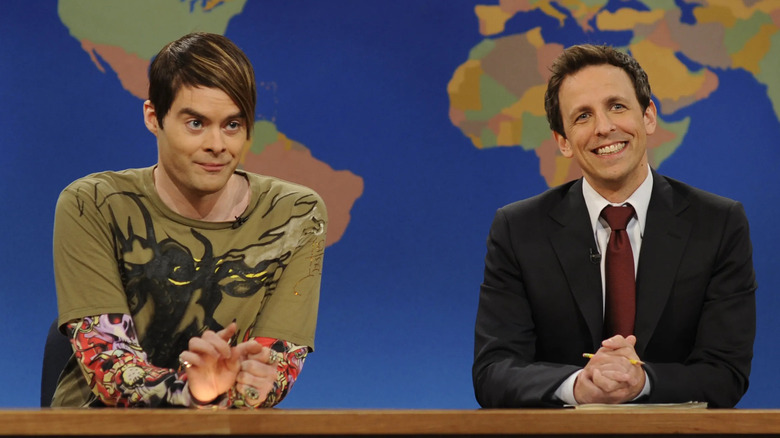 NBC
Few SNL characters have rocketed to success like Stefon, who was created by Bill Hader and John Mulaney and based on several figures from their real lives, including a New York barista Hader once knew. The character first appeared in a sketch alongside Ben Affleck pitching insane movie ideas, before Mulaney and Hader felt he would work better as a guest on Weekend Update. There, Stefon served as Weekend Update's city correspondent whose job was to suggest fun places to visit for tourists around holidays.
Predictably, Stefon's ideas of where people should go in New York City were clubs called Gush, Spicy, or Your Mother And I Are Separating, with regulars including a wise old turtle that looks like Quincy Jones and MTV's Dan Cortese. The character received a grand goodbye during Hader's last episode, where Meyers crashed his wedding with Anderson Cooper. 
It seemed like a Stefon-centric movie was a no-brainer, though it never got passed the early development stage according to Hader, Mulaney, and Meyers. On Seth Meyers' Late Night podcast (via Vulture), Hader discussed the concept with Mulaney, recalling that the film would open with Stefon and Meyers in a montage going to different clubs and ending with Meyers being zipped up in a body bag. Hader also addressed the film's chances on Watch What Happens Live, feeling that since the character barely worked in a sketch, audiences wouldn't really want a movie.
Bruce Chandling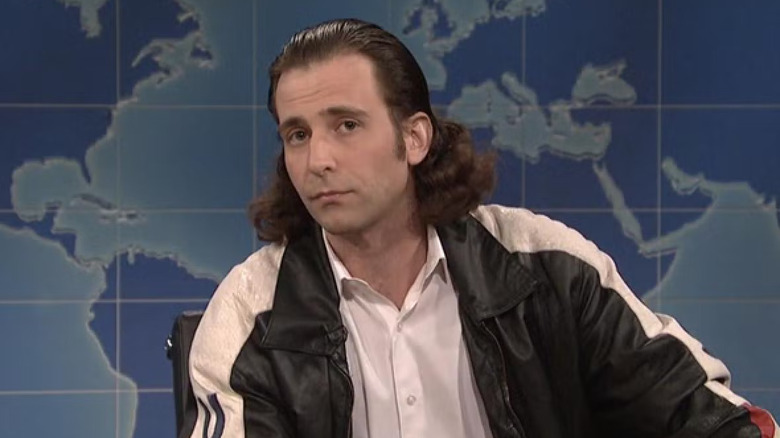 NBC
Kyle Mooney was somewhat of an underdog during his tenure on SNL from 2013 to 2022. Oftentimes, his sketches were niche and would get cut for time and uploaded later onto YouTube where they would achieve more success. This seemed like a legacy that lasted up until Mooney's final episode in 2022, where the comedian had no starring roles throughout the entire night. This is an attitude perhaps best embodied by one of Mooney's own characters: stand-up comedian Bruce Chandling.
The character of Chandling originated prior to Mooney joining SNL, being performed in comedy clubs as early as 2012. The character made sparse appearances on Weekend Update, attempting to impress the crowd with subpar comedy before slowly crumbling in front of their eyes. Sketches like that seemed prime to make Chandling a good subject for an SNL movie, though as of 2023 it hasn't gotten off the ground yet. Mooney even told Yahoo he's had ideas for a Chandling movie while doing press for his 2017 film, "Brigsby Bear." Though the film hasn't been made yet, the character's not going anywhere, as he made an appearance in Mooney's Netflix series, "Saturday Morning All-Star Hits!," where he narrated a cartoon about his very depressing childhood.