The Reference To A Real SNL Skit You Likely Missed In Nope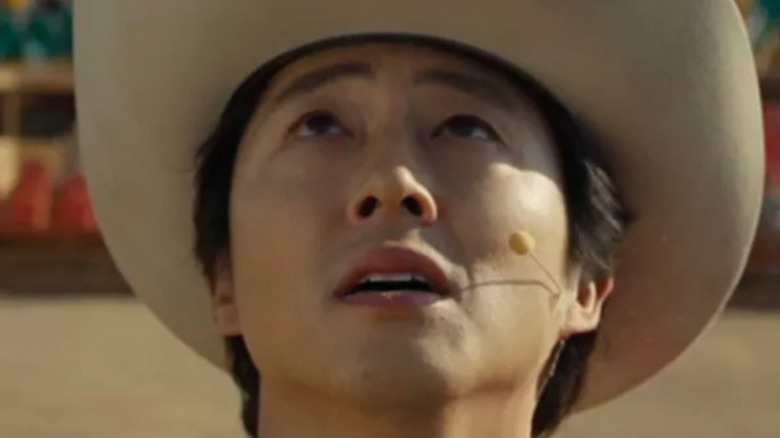 Universal Pictures
The following article contains spoilers for "Nope"
One of the stranger details in Jordan Peele's new sci-fi horror film "Nope" is the backstory of Ricky "Jupe" Park (Stephen Yeun) and the fictional 1990's sitcom "Gordy's House." Early in the film, it's revealed that western-themed amusement park owner Jupe is a former child actor. During his acting days, Jupe once starred on a sitcom called "Gordy's House," alongside a real chimpanzee. One day, when a helium balloon on set popped, Gordy flew into a rage and attacked several of his castmates.
As an adult, Jupe often retells this story. At one point, he reveals that "Saturday Night Live" parodied the incident in a sketch. In it, former "SNL" castmember Chris Kattan played Gordy, and his fellow castmates Darrell Hammond and Ana Gasteyer filled in as Gordy's ill-fated co-stars.
Obviously, all of that never really happened. However, the fictional "Gordy's House" parody on "Saturday Night Live" is very much grounded in reality–specifically, 1990's "Saturday Night Live."
The saga of Gordy's House strongly resembles the Mr. Peepers sketches on Saturday Night Live
The "Gordy's House" tale and its subsequent "Saturday Night Live" parody sound a lot like the old Mr. Peepers sketches that actually did air on "SNL." The sketches starred Chris Kattan as an apelike creature named Mr. Peepers who's brought into various settings and causes chaos. In other words, if "Gordy's House" were a real show, and "SNL" decided to parody it, Chris Kattan absolutely would have played Gordy.
Mr. Peepers originated as a character performed by Kattan at the Groundlings Theater in Los Angeles, an influential comedy club that's provided dozens of "Saturday Night Live" cast members over the years. The first ever Mr. Peepers sketch is currently available on Kattan's YouTube page.
As Kattan later explained in his autobiography "Baby, Don't Hurt Me: Stories and Scars from Saturday Night Live," he pitched Mr. Peepers sketches several times before celebrity guest Tom Hanks ultimately agreed to appear with the character. Mr. Peepers appeared several more times after that, usually alongside guest hosts like Charlize Theron, Sting, and Kelsey Grammer. Dwayne "The Rock" Johnson once played Mr. Peepers' father, "Papa Peepers." Altogether, Mr. Peepers appeared in 12 sketches (via SNL Archives).
When told that Mr. Peepers was indirectly referenced in "Nope," Kattan said he was flattered, but questioned whether "Saturday Night Live" really would have made fun of a tragedy like the "Gordy's Home!" massacre. "I don't know if they would do that. It's very hard to predict if the writers would suggest doing something like that or not," Kattan told Consequence. "I would probably ask that myself: As a writer, do you think that's a good idea? I don't know if it is a good idea."