Why The Guy Who Did Sign Language For The Super Bowl National Anthem Looks Familiar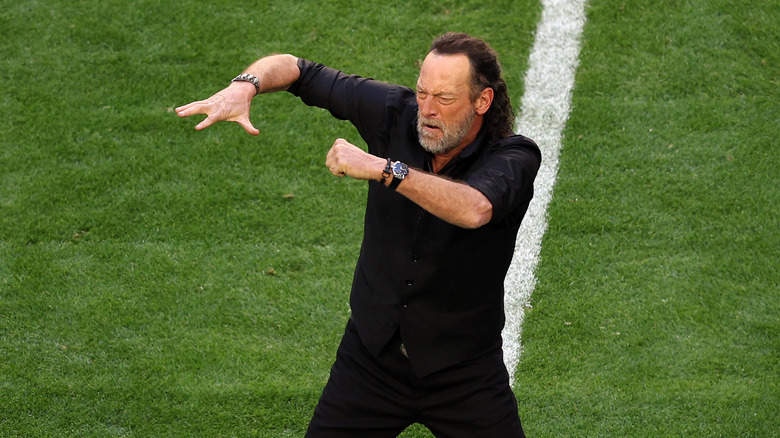 Rob Carr/Getty Images
The United States national anthem is part of the opening of every Super Bowl. This year, "The Star Spangled Banner" was performed by eight-time Grammy Award-winning country music artist Chris Stapleton (via The Washington Post).
This year is also the first year that the Super Bowl has included interpretation for the deaf for the national anthem, with the National Football League bringing in American Sign Language interpreters to relay Francis Scott Key's well-known lyrics. Sign language interpretation was also provided for Babyface's performance of "America the Beautiful" and for Rihanna's much-anticipated halftime show (via Distractify).
Babyface's performance was interpreted by University of Arizona researcher Colin Denny, a member of the Navajo Nation who signed "America the Beautiful" using a combination of A.S.L. and North American Indian Sign Language, which is still used by dozens of tribes to this day. Meanwhile, African-American Philadelphia native and Bowie State University nursing student Justina Miles provided interpretation for both Rihanna's performance and Sheryl Lee Ralph's performance of "Lift Every Voice and Sing" (via CNBC.com).
As for the fellow who provided sign language for "The Star Spangled Banner," there's a good chance you may recognize him from a variety of movies and TV shows.
Oscar-winning actor Troy Kotsur performed the national anthem in A.S.L.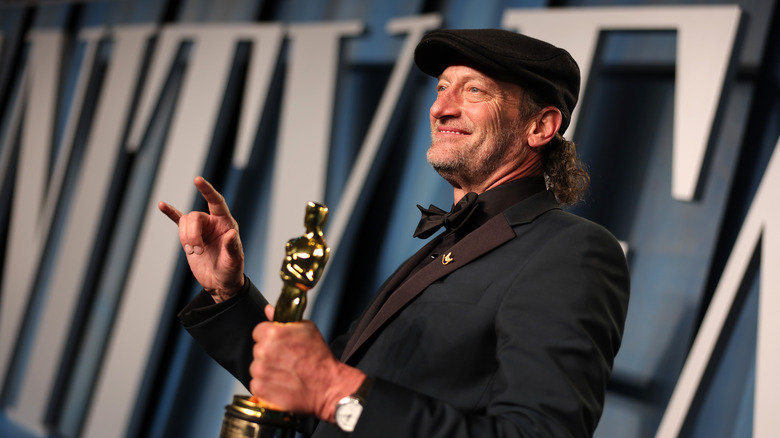 Rich Fury/vf22/Getty Images
If you're a fan of "The Mandalorian," or "Scrubs," or just keep up with recent Oscar winners, you'll recognize Troy Kotsur. Growing up in Mesa, Arizona, and Phoenix, Kotsur was born deaf and studied film, theater, and television at Gallaudet University. He established a solid career in theater and has made appearances in several films and television shows over the years (via IMDb).
In 2019, Kotsur became the first deaf actor to act in a "Star Wars" production, when he appeared as a Tusken raider in an episode of "The Mandalorian," for which he created a Tatooine version of sign language (via GoldenGlobes.com). And, in 2022, he made history as the first deaf male to be nominated for an Academy Award, and, subsequently, to win an Academy Award. Kotsur won best supporting actor for his performance in 2021's "CODA," in which he played a deaf fisherman attempting to come to terms with his hearing daughter's aspirations to become a singer. He appeared alongside another history-maker, Marlee Matlin, who became the first deaf person to win an Oscar for her performance in 1986's "Children of a Lesser God."
Troy Kotsur played a Tusken Raider on The Mandalorian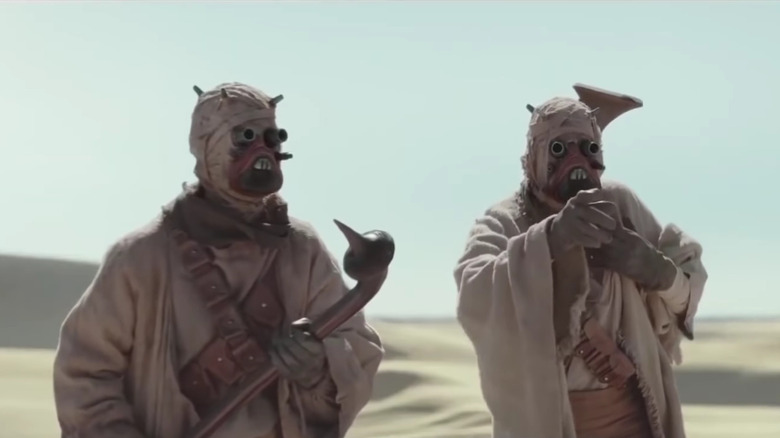 Lucasfilm/Disney+
Despite only appearing in one episode, Troy Kotsur's contributions to "The Mandalorian" are impressive — both as an actor and behind-the-scenes maverick. Still, he hasn't received the widespread recognition he deserves due to the fact he took on the more unsung roles. His face wasn't shown on camera and off-camera work tends to be overlooked in general, but his involvement helped bring a fun scene to life.
The "Chapter 5: The Gunslinger" episode of "The Mandalorian" sees our titular bounty hunter encounter a pair of Tusken Raiders on Tatooine. He must negotiate with them for free passage across their land, so he communicates in their native sign language and gets the deal done. Kotsur plays one of the Tusken Raiders, but he's hidden behind layers of prosthetics and unrecognizable as a result.
Furthermore, did you know that Kotsur also helped the show's creators come up with the Tusken sign language? The Oscar winner was initially brought in to help develop a new form of sign language for the show, so he turned "Star Wars" lore for inspiration as opposed to using traditional American sign language. For example, the sign for "Mandalorian" was based on the shape of the character's helmet and the 'M' handshape. As viewers, it's easy to overlook the smaller details that go into bringing certain scenes to life; however, Kotsur's work actually enriched the Tusken mythos and the "Star Wars" universe.